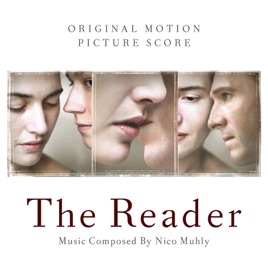 EDITORS' NOTES
The young composer Nico Muhly is known for his many musical activities: writing pieces for classical groups, collaborating with innovative pop artists such as Björk and Antony, and crafting tracks that can be thought of as indie rock or electronica or New Music. Scoring films is yet another one of the busy composer's endeavors. The Reader tells the tale of a young man's passionate affair with an older woman and his encounter with her years later, after World War II, when she is on trial for a war crime. Muhly's subtle music doesn't resemble the work on his ambitious 2008 release, Mothertongue, or the grandiose orchestral sounds another composer might have written to accompany The Reader's intense tale. That's not to say that the score is always low-key; on "Tram At Dawn," winds, strings, and harp swirl to create a sense of mysterious excitation, while "Reading" fuses romanticism and minimalism to rousing effect. Pensive piano, yearning oboe, a somber trombone statement, and dramatic bass accents mark the melancholy closer, "Who Was She?"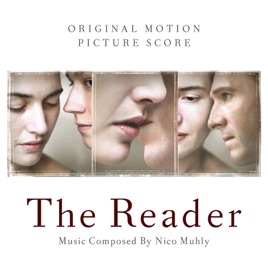 The Reader (Original Motion Picture Score)
Nico Muhly
EDITORS' NOTES
The young composer Nico Muhly is known for his many musical activities: writing pieces for classical groups, collaborating with innovative pop artists such as Björk and Antony, and crafting tracks that can be thought of as indie rock or electronica or New Music. Scoring films is yet another one of the busy composer's endeavors. The Reader tells the tale of a young man's passionate affair with an older woman and his encounter with her years later, after World War II, when she is on trial for a war crime. Muhly's subtle music doesn't resemble the work on his ambitious 2008 release, Mothertongue, or the grandiose orchestral sounds another composer might have written to accompany The Reader's intense tale. That's not to say that the score is always low-key; on "Tram At Dawn," winds, strings, and harp swirl to create a sense of mysterious excitation, while "Reading" fuses romanticism and minimalism to rousing effect. Pensive piano, yearning oboe, a somber trombone statement, and dramatic bass accents mark the melancholy closer, "Who Was She?"
| | TITLE | | TIME |
| --- | --- | --- | --- |
| | | | |
| | | | |
| | | | |
| | | | |
| | | | |
| | | | |
| | | | |
| | | | |
| | Sophie / The Lady With the Little Dog | | |
| | | | |
| | | | |
| | | | |
| | | | |
| | | | |
| | | | |
| | | | |
| | I Have No One Else to Ask | | |
| | | | |
| | | | |
19 Songs, 52 Minutes
Released:

Dec 9, 2008

℗ 2008 Lakeshore Records
Ratings and Reviews
Nico Muhly's best work yet.
This guy is really going to go places. His previous scores were really interesting and intricate and definitely cinematic: there's a touch of Alexandre Desplat in his style somewhere: something austere. This score adds a real emotional element to the music, while still retaining that interesting sound and structure, and that's where I think Muhly has leapt ahead of the crowd. With some composers you hear cliches, or you hear their training.... the beauty and the emotionality in this music sort of "hides" Muhly's strict classical training, so the music itself can shine. Every track is good: totally worth the full-album download.
Beautiful Work
Nico Mulhy will be nominated for a Oscar in the next few years. An exceptional composer and talent.
Truly Remarkable Movie & Score.
I just saw this movie a few days ago. It was one of the best movies I've seen in a long time, along with "Revolutionary Road". The score was so astonishing; every track went with the scene, and helped convey the emotions of the characters. I believe that Kate Winslet and David Kross deserve to be nominated for this movie, because it was absolutely spectacular. Not a dull moment.
About Nico Muhly
Since early in his career, composer, pianist, arranger, and conductor Nico Muhly has defied easy categorization, working steadily in both the contemporary classical and pop/indie music spheres. His résumé includes vocal, choral, opera, piano, electronic, chamber, and orchestral compositions; film scores (The Reader, Kill Your Darlings); and recordings with artists as wide-ranging as Philip Glass, Kronos Quartet, Björk, the National, and Paul Simon. He worked as an assistant to Glass on scores such as 2002's The Hours and Naqoyqatsi, performed on Björk albums, and wrote string arrangements for Bonnie "Prince" Billy before releasing his solo debut, Speaks Volumes, in 2006. Thereafter, he continued to juggle arranging, performing, and writing, releasing solo compositions, film scores, and collaborative albums with artists such as singer/songwriter Teitur (Confessions), Sufjan Stevens and Bryce Dessner (Planetarium), and Thomas Bartlett (Peter Pears: Balinese Ceremonial Music).

Muhly was born in Vermont in 1981. After graduating from Columbia University with a degree in English, Muhly went on to earn a master's degree in music from Juilliard. He worked on a number of well-received projects, including a cantata on the Elements of Style by Strunk & White. Muhly added film scoring to his repertoire beginning with Choking Man in 2006 and Joshua in 2008. His abilities to move from genre to genre soon paid off, and Muhly began working with some of the music world's most well-known names, including Björk, Antony (of Antony & the Johnsons), and Grizzly Bear, in addition to modern classical composer Glass.

His debut recording, Speaks Volumes, was released in 2006. It was followed in 2008 by a collection of his collaborations with other artists titled Ekvilibrium. The follow-up to his debut, Mothertongue appeared in 2008. That year also saw the release of his aforementioned original score for the motion picture Joshua. His score for Stephen Daldry's 2008 film The Reader followed in 2009. Muhly's commissions soon multiplied in earnest, as did even more requests by other artists for his string arrangements (including Usher and Antony Hegarty).

A Good Understanding, a collection of his choral works, was released in 2010, as was I Drink the Air Before Me, co-produced by Dan Bora and Valgeir Sigurðsson. Seeing Is Believing arrived in 2011 and followed by three limited-edition EPs in 2012, Drones & Piano, Drones & Viola, and Drones & Violin, which were compiled as the full-length Drones and released widely in November of that year. His score for the beat poets' bio-pic Kill Your Darlings was then released alongside the film in late 2013. He worked with Kronos Quartet, yMusic, and members of the National for the classical recording Richard Reed Parry: Music for Heart and Breath, issued in mid-2014. Later the same year, Nonesuch released his opera Two Boys, performed by the Metropolitan Opera Orchestra and Chorus.

In the spring of 2016, Muhly joined Angela and Jennifer Chun on a recording of his Four Studies and Honest Music, which were paired with two works by Philip Glass for Harmonia Mundi. A collaboration with Valgeir Sigurðsson called Scent Opera, "an opera for your nose" with scents, premiered at the Guggenheim Museum in 2009 but was issued as a 14-minute recording for the first time in August 2016. He also partnered with singer/songwriter Teitur for Confessions, a collection of songs recorded with the ensemble Holland Baroque Society and released by Nonesuch that October. Originally commissioned by Muziekgebouw Eindhoven and performed in 2012, a recorded version of Planetarium was issued by the 4AD label in June 2017. Inspired by the Solar System, the collaborative piece featured music by Muhly, Sufjan Stevens, the National's Bryce Dessner, and drummer James McAlister. The following year, Nonesuch released Peter Pears: Balinese Ceremonial Music, a set of original songs by Muhly and Thomas Bartlett (Doveman). They were inspired by gamelan transcriptions by ethnomusicologist Colin McPhee, three of which were also included on the recording. ~ Chris True & Marcy Donelson
HOMETOWN

Vermont

GENRE

BORN

August 26, 1981