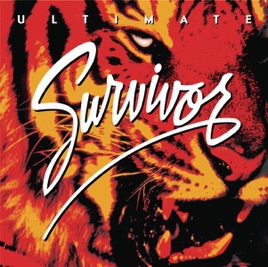 | | TITLE | TIME |
| --- | --- | --- |
| | | 4:05 |
| | | 3:27 |
| | | 4:00 |
| | | 3:44 |
| | | 4:14 |
| | | 3:50 |
| | | 4:19 |
| | | 5:51 |
| | | 4:10 |
| | | 3:36 |
| | | 4:50 |
| | | 4:13 |
| | | 4:46 |
| | | 4:23 |
| | | 3:49 |
| | | 4:09 |
| | | 5:13 |
| | | 3:49 |
18 Songs, 1 Hour, 16 Minutes

℗ This compilation (P) 2004 BMG Music
Customer Reviews
eye of the tiger
i love the song eye of the tiger but not the others that much.
good. bad
eye of the tiger: good the rest of the songs: ugh
best album ever!
this i sthe best album ever made of survivor! they added all of the top hits into one cd! if you dont want to pay for the entire cd, buy eye of the tiger, burning heart, and i cant hold back.
About Survivor
Survivor's brand of melodic, hard, album-oriented rock netted the group several hits during the 1980s, including two smash themes from Rocky films, but never quite matched the success or consistency of contemporaries like Foreigner. Survivor was founded in 1978 by guitarist/keyboardist Jim Peterik (formerly the lead singer of the Ides of March) with guitarist Frankie Sullivan; the two recruited lead singer Dave Bickler and recorded a self-titled debut album as a trio with studio musicians Dennis Johnson on bass and Gary Smith on drums. Their places were taken by permanent members Stephen Ellis and Marc Droubay, respectively.

The group's big break came in 1982 when Sylvester Stallone commissioned the band to write the theme to Rocky III; the result, "Eye of the Tiger," was an instant hit with its bombastic opening riff and anthemic chorus. It spent six weeks at number one on the Billboard charts and pushed the accompanying album of the same name over the one million sales mark. Bickler quit in 1983 due to medical reasons and was replaced by former Cobra singer Jimi Jamison. The shakeup gave the band a kick-start, and they had two Top Ten hits in 1985 with "High on You" and "The Search Is Over." The band's theme from Rocky IV, "Burning Heart," provided their second biggest hit in 1986, but their fortunes slid downhill from there; by the end of the year, Jamison, Peterik, and Sullivan were the only remaining members, and Survivor finally disbanded in 1989.

Bickler, Sullivan, Ellis, and Droubay returned to the studio as Survivor in 1997, and Jamison returned to the lineup as well in 2000. Aside from touring, Survivor released the studio album Reach in 2006, but Jamison left the band soon after. He was replaced by Robin McAuley, who spent several years with the band. By 2011, however, Jamison was a member of the band again -- alongside Sullivan, Droubay, Billy Ozzello, and Walter Tolentino -- and two years after that, Bickler was back in the fold as well. Although the band visited the studio and recorded several times during the 2010s, nothing appeared before the sudden death of Jamison from a heart attack in August 2014. ~ Steve Huey
ORIGIN

Chicago, IL

GENRE

FORMED

1978