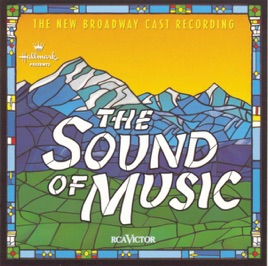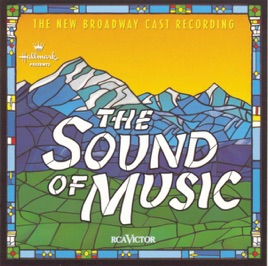 The Sound of Music
Various Artists
TITLE
TIME

Preludium: Dixit Dominus / Morning Hymn / Alleluia

Patti Cohenour

Gina Ferrall, Ann Brown, Patti Cohenour & Jeanne Lehmann

Rebecca Luker, Ashley Rose Orr, Andrea Bowen, Tracy Alison Walsh, Matthew Ballinger, Natalie Hall, Ryan Hopkins & Sara Zelle

Sixteen Going On Seventeen

Dashiell Eaves & Sara Zelle

Sara Zelle, Matthew Ballinger, Natalie Hall, Tracy Alison Walsh, Ryan Hopkins, Andrea Bowen, Ashley Rose Orr & Rebecca Luker

Fred Applegate & Jan Maxwell

The Sound of Music (Reprise)

Sara Zelle, Ryan Hopkins, Natalie Hall, Matthew Ballinger, Tracy Alison Walsh, Andrea Bowen, Ashley Rose Orr, Michael Siberry & Rebecca Luker

Rebecca Luker, Matthew Ballinger & Michael Siberry

Andrea Bowen, Ryan Hopkins, Sara Zelle, Matthew Ballinger, Tracy Alison Walsh, Natalie Hall, Ashley Rose Orr & Michael Siberry

Jan Maxwell, Fred Applegate & Michael Siberry

Michael Siberry & Rebecca Luker

Wedding Processional/Canticle

Unknown

Sixteen Going On Seventeen (Reprise)

Rebecca Luker & Sara Zelle

Rebecca Luker, Michael Siberry, Sara Zelle, Tracy Alison Walsh, Matthew Ballinger, Natalie Hall, Andrea Bowen, Ashley Rose Orr, Ryan Hopkins & Timothy Landfield

Michael Siberry, Rebecca Luker, Sara Zelle, Ryan Hopkins, Natalie Hall, Matthew Ballinger, Tracy Alison Walsh, Andrea Bowen & Ashley Rose Orr

So Long, Farewell (Reprise)

Rebecca Luker, Michael Siberry, Andrea Bowen, Matthew Ballinger, Sara Zelle, Ryan Hopkins, Natalie Hall, Tracy Alison Walsh & Ashley Rose Orr
20 Songs, 59 Minutes
Released:

Dec 31, 1995

℗ 1998, BMG Entertainment
Ratings and Reviews
How Do You Solve A Problem Like This Album?
In 1959, one of the most beloved musicals opened on broadway, and in 1961, a film version was released, sweeping the Academy Awards. 39 years later, The Sound Of Music returned to broadway, and while some great actor/singers took over for Maria, the Captain and the children, the magic of the true sound of music on this album seemed to have gotten lost while climbing ev'ry mountain. I do applaude the producers for not trying to mimic the earlier productions, but stripping the orchestra down makes me feel like i'm watching this being staged for the first time ever on broadway, but not in 1959. It also tries to distract away from this by adding small harmonies, such as a flute pattern here and there, and although it works sometimes, there's no real 50's feel behind the music. While the entire album is worth listening, it's not really one of my favorite things.
Not soundtrack
For those people who are crying and complaining about being deceived into believing this was the actual soundtrack to The Sound of Music, you have nobody to blame except for yourselves. First of all, at the top of the CD cover (shown above), it clearly says, "The New Broadway Cast Recording." In other words this is not the soundtrack done decades ago! Also, you must not be very big fans of the original SOM - otherwise you would already have the soundtrack in your possession, or would know of the actual cover picture. Also, the musicis available for you to listen to and figure out that this is not the original. With those numerous ways you should have figured out what this was, stop your complaining and go buy the actual soundtrack!
Sound of music
I love the movie!The crazy part is I was around 4 when I think I first watched it now I'm 10 .I still love it is my favorite movie.The music is wonderful.I could watch that movie over and over again.