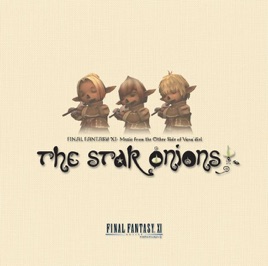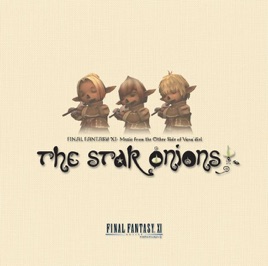 The Star Onions - FINAL FANTASY XI (Music from the Other Side of Vana'diel)
| | TITLE | TIME | PRICE |
| --- | --- | --- | --- |
| | | 2:34 | $0.99 |
| | | 6:34 | $0.99 |
| | | 5:55 | $0.99 |
| | | 6:07 | $0.99 |
| | The Forgotten City - Tavnazian Safehold | 4:16 | $0.99 |
| | | 3:04 | $0.99 |
| | | 6:03 | $0.99 |
| | | 5:51 | $0.99 |
| | | 5:23 | $0.99 |
| | Bleesed In Her Glourious Light - The Grand Duchy of Jeuno | 7:30 | $0.99 |
10 Songs

℗ 2005 SQUARE ENIX
Customer Reviews
Not astonishing, but very, very good.
This album takes a lot of the better tracks from the different Final Fantasy XI albums and redoes the songs. The album has a lot of variety and different moods, and is very enjoyable to just sit back and listen to. This album doesn't break any musical barriers or introduce anything new, but the music is quality and is very enjoyable. A must-have for any Final Fantasy XI fan.
Incredible Remixes
I have to say they pretty much nailed the areas with the best background music overall. These remixes show the diversity of the tastes involved in creating this game. If you love the background music from the game I would say this is a must have LP. With a mix of jazz, funk and trance they have really changed the feel of all of these songs while keeping the tradition of the track intact. Pick this up right now!