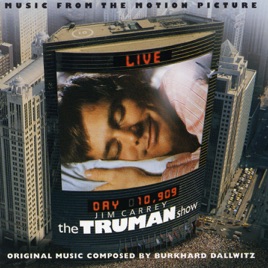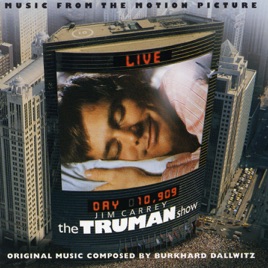 The Truman Show (Music from the Motion Picture)
Various Artists
| | TITLE | | TIME |
| --- | --- | --- | --- |
| | | | |
| | | | |
| | | | |
| | | | |
| | | | |
| | | | |
| | | | |
| | | | |
| | | | |
| | | | |
| | | | |
| | | | |
| | | | |
| | | | |
| | | | |
| | | | |
| | | | |
| | Orchestre Philharmonique National de Pologne | | |
| | | | |
| | | | |
| | | | |
21 Songs, 56 Minutes
Released:

Jun 2, 1998

℗ 1998 Paramount Pictures
Ratings and Reviews
Beautiful & Moving Soundtrack
I can't believe it's taken this long to FINALLY bring this score to iTunes. The movie had a combo of Philip Glass cues and original score, and this album presents the original score in its entirely. It's BEAUTIFUL. Even if you've never seen the film, you'll be moved by the music. It was such a standout, and remains so to this day, that I'm surprised we haven't heard more from this composer. Just buy the full album, you won't be disappointed.
A great soundtrack for a great movie
I listen to a lot of film scores and Philip Glass shines in this instrumental soundtrack as one of my favorites. He has a minimalistic style, great for doing homework to or falling asleep. Father Kolbe's Preaching and Truman Sleeps alone always bring me on the verge of tears while It's a life brings me right around. I love songs that can manage to be both hopeful and sad at the same time.
A Beautiful movie.
Everything about this movie was amazing: the Directing, the Acting, and especially the SOUNDTRACK!

But the thing that people don't understand about this movie is that the man that controlls Truman's life is likened to Satan in reality.

Satan controls our lives today, just like the man controlling Truman; and the new world that Truman enters is the world that God offers to us.

People just like to blame God for everything bad in their lives. That's why this movie is so awesome, it shows that it is really Satan who is controlling our lives around us.