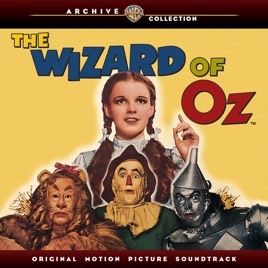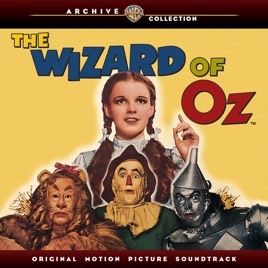 The Wizard of Oz (Original Motion Picture Soundtrack)
Various Artists
TITLE
TIME

The MGM Studio Orchestra & Chorus

Cyclone (Extended Version)

The MGM Studio Orchestra

Billy Burke & The Munchkins

Judy Garland, Billy Bletcher & The Munchkins

We Thank You Very Sweetly

Joseph Koziel & Frank Cucksey

Ding-dong! The Witch Is Dead

The Munchkins

As Mayor of the Munchkin City

Billy Bletcher, Pinto Colveg & J.D. Jewkes

Ding-dong! The Witch Is Dead (Reprise)

The Munchkins

Lorraine Bridges, Betty Rome & Carol Tevis

Billy Bletcher, Pinto Colveg & Harry Stanton

We Welcome You to the Munchkin Land

The Munchkins

Follow the Yellow Brick Road / You're Off to See the Wizard

Judy Garland & The Munchkins

If I Only Had a Brain (Extended Version)

Ray Bolger & Judy Garland

We're Off to See the Wizard

Judy Garland & Ray Bolger

If I Only Had a Heart (Extended Version)

Jack Haley

We're Off to See the Wizard

Judy Garland, Ray Bolger & Buddy Ebsen

Bert Lahr, Ray Bolger, Jack Haley & Judy Garland

We're Off to See the Wizard

Judy Garland, Ray Bolger, Buddy Ebsen & Bert Lahr

The MGM Studio Orchestra, The Debutantes & The Rhythmettes

Frank Morgan, Judy Garland, Ray Bolger & Jack Haley

If I Were King of the Forest (Extended Version)

Bert Lahr, Judy Garland, Ray Bolger, Jack Haley & Buddy Ebsen

Judy Garland, Ray Bolger, Jack Haley, Buddy Ebsen & Bert Lahr

Ding-Dong! Emerald City (Outtake)

Ken Darby & M-G-M Studio Chorus

Delirious Escape (Extended Version) / Delirious Escape (Continued) / End Title

The MGM Studio Orchestra
26 Songs, 38 Minutes
Released:

Jan 6, 2012

℗ Turner Entertainment
Ratings and Reviews
Love! Love! love!
The Wizard of Oz is one of my personal favorites and this soundtrack does it proper justice!
Wiz of oz
I love the wizard of oz! I'm 11, but I love classic musical songs! I LOVE JUDY GARLAND!!!!!
Love Oz
I have loved the Wizard of Oz since I was 3 and I am now 12!