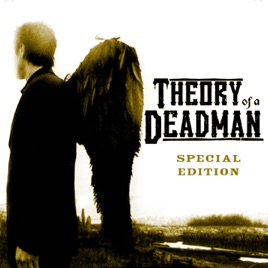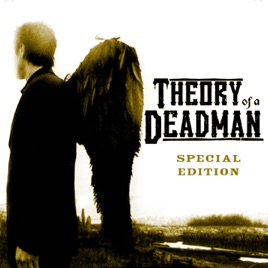 Theory of a Deadman (Special Edition)
| | TITLE | TIME | PRICE |
| --- | --- | --- | --- |
| | | 2:41 | $1.29 |
| | Nothing Could Come Between Us | 3:25 | $1.29 |
| | | 4:02 | $1.29 |
| | | 3:38 | $1.29 |
| | | 3:26 | $1.29 |
| | | 4:00 | $1.29 |
| | | 4:27 | $1.29 |
| | | 3:15 | $1.29 |
| | | 3:46 | $1.29 |
| | | 3:59 | $1.29 |
| | | 2:15 | $1.29 |
| | | 3:08 | $1.29 |
| | | 3:09 | $1.29 |
13 Songs

℗ 2003 The All Blacks B.V. Issued under license to Roadrunner Records from The All Blacks B.V. Roadrunner Records is a registered trademark of The All Blacks B.V.
Customer Reviews
identity crisis!!!
This whole album is like a shinedown/three days grace knockoff. No originality watsoever.
Not bad at all!!!
OK, so i had to comment because the only other comment is ridiculous. This CD came out before Shinedown was even formed and waay before 3DG made it mainstream. Just sayin. Give it a listen!
About Theory of a Deadman
Vancouver, Canada's Theory of a Deadman became the first act to sign with Nickelback frontman Chad Kroeger's 604 Records imprint in 2001. Tyler Connolly (vocals/guitar) reportedly slipped a copy of the band's demo to Kroeger at a post-concert party and the two were soon collaborating on songs together. One of these, "Invisible Man," was used as the B-side for 2002's wildly successful Spider-Man theme "Hero" (a Kroeger collaboration with Saliva singer Josey Scott), and anticipated Theory of a Deadman's self-titled debut the same year. Also featuring Dave Brenner (guitar), Dean Back (bass), and Tim Hart (drums), the album's hook-laden, emotional hard rock sounded very similar to their celebrity benefactor's band; almost disturbingly so, actually. But a healthy touring work load and simple maturation ultimately helped Theory of a Deadman break out of that confining stylistic box for their more varied and distinctive sophomore effort, Gasoline, which was recorded with session drummer Robin Diaz. The trio later tapped veteran journeyman Brent Fitz (formerly of Union and Vince Neil's solo band) as their new permanent touring drummer. Theory of a Deadman returned to the studio in 2007 to record their third album, Scars and Souvenirs, which was produced by Howard Benson. The album was released in April 2008, and was certified gold in less than a year. The hard-hitting Canadian rockers' fourth studio album, The Truth Is..., which was preceded by the single "Lowlife," dropped on July 12, 2011, and was followed by a co-headlining tour with Alter Bridge under the banner the Carnival of Madness, which also included Adelitas Way, Black Stone Cherry, and Emphatic. In 2014, the bandmembers announced they were working on an album, and a new single, "Drown," arrived in April of that year. Their fifth album, Savages, followed in July of 2014. In October 2017 the band released a music video for the song "Rx" in anticipation of the arrival of the full-length Wake Up Call, which dropped later that month. ~ Eduardo Rivadavia
ORIGIN

Vancouver, British Columbia, Cana

FORMED

2001