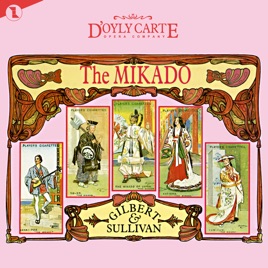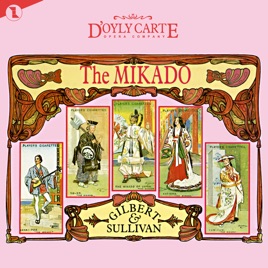 The Mikado (Original Cast)
TITLE
TIME
PRICE

New D'Oyly Carte Opera Orchestra

7:04
$0.99

If You Want to Know Who We Are

Men Chorus

2:53
$0.99

Bonaventura Bottone

3:52
$0.99

Our Great Mikado, Virtuous Man

Gareth Jones & Chorus

2:48
$0.99

Young Man, Despair, Likewise Go To

Malcolm Rivers, Bonaventura Bottone & Gareth Jones

2:21
$0.99

And Have I Journey'd for a Month

Bonaventura Bottone & Malcolm Rivers

0:46
$0.99

Behold the Lord High Executioner

Eric Roberts & Men Chorus

2:42
$0.99

As Some Day It May Happen

Eric Roberts & Men Chorus

2:33
$0.99

Comes a Train of Little Ladies

Ladies Chorus

2:07
$0.99

Three Little Maids from School Are We

Deborah Rees, Yvonne Patrick, Thora Ker & Ladies Chorus

1:30
$0.99

So Please You, Sir, We Much Regret

Yvonne Patrick, Deborah Rees, Thora Ker, Malcolm Rivers & Ladies Chorus

1:52
$0.99

Were You Not to Ko-Ko Plighted

Bonaventura Bottone & Deborah Rees

4:08
$0.99

Gilbert & Sullivan & Sir Arthur Sullivan

2:55
$0.99

Company

13:48
Album Only

Ladies Chorus

3:06
$0.99

The Sun, Whose Rays Are All Ablaze

Deborah Rees

2:46
$0.99

Brightly Dawns Our Wedding Day

Bonaventura Bottone, Deborah Rees, Thora Ker & Gareth Jones

3:16
$0.99

Here's a How-De-Do! If I Marry You

Eric Roberts & Bonaventura Bottone

1:18
$0.99

Company

2:57
$0.99

A More Humane Mikado Never Did In Japan Exist

Michael Ducarel & Chorus

4:06
$0.99

The Criminal Cried As He Dropped Him Down

Eric Roberts, Malcolm Rivers, Thora Ker & Chorus

3:23
$0.99

See How the Fates Their Gifts Allot

Malcolm Rivers, Eric Roberts, Susan Gorton, Thora Ker & Michael Ducarel

1:41
$0.99

The Flowers That Bloom In the Spring

Bonaventura Bottone, Eric Roberts, Deborah Rees, Thora Ker & Malcolm Rivers

1:30
$0.99

Susan Gorton

2:45
$0.99

Eric Roberts

3:04
$0.99

There Is Beauty In the Bellow of the Blast

Susan Gorton & Eric Roberts

1:57
$0.99

Company

1:53
$0.99
27 Songs

℗ 1990 JAY Productions Ltd.
Customer Reviews
This is the New D'Oyly Carte production from 1990, not 1926
The new D'Oyly Carte was revived in 1988 as an ad-hoc group, constantly disbanding and reforming itself with each new season, and so the new Company never developed the stable of stars that the old D'Oyly Carte Opera Company once had. As a consequence, none of their recordings are likely to supplant the better efforts of the old Company in the hearts and minds of fans. However this is still a solid production of The Mikado and a worthy addition to any Gilbert & Sullivan fan's collection.
Good point
Original cast - how they do preserve themselves so well !! All joking aside, this the best recording out there. It is done in the excellent D'Oyle Carte traditions.
About Gilbert & Sullivan
The songwriting team of William S. Gilbert and Arthur Sullivan was among the most successful and enduring of the 19th century; their comic operas remain immensely popular over a century after the duo's final work, and are viewed today as forerunners of contemporary musical theater. Lyricist Gilbert was born in London on November 18, 1836; the son of a retired naval surgeon, he was kidnapped by Italian brigands at the age of two, but upon his release, he settled into a rather unremarkable childhood, eventually joining the militia. After first accepting a government bureau job, Gilbert later spent a few years as a barrister, and in 1861, he began contributing humor and dramatic criticism to the popular British publication Fun under the pseudonym "Bab; " a collection of his work for the magazine was published in 1869 as The Bab Ballads, and a number of his stories' characters later served as the direct inspiration for his musical work.

Sullivan was born in Lambeth, London on May 13, 1842; the product of a musical family -- his father was a bandmaster at the Royal Military College -- while still a pre-teen he mastered all of the wind instruments in the band, composing his own anthem at the age of eight. At age 14, he won the first Mendelssohn Scholarship, later winning other scholarships to attend a number of prominent academies and conservatories; in Germany, Franz Liszt even listened to his final thesis. Sullivan returned to England at age 20, where he wrote The Tempest to great acclaim before spending the next decade as a professor of music, a teacher, and an organist. In addition to composing "Onward Christian Soldiers," he also penned several major choral works, including The Light of the World, The Martyr of Antioch, The Golden Legend, and his one grand opera, Ivanhoe. With writer F.C. Brunand, Sullivan then ventured into comic opera with 1867's Cox and Box, swiftly followed by The Contrabandista.

Gilbert & Sullivan first teamed in 1871 for Thespis, which ran only briefly and garnered little attention; however, in 1875 they were reunited by impresario Richard D'Oyly Carte for Trial by Jury, which ran for 300 performances. It was followed in 1877 by The Sorcerer; in 1878, the smash hit H.M.S. Pinafore premiered, running for close to 600 performances and establishing Gilbert & Sullivan among the eminent creative teams of the day. Their operettas predated the musical theater of the next century by interspersing light, comic songs with spoken dialogue, not the recitative variety more common to the era's operas; in fact, their productions rarely utilized professional singers, instead opting for amateur performers. They followed H.M.S. Pinafore with another rousing success, 1880's The Pirates of Penzance; 1881's Patience was another triumph, with Iolanthe following on its heels a year later.

Upon completing 1884's Princess Ida, Gilbert & Sullivan began work on the following year's The Mikado, widely acknowledged as both their most successful production, and among the most popular operas ever staged. The supernatural Ruddigore became the subject of controversy on its 1887 premiere; it was followed in 1888 by The Yeomen of the Guard, with The Gondoliers bowing the next year. After close to four years away from the stage, Gilbert & Sullivan resurfaced in 1893 with Utopia, Limited; The Grand Duke, their final collaboration, was first performed in 1896, ending an often-quarrelsome partnership encompassing a quarter-of-a-century and 14 comic operas. In 1883, Sullivan was knighted by Queen Victoria; after a long illness, he died on November 22, 1900. Gilbert, too, was knighted, by King Edward VII in 1907; he died on March 29, 1911 while attempting to save a drowning woman. ~ Jason Ankeny
Top Songs by Gilbert & Sullivan
See All
Top Albums by Gilbert & Sullivan
See All