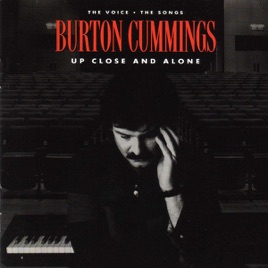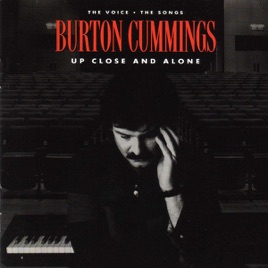 Up Close and Alone (Live)
| | TITLE | TIME |
| --- | --- | --- |
| | | 3:23 |
| | | 4:24 |
| | | 4:58 |
| | | 4:25 |
| | Break It to Them Gently (Live) | 5:34 |
| | | 3:08 |
| | | 4:19 |
| | Clap for the Wolfman (Live) | 4:14 |
| | I Will Play a Rhapsody (Live) | 3:26 |
| | | 3:53 |
| | Gordon Lightfoot Does Maggie May (Live) | 2:10 |
| | | 4:30 |
| | No Sugar Tonight / New Mother Nature (Live) | 5:44 |
| | Ferry Cross the Mersey (Live) | 3:54 |
| | | 4:19 |
| | | 4:20 |
| | | 4:44 |
| | These Eyes / Goodnight Everybody (Live) | 5:09 |
18 Songs, 1 Hour, 16 Minutes

℗ 1993 K.P.M.
Ratings and Reviews
A Songwriter's Gem
For those who wish to gain insight into a master songwriter, this CD is definitely for you. Burton Cummings masterfully strolls through hit after hit, alone with his piano, showcasing his piano playing, still-smooth sounding voice, and his stage presence in front of an intimate crowd. As stated in the liner notes, this tour and CD came from Cummings playing songs at one of his friend's (and lawyer) house parties. It was so well received, it was suggested he take the show on the road. He did.

What transpires is a wonderful, totally unplugged session of great songs. While most of these are well known in Canada, there are at least a dozen that have charted (and charted highly) around the world via the Guess Who or Burton Cummings as a solo act.

And his rendition of Gordon Lightfoot doing Rod Stewart is not to be missed. He has it dead on.
Lackluster, ballad-heavy collection
This album tends to favor Burton's ballad side. After a solid "Albert Flasher", the program bogs down with a bunch of slow dirges. He could have gone deep into the Guess Who catalog for material that lends itself to a solo piano setting, like the jazzy "Nashville Sneakers" (from Rockin') or the haiku-like "Eye" (from Flavours); instead, he plays it safe. Vocally, he does OK within his diminished range, but it's definitely not Live At The Paramount. In the CD liner notes, Cummings is in a pensive mood, nostalgic for the pre-stardom days with The Deverons. This wistful vibe carries into the performance as a whole. Burton was never really meant to be a solo artist; he did his best work when he had a Randy Bachman, Kurt Winter or Domenic Troiano to bounce ideas off. If you're a Guess Who completist or you like the mellower side of Burton, you'll enjoy this; otherwise, pass it up.
What happened with Lightfoot?
If you listen to "The Guess Who, The Ultimate Collection" you would get the feeling that Burton had a great deal of respect for Gordon Lightfoot.... Listening to "Gordon Lightfoot Does Maggie May", you wonder what happened over the years. (it's still a great funny impersonation, just kind of mean)
About Burton Cummings
Burton Cummings, born in Winnipeg in 1947, played with the Devrons before joining the Guess Who as lead vocalist in 1965. Cummings spent ten years with that band, but left for a solo career, releasing a self-titled album in 1976. The single, "Stand Tall," sold over a million copies. He has also released My Own Way to Rock (1977), Dream of a Child (1978), Woman Love (1980), Sweet Sweet (1981) and Plus Signs (1990). ~ John Bush
ORIGIN

Winnipeg, Manitoba, Canada

GENRE

BORN

December 31, 1947