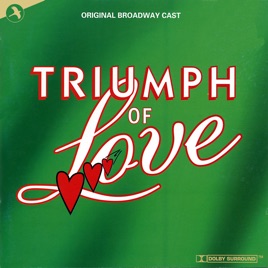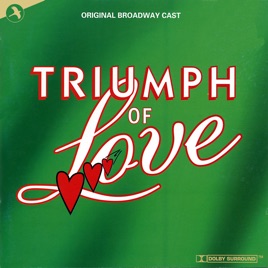 Triumph of Love (Soundtrack from the Broadway Show)
TITLE
TIME

Triumph of Love, Act I: This Day of Days

Betty Buckley

6:14

Triumph of Love, Act I: Anything

Susan Egan

4:15

Triumph of Love, Act I: Classic Clown

Roger Bart

0:31

Triumph of Love, Act I: The Bond That Can't Be Broken

Susan Egan

3:16

Triumph of Love, Act I: Mr Right

Nancy Opel

2:48

Triumph of Love, Act I: You May Call Me Phocion

Betty Buckley

4:20

Triumph of Love, Act I: Mr Right (Reprise)

Kevin Chamberlin

1:06

Triumph of Love, Act I: Emotions

F. Murray Abraham

3:54

Triumph of Love, Act I: The Sad and Sordid Saga of Cecile

Susan Egan

5:19

Triumph of Love, Act I: Serenity

Betty Buckley

4:13

Triumph of Love, Act I: Issue In Question

Christopher Sieber

2:25

Triumph of Love, Act I: Teach Me Not to Love

Susan Egan

4:12

Triumph of Love, Act II: Have a Little Faith

Susan Egan

2:23

Triumph of Love, Act II: The Tree

Betty Buckley

4:15

Triumph of Love, Act II: What Have I Done?

Susan Egan

5:35

Triumph of Love, Act II: Henchmen Are Forgotten

Roger Bart

3:13

Triumph of Love, Act II: Love Won't Take No for an Answer

Betty Buckley

5:55

Triumph of Love, Act II: Finale

Susan Egan

3:51

Triumph of Love: If I Cannot Love

Betty Buckley

3:04
19 Songs, 1 Hour, 10 Minutes

℗ 1998 JAY Productions Ltd
I wish I'd seen this on Broadway
What a good cast on this album! This is not a great show, but it is a fun, charming, and witty one. A piece of fluff, if you will. I saw a local production of it, and it was thoroughly enjoyable. It's a fable, set in a mythical kingdom, with star-crossed lovers, mixed-up indentities, meddling servants, and a happy ending. Standout songs are Anything, The Bond That Can't Be Broken, Mr. Right, Henchmen Are Forgotten, and my favorite, Have A Little Faith.
Good Show!
I like this show. It's fun and I plan on learning one of the songs, but I need to find the sheet music. If anyone knows where to find it post it on this page please.
What an AMAZING theatrical experience
I saw this show when I lived in NYC way, way, WAY back in my youth. I was a starving artist and had NO money to eat. But I had plenty of money to see Miss Betty Buckley sing anything. The opening of the show with its gold curtain that was so large, it spilled off into the pit and out into the audience rising to reveal Miss Buckley in a stunning blue dress in the center of a totally green grass covered set was worth the price of admission. I lost my breath and audibly screamed. It is not the best of all shows but it remains one of the most charming shows I have ever seen in the theatre. I have heard the album and it still stands as a little piece of heaven in my mind.