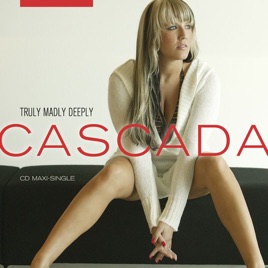 | | TITLE | | TIME |
| --- | --- | --- | --- |
| | Truly Madly Deeply (UK Radio Edit) | | |
| | | | |
| | Truly Madly Deeply (Thomas Gold Radio Edit) | | |
| | Truly Madly Deeply (Tune Up! Radio Edit) | | |
| | Truly Madly Deeply (Thomas Gold Remix) | | |
| | Truly Madly Deeply (UK Club Mix) | | |
| | Truly Madly Deeply (Tune Up! Remix) | | |
| | Truly Madly Deeply (Styles & Breeze Remix) | | |
| | Truly Madly Deeply (DJ Bomba & El Senor Remix) | | |
| | Truly Madly Deeply (Frisco Remix) | | |
10 Songs, 49 Minutes
Released:

Feb 27, 2007

℗ 2007 Robbins Entertainment LLC
Ratings and Reviews
Ignorance...? I like it.
I'm quite shocked at some of the reviews that this title has recieved. I have to cover a few things before I get to my review:
1. If you like the Savage Garden version better, then don't buy this & 'definately' don't give this a horrible rating simply because you don't think it isn't "as good;"
2. "It has the same beat as 'Everytime We Touch'" - point being? Only the 'UK Radio Edit' really has the same beat...You have 9 other songs to choose from that are completely different...

Anywho - on to my review.
I never did like Savage Garden, but I did have somewhat of an ear for their original of this song. As well, I found this song to be a good one, too. I'm not particularly a fan of all the remixes, but *I preview them before I buy them - hint hint, people* I'd suggest trying a few out & just buying the ones that you like. - it's as simple as that. =)
Thank you, iTunes!
I've been waiting ages for the fast one! Cascada has an amazing, real voice that is fun to listen and dance to! If you like this one, get Everytime We Touch, Ready For Love, A Neverending Dream, Can't Stop the Rain, Miracle, Bad Boy, and How Do You Do!
DONT BE FOOLISH!!!!!PLEASE READ
All you die-hard Cascada fans will hate me for this, but - LET'S HAVE SOMETHING ORIGINAL! Same beat, music, even tempo. Anyone who thinks that all these songs are different obviously only listens to the singing (which, yes, is the only original thing throughout every song). So all you SHEEPle who are saying, "Like, omigod, like, I love Cascada! She like, sings so pretty!" really need to wise up and listen to some actual dance. If singing is your biggest concern, go watch American Idol. I love Everytime We Touch a lot (esp. Verano RMX), but that still shouldn't motivate me, nor anyone, to instantly praise everything someone does because of 1 song that they didn't even write. Bob Dylan made an album in the '70s where he purposely made it terrible just to see if everyone bought it because he was famous. They did. So don't repeat history, don't be foolish. Listen to something else. Yeah, I see you telling iTunes how much you hate my review by clicking on the little "No" button, and I don't care.