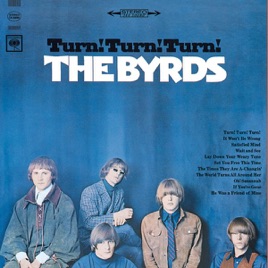 EDITORS' NOTES
The Byrds' second album, Turn! Turn! Turn!, in many ways exceeds the expectations of their debut, Mr. Tambourine Man. While the formula had been established with their 12-string, harmony-laden version of the Dylan tune, the band still had plenty of variations to work over. This time, the title track is a Pete Seeger adaptation of Biblical verse given the Byrds' trademarked electricity, while the traditional folk song, "He Was A Friend Of Mine," is updated by Roger McGuinn to be a tribute to the late President Kennedy. As with Dylan (represented here with covers of "Lay Down You Weary Tune," "The Times They Are A-Changin'"), the Byrds manage to effortlessly make it pop music without sacrificing the song's artistic merit. But it's the group's original compositions that lead the charge. McGuinn's "It Won't Be Wrong," Gene Clark's "The World Turns All Around Her" and "If You're Gone" are among the band's most enduring tracks. A cover of the Porter Wagoner hit "Satisfied Mind" points towards bassist Chris Hillman's interest in country music that would eventually take the group into a new direction. The deluxe edition includes several different mixes and alternate versions of songs, including a cover of Dylan's "It's All Over Now, Baby Blue."
EDITORS' NOTES
The Byrds' second album, Turn! Turn! Turn!, in many ways exceeds the expectations of their debut, Mr. Tambourine Man. While the formula had been established with their 12-string, harmony-laden version of the Dylan tune, the band still had plenty of variations to work over. This time, the title track is a Pete Seeger adaptation of Biblical verse given the Byrds' trademarked electricity, while the traditional folk song, "He Was A Friend Of Mine," is updated by Roger McGuinn to be a tribute to the late President Kennedy. As with Dylan (represented here with covers of "Lay Down You Weary Tune," "The Times They Are A-Changin'"), the Byrds manage to effortlessly make it pop music without sacrificing the song's artistic merit. But it's the group's original compositions that lead the charge. McGuinn's "It Won't Be Wrong," Gene Clark's "The World Turns All Around Her" and "If You're Gone" are among the band's most enduring tracks. A cover of the Porter Wagoner hit "Satisfied Mind" points towards bassist Chris Hillman's interest in country music that would eventually take the group into a new direction. The deluxe edition includes several different mixes and alternate versions of songs, including a cover of Dylan's "It's All Over Now, Baby Blue."
| | TITLE | | TIME |
| --- | --- | --- | --- |
| | Turn! Turn! Turn! (To Everything There Is a Season) | | |
| | | | |
| | | | |
| | | | |
| | | | |
| | The World Turns All Around Her | | |
| | | | |
| | | | |
| | The Times They Are A-Changin' | | |
| | | | |
| | | | |
| | The Day Walk (Never Before) | | |
| | She Don't Care About Time (Single Verson) | | |
| | The Times They Are A-Changin' | | |
| | It's All Over Now, Baby Blue (Version One) | | |
| | She Don't Care About Time (Version 1, Take 2) | | |
| | The World Turns All Around Her (Alternate Mix) | | |
| | Stranger In a Strange Land (Instrumental) | | |
18 Songs, 47 Minutes
Released:

Dec 6, 1965

℗ 1996 Sony Music Entertainment Inc.
Ratings and Reviews
4.5 Stars - Much Underrated
I don't see why this album is so often considered to be "merely a follow-up" to Mr. Tambourine Man, as I find that Turn! Turn! Turn! noticeably surpasses its immediate predecessor. Tambourine Man was comprised of about half covers, half original tunes. The covers were, for the most part, good, but the originals needed improvement in the lyrical field, not to mention sported a breezy "pop" feel. Here, 6 of the 11 tracks are penned by the Byrds, usually by Gene Clark, who now proved himself capable of writing better lyrics, as well as contributing the gorgeous ballad If You're Gone, arguably the group's best song. The only weak tracks are 5, 9, and 11, and most of the bonus tracks are uninteresting with the exception of She Don't Care About Time and to some extent It's All Over Now, Baby Blue.
How Could The Person Above Me Only Give This 3 Stars???
IMO this byfar was the Byrds best album. I could listen to it everyday. The song "Turn Turn Turn" alone would make me rate this album 5 stars. And not to mention, "The Times They Are A-Changin" is on this album. I love it. Great stuff. My favorite album.
A Fantastic Reissue
Turn! Turn! Turn! receives the best treatment of all the reissues. The seven additional songs take this album from 3.5 stars to a full five-star masterpiece. When people refer to the quintessential Byrds sound, this is the album they're thinking of. As Byrds fans came to discover, the group was never able to fully replace Gene Clark's terrrific songwriting.