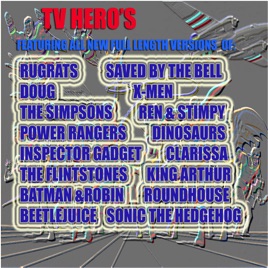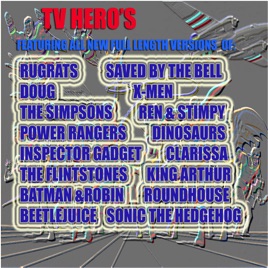 TV Hero's
Various Artists
TITLE
TIME
PRICE

Saved By the Bell (Main Theme)

TV Mania Orchestra

2:00
$0.99

Ren & Stimpy (Main Theme)

TV Mania Orchestra

2:56
$0.99

TV Mania Orchestra

1:53
$0.99

Flintstones (Flintstone Rap Featuring Renato)

Renato with the TV Mania Orchestra

1:43
$0.99

Power Rangers (Main Theme)

TV Mania Orchestra

2:11
$0.99

TV Mania Orchestra

1:41
$0.99

Inspector Gadget (Main Theme)

TV Mania Orchestra

1:50
$0.99

The Simpsons (Main Theme)

TV Mania Orchestra

2:40
$0.99

Batman & Robin (Main Theme)

TV Mania Orchestra

1:50
$0.99

TV Mania Orchestra

1:40
$0.99

TV Mania Orchestra

2:07
$0.99

TV Mania Orchestra

2:05
$0.99

TV Mania Orchestra

1:43
$0.99

TV Mania Orchestra

1:51
$0.99

Sonic the Hedgehog (Main Theme)

TV Mania Orchestra

1:45
$0.99

TV Mania Orchestra

2:15
$0.99

Cucu Bam Bam Featuring Kathy

Kathy

3:03
$0.99
17 Songs

℗ 2006 SEI Records
Customer Reviews
Fantastic Covers
When I read a review on iTunes, I do not expect a Grammar lesson, or some self serving two word insult as pontificated by "Fireball." Under normal circumstances, I would have rated this album a 4, but because of "Fireballs" very unfair rating of 1, I felt the need to "over compensate." This album was very well done, and the versions of Power Rangers, Clarissa, Saved By The Bell, Roundhouse, Inspector Gadget, The Simpsons, and Ren & Stimpy were excellent. The vocals, are excellent, the musicianship is excellent, and the mix is excellent. The Power Ranger version is iTunes number 1 download in this category, and Saved by the Bell is not far behind. In addition, this album contains the ever so difficult to find version of the Disney TV Show- Dinosaurs. My Kids really enjoyed this album as did I. It is worth $9.99 to download the entire album. I recommend this album to anyone that is a kid at heart, or just wants to remember what it was like to be a kid. Brought back some very nice memories for me, unfortunately these songs had a very different effect on Fireball (he or she obviously had some very bad memories).
Best Kid Album So Far
It is nice to find a well done album with great versions that the entire Family can enjoy. This album really brought back memories for me, and my kids enjoyed all of the songs. Thank you TV Mania Orchestra. The right choice of songs, the right arrangements, and some great vocals. The fact they were able to extend these versions made them more enjoyable. A definite 5 star in my book. First time I have seen a cover of the Disney TV show Dinosaurs, and the 30 second sample of the the Simpsons does not do this version justice. Power Rangers, Saved By The Bell, and Roundhouse were great. Also enjoyed the guitar solo's on Ren & Stimpy, Inspector Gadget was well done, as was X-Men, and Sonic the Hedgehog. My 5 year old really liked the CuCu Bam Bam song.