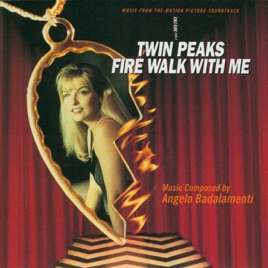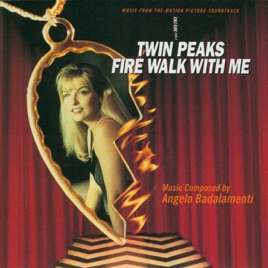 Twin Peaks: Fire Walk With Me (Soundtrack from the Motion Picture)
TITLE
TIME
PRICE

Theme from Twin Peaks - Fire Walk With Me

6:46
$1.29
4:03
$1.29

Jimmy Scott

3:54
$1.29

Don't Do Anything (I Wouldn't Do)

7:21
$1.29
5:37
$1.29

Questions In a World of Blue

Julee Cruise

4:54
$1.29
4:06
$1.29

The Black Dog Runs At Night

1:48
$1.29
2:17
$1.29
6:45
$1.29

Montage from Twin Peaks: Girl Talk / Birds In Hell / Laura Palmer's Theme / Falling

5:30
$1.29
3:52
$1.29
12 Songs

℗ 1989, 1990, 1992 Warner Bros. Records Inc. for the U.S. and WEA International Inc. for the world outside of the U.S.
Customer Reviews
Haunting
Thank you, iTunes, for finally making this soundtrack available! The music is just as dark and nightmarish as the movie it plays soundtrack to. FWWM is a Lynchian masterpiece.
Thought Gang
Someone fill me in. Angelo or David's alter ego or both or. What's the deal.
About Angelo Badalamenti
Best known for his hauntingly atmospheric work with filmmaker David Lynch, composer Angelo Badalamenti was born in Brooklyn, New York, in 1938; a classically trained performer, he spent the early years of his career playing the Catskills resort area, later writing and arranging for singers including Shirley Bassey and country star Mel Tillis. Under the name Andy Badale, he entered the film industry in 1973, debuting with the score to the action film Gordon's War. Despite subsequent work on such features as 1974's Law and Disorder and 1976's Across the Great Divide, Badalamenti remained largely unknown before hooking up with Lynch on the soundtrack of the director's 1986 masterpiece Blue Velvet; they subsequently worked together on the features Wild at Heart, Lost Highway, and The Straight Story. Perhaps the most famous fruit of their collaboration was the cult hit television series Twin Peaks, for which Badalamenti created one of the most distinctive and evocative theme songs in TV history. The duo also wrote and produced a pair of LPs for ethereal chanteuse Julee Cruise, 1989's Floating into the Night and 1993's The Voice of Love, and staged an avant-garde musical theater piece titled Industrial Symphony No. 1.

Ever the composer to expand upon his skills with varied projects, Badalamenti conducted a performance during the opening ceremony for the 1992 Olympics in Barcelona, Spain. In 1993, he shifted gears and collaborated with American thrash metal act Anthrax on their Sound of White Noise record for the Twin Peaks-inspired track "Black Lodge." He then went on to orchestrate and produce Marianne Faithfull's 1995 album, A Secret Life. In 1996, he teamed up with James vocalist Tim Booth for the LP Booth and the Bad Angel. Badalamenti subsequently worked on the scores for such films as Dark Water, The Wicker Man, and Edge of Love. In 2008, he was awarded the Lifetime Achievement Award at the World Soundtrack Awards. Three years later, the American Society of Composers, Authors and Publishers (ASCAP) honored Badalamenti with the Henry Mancini Award. He continued to work throughout the 2010s, most notably on 2017's third season of Twin Peaks, which featured new and previously written pieces that were showcased on Twin Peaks [Limited Event Series Original Soundtrack] and Twin Peaks: Music from the Limited Event Series. ~ Jason Ankeny
ORIGIN

New York, NY

BORN

Mar 22, 1937