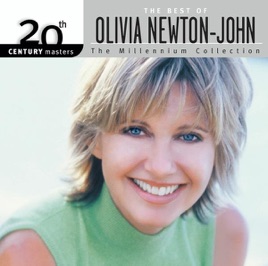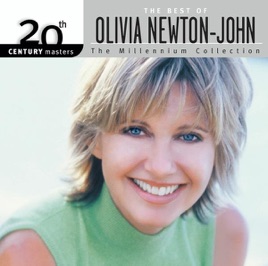 20th Century Masters - The Millennium Collection: The Best of Olivia Newton-John
| | TITLE | TIME | PRICE |
| --- | --- | --- | --- |
| 1 | | 2:58 | |
| 3 | Have You Never Been Mellow? | 3:31 | |
| 4 | | 3:22 | |
| | Hopelessly Devoted to You | 3:06 | $1.29 |
| | | 3:28 | $1.29 |
| | | 4:29 | $1.29 |
| | | 4:00 | $1.29 |
| | | 3:36 | $0.99 |
| | | 3:42 | $1.29 |
| | | 3:06 | $1.29 |
| | | 3:38 | $1.29 |
12 Songs

℗ 2002 Universal Music Enterprises, a Division of UMG Recordings, Inc.
Customer Reviews
I honestly love you....well, I like you Olivia
Looking for your 80's guilty pleasure fix? Here it is! All the goodies are here. Songs from "Xanadu" and "Two of a Kind"...oh man, remember when she an Travolta did bank robbery movies? Well, "physical" is here and even her "Grease" show stopper! Eat your heart out Matt Latanzi. Where's you're greatest hits, huh? Anyhoo, it's just as cheesy as you remember and you'll still sing along in your car when nobody'd watching-- so enjoy!
WONDREFUL!
she has a beautiful voice and truly was great in Grease! love the album!
About Olivia Newton-John
Olivia Newton-John skillfully made the transition from popular country-pop singer to popular mainstream soft rock singer, becoming one of the most successful vocalists of the '70s in the process. The transition itself wasn't much of a stretch -- her early-'70s hits "I Honestly Love You" and "Have You Never Been Mellow" were country only in the loosest sense -- yet the extent of her success in both fields was remarkable. As a country singer, her first five charting singles all went Top Ten in the U.S.; as a pop singer, she had no less than 15 Top Ten hits, including five number one singles, highlighted by "Physical," which spent ten weeks at number one in 1981-1982. Newton-John's sweet voice suited both country-pop and soft rock perfectly, which is what kept her at the top of the charts until the mid-'80s. After 1984, she was no longer able to reach the Top 40, partially because of shifting musical tastes and partially because she was unable to successfully record sexy dance-pop, no matter how hard she tried. Nevertheless, her '70s and '80s hits remained soft rock and adult contemporary staples into the '90s, when she was no longer recording frequently.

Although she was born in Cambridge, England, Newton-John was raised in Melbourne, Australia, where her father was the headmaster of Ormond College (her grandfather Max Born won the Nobel Prize for physics). She tentatively entered show business at the age of 12, when she won a local Hayley Mills look-alike contest. A few years later, she formed an all-female vocal group called the Sol Four with three school friends. Once the Sol Four disbanded, Newton-John entered a television talent contest, winning the grand prize of a trip to London, England. Once in London, she formed a duo with Pat Carroll, another Australian-based vocalist, and tried to work her way into the music industry. Though her partnership with Carrol was short-lived -- Pat was sent back to Australia once her visa expired -- Olivia was making inroads in the business. Following Carrol's departure, Newton-John recorded and released her first single, a version of Jackie DeShannon's "Till You Say You'll Be Mine." Shortly afterward, she became a member of Toomorrow, a bubblegum group assembled by Don Kirshner in hopes of creating a British version of the Monkees.

Toomorrow appeared in a science fiction movie of the same name and had one minor British hit single, "I Could Never Live Without Your Love," in early 1970 before the group quietly disbanded. Following the failure of Toomorrow, Newton-John became part of Cliff Richard's touring show, appearing both as an opening act at his concerts and on his British television series, It's Cliff! The exposure as a singer and comedienne on the show helped Olivia's career immeasurably, and her first single for Uni Records, a version of Bob Dylan's "If Not for You," became a Top Ten hit in the U.K. in the spring of 1971; in America, it was surprisingly successful, spending three weeks at the top of the adult contemporary charts and peaking at number 25 on the pop charts. For the next two years, Newton-John's success was primarily contained in Britain, where she had a string of lesser hits with covers of George Harrison's "What Is Life" and John Denver's "Take Me Home Country Roads." In America, her career was stalled -- her follow-up single, "Banks of the Ohio," barely scraped the lower reaches of the Top 100. On the other hand, she didn't release a full-length album in the U.S. until 1973, when Let Me Be There appeared. The title track from the record became a huge hit, going gold in early 1974 and peaking in the Top Ten country and pop charts. "Let Me Be There" was so successful it won the Grammy Award for Best Country Vocal Performance, Female, much to the consternation of many members of Nashville's music industry.

"Let Me Be There" was followed by four other Top Ten hits -- "If You Love Me (Let Me Know)" (number two country, number five pop, 1974), "I Honestly Love You" (number six country, number one pop, 1974), "Have You Never Been Mellow" (number three country, number one pop, 1975), and "Please Mr. Please" (number five country, number three pop, 1975). Newton-John moved to Los Angeles late in 1974, and early the following year, she won the Female Vocalist of the Year award from the Country Music Association. As a protest, several members of the CMA quit the organization. Ironically, Newton-John was already planning to move away from country. During 1976 and 1977, she had a number of minor hits with soft rock songs. Though none of these were big pop successes, they began to establish her as a pop singer, not a country-pop singer.

Newton-John's transformation into a mildly sexy pop singer was complete in 1978, when she starred in the movie version of the popular Broadway musical Grease. Also starring John Travolta, Grease was an international hit and spawned three huge hit singles -- "Hopelessly Devoted to You," "Summer Nights," and "You're the One That I Want"; the latter two were duets between Newton-John and Travolta. "You're the One That I Want," in particular, was a massive success, reaching number one in both America and Britain; in the U.K., it spent a staggering nine weeks at number one. During 1979, Newton-John released the Totally Hot album, which boasted a mixture of soft rock and light disco. The record was another hit, with the first single, "A Little More Love," peaking at number three on the U.S. pop charts and going gold. Early in 1980, Newton-John starred in the roller-disco fantasy film Xanadu. While the movie was an unqualified bomb, the soundtrack was a huge hit. "Magic" spent four weeks at the top of the U.S. pop charts, while the ELO duet "Xanadu" reached number eight and her duet with Cliff Richard, "Suddenly," peaked at number 20.

With her next album, Physical, Newton-John continued to rework her image, reinventing herself as a sexy aerobics fanatic. The first single from the record, the suggestive "Physical," was a huge hit, spending ten weeks at number one during the fall and winter of 1981-1982. Physical spawned another Top Ten hit -- "Make a Move on Me" -- and became her most successful record. Following the album's success, she was awarded with an Order of the British Empire. In 1983, Newton-John again starred with Travolta, this time in the comedy Two of a Kind. The movie was a bomb, but a song she recorded for the soundtrack, "Twist of Fate," became a Top Ten hit in early 1984.

By the end of 1984, Newton-John had married actor Matt Lattanzi. The following year, she released the Physical clone Soul Kiss, which produced only one minor hit with its title track. In 1986, she had a daughter named Chloe and opened a clothing store chain called Koala Blue. Newton-John attempted to launch a comeback in 1988 with The Rumour, but the album was ignored. She signed with Geffen the following year, releasing the children's album Warm and Tender. During the late '80s and '90s, she devoted herself to her family and business as well as several environmental activist organizations. In 1992, Koala Blue folded and Newton-John was diagnosed with breast cancer. Over the next year, she successfully underwent treatment for the disease. In 1994, she returned to recording with the independently released and self-produced album Gaia. Back with a Heart, a return to Nashville, followed in 1998. One Woman's Live Journey was issued two years later.

Over the course of the 2000s, Newton-John pursued a number of charity works, many relating to cancer, including the opening of the Olivia Newton-John Cancer & Wellness Centre in Melbourne, and her recordings have generally been inspirational, such as 2006's Grace and Gratitude, or seasonal releases separated by live albums like 2007's Olivia Newton-John and the Sydney Symphony: Live at the Sydney Opera House. In 2010, she re-recorded her 2006 LP as Grace and Gratitude Renewed.

In 2012, Newton-John reunited with Travolta for the holiday charity album This Christmas. Also that year, she starred in the Australian comedy film A Few Best Men, for which she also supplied the '70s and '80s covers-centric soundtrack. She then collaborated with Amy Sky and Beth Nielsen Chapman on the inspirational album LIV ON. Informed by her battle with breast cancer and centered around themes of grief, caregiving, and recovery, the album featured new and reworked songs from the trio, including a version of Newton-John's "Grace and Gratitude." ~ Stephen Thomas Erlewine
ORIGIN

Cambridge, England

BORN

Sep 26, 1948