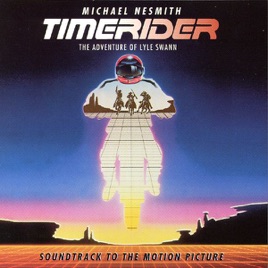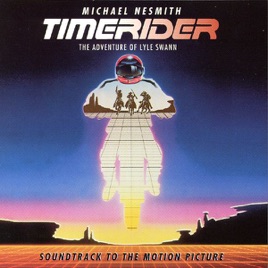 Timerider - The Adventures of Lyle Swann (Soundtrack from the Motion Picture)
| | TITLE | TIME | PRICE |
| --- | --- | --- | --- |
| | | 3:13 | $0.99 |
| | | 1:43 | $0.99 |
| | | 1:06 | $0.99 |
| | | 0:57 | $0.99 |
| | | 0:57 | $0.99 |
| | | 1:28 | $0.99 |
| | | 2:20 | $0.99 |
| | | 0:51 | $0.99 |
| | | 2:24 | $0.99 |
| | | 2:01 | $0.99 |
| | | 0:54 | $0.99 |
| | | 2:17 | $0.99 |
| | | 1:54 | $0.99 |
| | | 3:19 | $0.99 |
| | | 3:08 | $0.99 |
| | | 3:31 | $0.99 |
16 Songs

℗ 2000 Rio Records
Customer Reviews
Great Soundtrack as well as the Movie! Certain tracks are not playing.
I saw this movie on video disc back in the 80s and I loved it. The soundtrack samples are really good except for a few that won't play. The track samples that I really like are Baja 1000 Lost in the weeds Escape to San Marcos Murder at Swallow's Camp I don't want to purchase this CD if half the tracks won't play. But, all-in-all the soundtrack samples are alright by me.
One of my favorite movie soundtracks ever
I've been a fan of "Timerider" since I saw it in the theater in 1982, and a major factor in my enjoyment was Michael Nesmith's music. I wanted this soundtrack in the worst way, but the closest I could get was recording the movie's sound from my VCR onto audio cassette (after a year or more of waiting for the VHS tape to come out). Not a perfect solution, but the only one back then. When I picked up the guitar in the mid-80s, I spent a lot of time trying (unsuccessfully) to recreate its numerous and delicious leads. ("The Baja 1000" is a veritable smorgasbord of tasty licks). It will come as no surprise that I'm itching to pick up my guitar again and take another shot at it.

Listening to the music by itself, with headphones, has been a revelation. Although the music is a big part of the movie (in terms of the movie's "construction," two-thirds of it is visuals and concept; the other third is the music--not surprising, considering that we're talking about Michael Nesmith here), the nuances tend to get lost behind the sound effects and dialogue. I'm impressed by the numerous variations on the main musical themes: I love how "Escape to San Marcos" is essentially "Lost in the Weeds" on acoustic guitar. Nearly every track offers something new and different, yet never fails to reference a main theme. Especially noteworthy is "Scared to Death," with its Mexican-style guitar and subtle maracas. I could be mistaken, but I get the impression that the recording sessions were a lot of fun.

If I have a gripe at all, it's the very-80s synthesizer work. Without synthesizers, and with guitar or even a symphony filling out the sound, this soundtrack could have been far less dated, perhaps even able to stand on its own, like a Ry Cooder album (note the jaunty slide guitar on "No Jurisdiction"). That said, apart from keeping production costs down, I imagine that synthesizers were used to underscore the idea of a present-day man and his slightly futuristic machine being thrust into the past. Where they are most effective is in adding some beef behind the guitars, as in "Murder at Swallow's Camp." Conversely, where they are least effective (read: most cringe-worthy) is when they are made to fill in for real orchestral instruments, as in "Two Swanns at the Pond." So while the synth work--like the movie itself--is definitely a product of its time, it still has its many charms. In fact, the first time I listened to "Lost in the Weeds," I got goosebumps. And I'm not exaggerating, but the final moments of "Out of Ammo" stir my soul (jeez, did I just write that?) like nothing since Wagner's "Siegfried's Funeral Music."

The digital tracks sound great to me. But then, I started collecting soundtracks in the vinyl era, so I almost expect to hear pops, clicks and hiss. Color me ecstatic.
About Michael Nesmith
The comparatively level-headed member of '60s teen sensation the Monkees, Michael Nesmith was the most proficient instrumentalist in the group and wrote their best in-house songs, rootsy pop numbers like "Papa Gene's Blues," "You Told Me," "You Just May Be the One," and "Tapioca Tundra." In fact, he had written many songs before even joining the group, and one of his compositions, "Different Drum," was a hit for Linda Ronstadt and the Stone Poneys in 1968. After he left the Monkees one year later, it wasn't a surprise that he became the only one of his bandmates to sustain a solo career; in fact, his dozen (or so) '70s LPs were among the most groundbreaking country-rock recordings of the era. Throughout the 1970s and into the '80s, Nesmith continued to record sporadically, though his communications company Pacific Arts began taking up more of his time by the early '80s. Pacific Arts proved to be an important pioneer in the development of music video, the concept he had furthered in the rough-and-tumble pace of the Monkees' TV show.

Nesmith, born in 1942 in Houston, listened to the blues and played saxophone while growing up. After spending two years in the Air Force, however, Nesmith became fascinated with folk music and learned to play the guitar. He played around the area, but then moved to Memphis to play backup on recordings for Stax-Volt. Nesmith was in Los Angeles by the mid-'60s, and formed the folk-rock duo Mike and John with John London. He also recorded several singles as a solo act before auditioning to join the Monkees in 1965.

Almost immediately -- and even before their show premiered on TV -- the Monkees became one of the biggest pop groups of the late '60s. By the end of 1966, the band had notched two number one singles ("Last Train to Clarksville," "I'm a Believer"), with the first two Monkees LPs spending more than 30 weeks at number one during 1966-1967. The TV show was a big hit as well, but the group's fabricated origins and subservience to songwriting teams and session musicians betrayed them in the eyes of the rock & roll intelligentsia. While the rock community became smarter every day about the machinations of the music industry, Nesmith led the fight to have the Monkees play instruments on and write songs for their own albums. The band's record label Colgems acquiesced, and on 1967's Headquarters the Monkees played their own instruments, wrote eight of the 14 selections, and produced the album (with a little help from their friend Chip Douglas). Headquarters reached number one (though with no obvious hits) and the Monkees appeared ready to finally enter the rock elite, artistically as well as commercially.

Critics and older listeners weren't impressed with the transformation, however, and the album ended up as something of an artistic peak instead of the beginning of a gradual ascent. Nesmith soothed his wounds in 1968 by recording his first solo album, Wichita Train Whistle Songs, which featured new arrangements of his best-known Monkees songs. He continued with the Monkees for one more year, but then left the band in 1969. Nesmith's first act independent of the Monkees was the formation of the First National Band, with old friend John London on bass, John Ware on drums, and one of country music's best steel guitarists, Red Rhodes.

The First National Band signed to RCA Victor and released two albums in 1970, Magnetic South and Loose Salute. The single "Joanne" hit the pop Top 25, and "Silver Moon" also charted later in the year. Nesmith added several members for 1971's Nevada Fighter, and credited it to the Second National Band. The title track skirted the bottom of the charts for several weeks, but Nesmith proved his pop savvy yet again by providing the Nitty Gritty Dirt Band with their hit "Some of Shelly's Blues." The following year, the National Band released Tantamount to Treason.

Nesmith dropped the group credit later that year, recording And the Hits Keep Comin' as a solo artist -- though Red Rhodes continued to play with him. Nesmith's 1973 album Pretty Much Your Standard Stash was his last for RCA Victor, as he formed the music/communications label Pacific Arts in 1974. The following year he released The Prison and co-wrote Olivia Newton-John's hit "Let It Shine." Nesmith reentered the charts with 1977's From a Radio Engine to a Photon Wing; the single "Rio" was a hit in the U.K., and a filmed version of the song helped develop the concept of music video.

In 1977, Nesmith furthered his efforts in the field of music video by creating a TV chart show called Popclips. When Warner bought the idea from him several years later, the company then developed it into MTV. A stopgap live album (Live at the Palais) appeared in 1978, while Infinite Rider on the Big Dogma, Nesmith's last solo album for 13 years, was released the following year. During the '80s, Pacific Arts became the most important video publishing company in America, and Nesmith moved into film and TV production as well, winning the first video Grammy Award in 1981 for Elephant Parts. He returned to the music business in 1989, appearing with the Monkees once on-stage during their reunion tour. Nesmith also released a compilation of rare solo tracks called The Newer Stuff for England's Awareness Records. Rhino Records followed two years later with the best of his early-'70s material, The Older Stuff. In 1992, Nesmith released his first album of new material in 13 years, ...Tropical Campfires....

Four years later, Nesmith reunited with the Monkees again to record Justus, the first Monkees album since 1968 to feature all four original members. Nesmith participated in a brief Monkees tour of the U.K. to support the album, but dropped out before the group could play any American dates. Nesmith opted not to participate in any further Monkees projects until 2012, when he reunited with Dolenz and Tork after the death of Davy Jones for a memorial concert tour. In 2016, a new Monkees album was released, Good Times!, that combined older unreleased recordings with new songs written by noted fans such as Andy Partridge of XTC, Rivers Cuomo of Weezer, and Ben Gibbard of Death Cab for Cutie. In 2017, Nesmith published a memoir, Infinite Tuesday: An Autobiographical Riff. To accompany the album, Rhino Records issued the album Infinite Tuesday: Autobiographical Riffs - The Music, which collected songs both rare and familiar to represent the arc of Nesmith's life and career. ~ John Bush
ORIGIN

Houston, TX

BORN

Dec 30, 1942
Top Songs by Michael Nesmith
See All
Top Albums by Michael Nesmith
See All