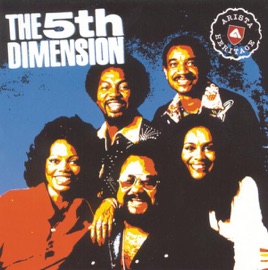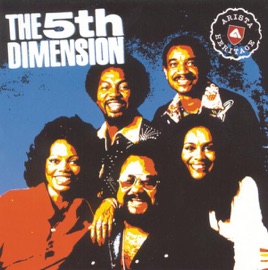 The Fifth Dimension: Master Hits
| | TITLE | | TIME |
| --- | --- | --- | --- |
| | | | 2:36 |
| | | | 2:23 |
| | | | 3:27 |
| | | | 3:27 |
| | | | 3:11 |
| | Aquarius / Let the Sunshine In (The Flesh Failures) [From the American Tribal Love Rock Musical "Hair"] | | 4:49 |
| | | | 2:42 |
| | | | 3:30 |
| | | | 2:58 |
| | | | 2:40 |
| | (Last Night) I Didn't Get to Sleep At All | | 3:11 |
11 Songs, 34 Minutes
Released:

Jul 27, 1999

℗ 1999 Arista Records, Inc.
Ratings and Reviews
Some of the best tunes!
Really brings me back to growing up in that era and all the joy of youth!
brings back being a kid (memories)
I remember all the good times ofn youth and listening to REAL music and no rap,wow the things I remember while taking a stroll thru my childhood.this is good stuff....Peace
Hector V.
Warm, classic, solid feel-good music.
Buy it.

You won't regret having this music around when you want to hear something that evokes nostalgia and good feelings all around. Billy, Marilyn and all, God Bless you! My Mom still remembers seeing you play in Milwaukee at Summerfest in 1977. We were all there for that. You guys are awesome!
About The 5th Dimension
The Fifth Dimension's unique sound lay somewhere between smooth, elegant soul and straightforward, adult-oriented pop, often with a distinct flower-power vibe. Although they appealed more to mainstream listeners than to a hip, hardcore R&B audience, they had a definite ear for contemporary trends; their selection of material helped kickstart the notable songwriting careers of Jimmy Webb and Laura Nyro, and their biggest hit was a medley from the hippie musical Hair, "Aquarius/Let the Sunshine In." The group's soaring, seamless harmonies were given appropriately sweeping, orchestrated period production by Bones Howe, which often placed their records closer to California-style sunshine pop. That's actually part of the reason why the best singles from the Fifth Dimension's heyday of the late '60s and early '70s still evoke their era with uncanny precision.

The Fifth Dimension began life in Los Angeles in 1965 as the Versatiles. Lamonte McLemore, Ron Townson, and Billy Davis, Jr. all grew up in St. Louis, and moved to Los Angeles independently of one another; each was trained in a different area -- jazz, opera, and gospel/R&B, respectively. Marilyn McCoo was the first female singer to join, and she was soon augmented by Florence LaRue; both were ex-beauty pageant winners who'd attended college in the L.A. area. Their demo tape was rejected by Motown, but after a one-off single for Bronco, they caught the attention of singer Johnny Rivers, who'd just set up his own label, Soul City. Rivers signed the group in 1966 on the condition that they update their name and image, and thus the Fifth Dimension was born. Their first Soul City single, "I'll Be Lovin' You Forever," was a flop, but a cover of the Mamas & the Papas' "Go Where You Wanna Go" climbed into the Top 20.

Budding young songwriter Jimmy Webb ("Macarthur Park," "By the Time I Get to Phoenix," etc.) supplied the Fifth Dimension with their breakthrough hit, 1967's "Up, Up and Away." An ode to the pleasures of flying in a beautiful balloon, the song became the group's first Top Ten hit, peaking at number seven, and went on to sweep the Grammy Awards, taking home five total (including Record of the Year and Song of the Year). Its success pushed the Fifth Dimension's first album, also titled Up, Up and Away, to gold sales status. The group stuck with Webb for its second album, The Magic Garden, which featured only one non-Webb composition; it produced a couple of minor hits in "Paper Cup" and "Carpet Man," but nothing on the level of "Up, Up and Away." Their third LP was thus more diverse, featuring several compositions by another up-and-coming songwriter, Laura Nyro. The title cut, Nyro's "Stoned Soul Picnic," went all the way to number three in the spring of 1968, selling over a million copies and putting Nyro on the map. The Nyro-penned follow-up single, "Sweet Blindness," also reached the Top 20.

The Fifth Dimension's success peaked in 1969 when the group caught a Broadway production of Hair, and immediately decided to cut a medley of two songs from the show. "Aquarius/Let the Sunshine In" was a monster hit and grew to become one of the era's defining pop records; it spent six weeks at number one, sold a whopping three million copies, and won the group its second Record of the Year Grammy. Accompanying LP The Age of Aquarius went gold and nearly hit number one, and their Nyro-penned follow-up single, "Wedding Bell Blues," followed its predecessor to number one as well. The song was something of a mirror of real life; Billy Davis and Marilyn McCoo were married that year, and Florence LaRue also married group manager Marc Gordon.

Johnny Rivers sold Soul City to the Bell label in 1970, and the first Fifth Dimension LP on Bell was that year's Portrait, which spawned several minor hits and the Top Five smash "One Less Bell to Answer," a Burt Bacharach composition. 1970 also brought a controversial performance at the White House; although the group sang "The Declaration," a socially conscious critique, the simple act of appearing before President Nixon further alienated the Fifth Dimension from the black wing of their fan base, at a time when their releases had already begun to peak higher on the pop charts than on the R&B side. Indeed, their Bell recordings moved farther into soft pop and away from R&B and the gently trippy vibes of their late-'60s material. Their album sales began to taper off, and their vocal arrangements now tended to spotlight soloists rather than unified harmonies. McCoo emerged as a focal point, singing lead on the 1972 Top Ten hits "(Last Night) I Didn't Get to Sleep at All" and "If I Could Reach You." They proved to be the group's last major successes; another Bacharach tune, 1973's "Living Together, Growing Together," barely made the Top 40, and the following year's Soul & Inspiration LP marked the end of their relationship with producer Bones Howe. 1975's Earthbound was another full-length collaboration with Jimmy Webb, and much like The Magic Garden, its thematic unity failed to produce a significant hit single. It was also the last album by the original lineup; McCoo and Davis left the group to form a duo, and scored a big hit in 1976 with "You Don't Have to Be a Star."

The remaining trio carried on with new members, and nearly had a hit in 1976 with the LaRue-sung "Love Hangover"; unfortunately, Motown issued Diana Ross' own version shortly after the Fifth Dimension's hit the charts, and hers proved far more popular. Strangely enough, the Fifth Dimension signed with Motown not long after, releasing two albums in 1978. Townson briefly left the group to try a solo career, but soon returned, as the group resigned itself to the nostalgia circuit; meanwhile, McCoo served a stint as the host of Solid Gold. Phyllis Battle joined in the mid-'80s, and the original quintet reunited in 1990 for a tour. In 1995, the quintet of LaRue, Townson, McLemore, Battle, and Greg Walker recorded a new album, In the House, for Click Records. In 1998, Willie Williams replaced Townson, who passed away in 2001 due to kidney failure. Battle departed in 2002, to be replaced by Van Jewel. ~ Steve Huey
ORIGIN

Los Angeles, CA

GENRE

FORMED

1966