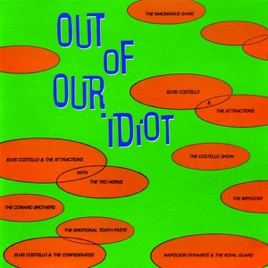 EDITORS' NOTES
The Elvis Costello rarities collected on this 1987 release are alluringly loose and fun—listen to the playful cover of The Shirelles' "Baby It's You" or the tense recast of Yoko Ono's "Walking On Thin Ice." Costello reworks "Blue Chair," a soulful standout from Blood and Chocolate, and goes big pop on "Big Sister," big reggae on "So Young," and big soul with Jimmy Cliff on "Seven Day Weekend." He teams with T-Bone Burnett for roots-popper "The People's Limousine" and lovingly covers Sam Cooke's "Get Yourself Another Fool."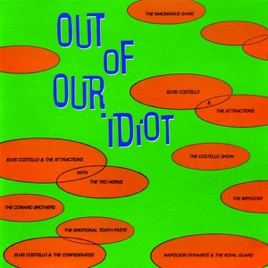 EDITORS' NOTES
The Elvis Costello rarities collected on this 1987 release are alluringly loose and fun—listen to the playful cover of The Shirelles' "Baby It's You" or the tense recast of Yoko Ono's "Walking On Thin Ice." Costello reworks "Blue Chair," a soulful standout from Blood and Chocolate, and goes big pop on "Big Sister," big reggae on "So Young," and big soul with Jimmy Cliff on "Seven Day Weekend." He teams with T-Bone Burnett for roots-popper "The People's Limousine" and lovingly covers Sam Cooke's "Get Yourself Another Fool."  
| | TITLE | | TIME |
| --- | --- | --- | --- |
| | | | |
| | | | |
| | | | |
| | | | |
| | | | |
| | | | |
| | | | |
| | Get Yourself Another Fool | | |
| | | | |
| | | | |
| | | | |
| | | | |
| | | | |
| | | | |
| | Baby's Got a Brand New Hairdo | | |
| | | | |
| | Black Sails In the Sunset | | |
| | A Town Called a Big Nothing | | |
| | | | |
| | | | |
| | | | |
21 Songs, 1 Hour 10 Minutes
Released:

Dec 31, 1986

℗ 2008 Elvis Costello under exclusive license to Universal Music Enterprises, a Division of UMG Recordings, Inc.
Ratings and Reviews
As terrific as Taking Liberties is, this one is even better!
sold in the eighties as an import-only release, these tracks really show off Elvis'
post-Attractions, 1983-88 diversity . . . from ballads to country to a stunning duet
with Nick Lowe. Highly recommended.