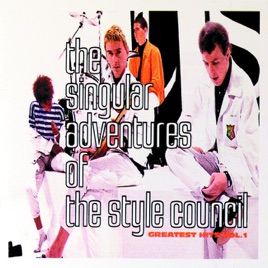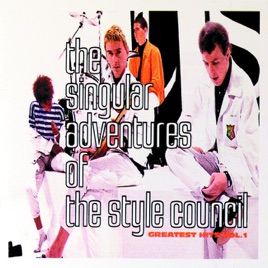 | | TITLE | | TIME |
| --- | --- | --- | --- |
| | You're the Best Thing (The Singular Adventures of the Style Council CD Remix) | | |
| | Have You Ever Had It Blue? (12" Version) | | |
| | Money-Go-Round, Pts. 1 & 2 (The Singular Adventures of the Style Council CD Remix) | | |
| | My Ever Changing Moods (12" Version) | | |
| | Long Hot Summer (12" Version) | | |
| | | | |
| | Walls Come Tumbling Down! | | |
| | Shout to the Top (Single Edit) | | |
| | | | |
| | It Didn't Matter (Single Edit) | | |
| | | | |
| | A Solid Bond in Your Heart | | |
| | Life at a Top Peoples Health Farm | | |
| | | | |
| | How She Threw It All Away | | |
| | | | |
16 Songs, 1 Hour 9 Minutes
Released:

Apr 16, 1989

℗ 1989 Polydor Ltd. (UK)
Ratings and Reviews
The 'Style' of The Style Council
After the first time I heard "My Ever Changing Moods" I ran out, bought the single and played it to death! When I got around to the rest of the 'album' ( I still have the vinyl) I was not disappointed.
From start to finish Style Council leaves its mark. The cool jazzy sounds on 'Have You Ever Had It Blue' to the pop beat of 'Speak Like a Child'. All the radio hits are here, but the gems are the ones that the radio never played or hardly ever played. "How She Threw It All Away" is one of my TSC favorites. Not only did the music sound jazzy and cool, but the lyrics of Paul Weller are fantastic.
Whenever I here The Style Council it will remind me of those nights in the 80s getting ready to go out, cool black suit, thin black tie, hat and TSC on the turn table.

Style Council
I heard this album when I was in college in the 80's-- and lost the lame cassette cartridge I bought at the time. I have been looking for it for *so* long (unbootlegged/not live, etc.).
This album is amazing! I can't believe it's here on freakin' iTunes-- I spent a lot of time looking for it in the 90's (apparently the band breakup and rights issues prevented it from being
available). Remember, it is the 80's-- but these guys were one of my favs. "A Solid Bond in Your Heart, " "Long Hot Summer (that I first heard in Australia), and of course, "You're The Best Thing"
are such great songs. I'm not sure if you're still together, but thanks guys. You were one of the top notch groups of the 80's in my heart.
Paul channels Curtis Mayfield
As Paul Weller's muse tired of London being the center of his emotionally evocative world, he was drawn west towards Chicago and Curtis Mayfield's post-Impressions funk-filled wanderings. Horn stabs, girl singers, piano, organ, you-name-it, color and shade these TSC tracks, many of whom still evoke late Jam, but the best explore the heart of Sussex soul.