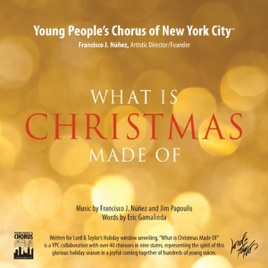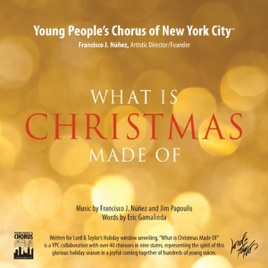 What Is Christmas Made Of - Single
| | TITLE | TIME | PRICE |
| --- | --- | --- | --- |
| | What Is Christmas Made Of | 3:51 | $0.99 |
1 Song

℗ 2011 Vital Records, Inc.
Customer Reviews
Great
I was among the 45 chorus' that sung this! It sounds great!
Best new holiday song
I tuned into the live broadcast on Lord & Taylor's web site this past holiday season for the unveiling of their holiday window displays since I couldn't make it to New York to see it in person. As the windows were unveiled this song was being sung, and I thought this was a great song! I could just picture walking into any Lord & Taylor store, seeing it all nicely decorated for the holidays(thanks to their Visuals Department)and hearing this being played over their audio system. This really is holiday music at it's best. It sounds great, and it's original! Kudos to both the Young People's Chorus of New York City and Lord & Taylor. I hope you do it again this holiday season!
Top Songs by Young People's Chorus of New York City
See All
Top Albums by Young People's Chorus of New York City
See All
Top Music Videos by Young People's Chorus of New York City
See All