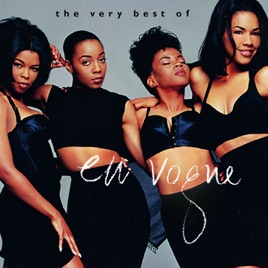 EDITORS' NOTES
En Vogue's arrival in 1990 reintroduced the girl group sound that had lain dormant in the Eighties. Radiating sex appeal and high fashion sense, they came off like hip-hop's answer to the Supremes, but En Vogue was tougher and sassier than Diana Ross's unit could ever hope to be. "My Lovin'" and "Free Your Mind" are the sound of four self-possessed women who didn't have time to play games, and En Vogue repeatedly made reference to vintage deep soul music in its performances. "Free Your Mind" is based on a Funkadelic anthem from 1970, while the impossibly sultry hit "Giving Him Something He Can Feel" is a cover of a song Curtis Mayfield wrote for Aretha Franklin. "Whatta Man," a collaboration with Salt-N-Pepa that remains the Nineties' most memorable girl power anthem, is based on an obscure but dangerously groovy song that Lynda Lyndell cut at Stax. En Vogue's connection with classic soul makes many of their hits timeless. Other songs, are very much of their time, like the great singles "Hold On" and "Love Don't Love You," whose New Jack Swing production dates them directly to the early Nineties. But even when they weren't making classics, En Vogue boasted close-knit harmonies and a deep feel for the funk — just check lesser-known tracks like "Runaway Love," "Don't Go," and "Let It Flow."
EDITORS' NOTES
En Vogue's arrival in 1990 reintroduced the girl group sound that had lain dormant in the Eighties. Radiating sex appeal and high fashion sense, they came off like hip-hop's answer to the Supremes, but En Vogue was tougher and sassier than Diana Ross's unit could ever hope to be. "My Lovin'" and "Free Your Mind" are the sound of four self-possessed women who didn't have time to play games, and En Vogue repeatedly made reference to vintage deep soul music in its performances. "Free Your Mind" is based on a Funkadelic anthem from 1970, while the impossibly sultry hit "Giving Him Something He Can Feel" is a cover of a song Curtis Mayfield wrote for Aretha Franklin. "Whatta Man," a collaboration with Salt-N-Pepa that remains the Nineties' most memorable girl power anthem, is based on an obscure but dangerously groovy song that Lynda Lyndell cut at Stax. En Vogue's connection with classic soul makes many of their hits timeless. Other songs, are very much of their time, like the great singles "Hold On" and "Love Don't Love You," whose New Jack Swing production dates them directly to the early Nineties. But even when they weren't making classics, En Vogue boasted close-knit harmonies and a deep feel for the funk — just check lesser-known tracks like "Runaway Love," "Don't Go," and "Let It Flow."
| | TITLE | | TIME |
| --- | --- | --- | --- |
| | | | |
| | | | |
| | My Lovin' (You're Never Gonna Get It) | | |
| | | | |
| | Give It Up, Turn It Loose | | |
| | | | |
| | | | |
| | | | |
| | | | |
| | | | |
| | Waitin' On You (Bonus Track) | | |
| | Runaway Love (Extended Version) [feat. FMob] | | |
| | Giving Him Something He Can Feel | | |
| | | | |
| | | | |
| | | | |
16 Songs, 1 Hour 17 Minutes
Released:

Aug 21, 2001

℗ 2006 Elektra Entertainment Group Manufactured & Marketed by Rhino Entertainment Company, a Warner Music Group Company
Ratings and Reviews
Amazing!!!
It's a shame that they disbanded. They are amazingly talented and each of them brought so much to the group. Their voices all unique and hit different ranges. You definitely need to get this or you're lost without it.
I want the Free your mind music video!!!
Itunes needs to get that music video. How many times does I person have to request something to get it?
More publicity!!!
I'm only in my early teens and I love this song (Don't Let Go), my mom is in early 30's and she loves this song. they were an amazing group.. and they are getting back together..so i think that itunes should show more publicity towards them. there are only 2 reviews on them, they should have way more than that.
About En Vogue
When En Vogue debuted to dazzling, chart-topping effect in 1990, the vocal R&B group attracted comparisons to the Supremes, even though Terry Ellis, Cindy Herron, Maxine Jones, and Dawn Robinson shared lead vocals and intentionally designated no particular singer the group's Diana Ross. The quartet had more in common with fellow Oakland natives the Pointer Sisters, as they drew from all eras of R&B with convincing stylistic diversions and a knack for recalling the past and sounding current at once. After three consecutive platinum albums and six Top Ten pop hits during the '90s alone, En Vogue had set a standard by which all subsequent female vocal groups were judged. Lineup changes, lawsuits, and infrequent recordings during the ensuing decades did not diminish the impact of their impeccable harmonies.

En Vogue were conceived and put together by producers Denzil Foster and Thomas McElroy, former members of Club Nouveau. Foster and McElroy wanted a vocal group who could exude sultriness and intelligence in addition to technical proficiency, and as producers, they wanted material that would fuse R&B and girl group traditions with contemporary new jack swing rhythms. The two held auditions and settled on a membership of Herron (a former Miss Black California), Jones, and Robinson. Ellis auditioned later and made the group a quartet. Originally called 4-U, they first appeared on Foster and McElroy's 1989 album FM2 as Vogue, and then switched to En Vogue after learning of another group with the same name.

Born to Sing, En Vogue's debut album, appeared in 1990 and was the source of four major hit singles. "Hold On," "Lies," and "You Don't Have to Worry" all topped the Billboard R&B chart, while "Don't Go" reached number three. "Hold On" also crossed over and narrowly missed the top of the Billboard Hot 100. The parent release was eventually certified platinum. In between albums, Herron appeared in the film Juice. When En Vogue returned in 1992 with Funky Divas, critical and commercial response was overwhelming. The album's wide array of styles, from pop and R&B to rap, rock, and reggae, was lauded in print. "My Lovin' (You're Never Gonna Get It)," "Giving Him Something He Can Feel" (written by Curtis Mayfield and originally performed by Aretha Franklin), and "Free Your Mind" (the chorus of which quoted George Clinton) all went Top Ten pop, sending the album to multi-platinum status. En Vogue were in the Top Ten again in 1993, backing Salt-N-Pepa on their hit "Whatta Man."

The group's third album took a few more years to materialize. In the meantime, they took part in the recording of "Freedom" for the Panther soundtrack and appeared in Batman Forever. Ellis released the solo album Southern Gal. "Don't Let Go (Love)," a song they contributed to the Set It Off soundtrack, became a number two single in early 1997. That June, the group released EV3, titled in reference to its place in their discography and the absence of Robinson, who left during the album sessions and went on to join Lucy Pearl. Like Funky Divas, EV3 peaked at number eight on the Billboard 200. "Whatever" and "Too Long, Too Gone" gave them their tenth and 11th Top 40 pop hits. The Best of En Vogue closed out the decade in 1999.

Album four, Masterpiece Theater, was released in 2000. Only one single, "Riddle," was out before the plug was pulled on its promotion. En Vogue were informed after an interview that they had been dropped by their label. Jones departed to take care of her family and was replaced in 2001 by Amanda Cole. Another anthology, The Very Best of En Vogue, was out by the end of the year. In 2002, En Vogue returned with a contribution to the Deliver Us from Eva soundtrack and their first Christmas album, The Gift of Christmas, released quietly on an independent label. Cole left the group in the middle of 2003 for a solo career. That September, the group reappeared for a small European tour with Jones temporarily in place of Herron (who had just given birth) and Rhona Bennett as a new member. Bennett, Ellis, and Herron released Soul Flower in 2004. The next several years were marked by numerous lineup changes, false starts, occasional performances, and legal battles over contractual obligations and the group's name. The lineup that made Soul Flower returned in 2018 with Electric Café. Foster and McElroy, Raphael Saadiq, and Ne-Yo were among the collaborators. ~ Andy Kellman & Steve Huey
ORIGIN

Oakland, CA

GENRE

FORMED

July 18, 1988