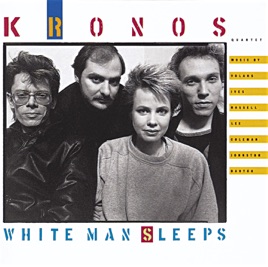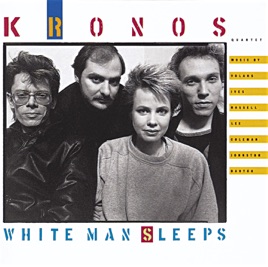 | | TITLE | | TIME |
| --- | --- | --- | --- |
| | | | |
| | Scherzo: Holding Your Own | | |
| | Pano da Costa (Cloth from the Coast) | | |
| | | | |
| | | | |
| | | | |
| | | | |
| | | | |
8 Songs, 1 Hour 5 Minutes
Released:

Jun 15, 1987

℗ 1987 Nonesuch Records
Ratings and Reviews
Catchy Minimalism and Much More
The expert, enthusiastic playing of the Kronos Quartet infects the listener again, in this fine little album. The catchy minimalism of Kevin Volans frames the program, this time round, with "White Man Sleeps #1" and "White Man Sleeps #5."

A great, raucus little scherzo by Charles Ives ("Holding Your Own"), includes snatches of memorabilia from the late 19th and early 20th century, including "There's a Place in France."

Jon Hassell's contribution starts out quiet and simple, almost hauntingly presenting itself as the kind of work that suggests a lot but says little; yes, it, too, evidences a kind of minimalism, a stripped-down compositional technique. When it breaks out of quietude into assertive and acerbic and insistent expansions of the opening hesitancies, it achieves a kind of gnarly memorability. And then, I guess, here's the surprise: it keeps on going. It changes. Maracas and melody open up the piece. And, by the end, you've heard something worth hearing.

Thomas Oboe Lee's "Morango . . . Almost a Tango," also starts gently. The cello lazily indicates a standard tango riff. Later, other tango-like figures enter. Real, extended melodies develop. As in the namesake dance, the excitement builds. On the whole, a very elegant and pleasant work.

An arrangement of an Ornette Coleman piece makes for a somewhat startling contrast. Ben Johnston starts his "Amazing Grace" with the famous American tune. But he goes a long way with it before he's done, offering expert variations that might please even listeners not used to postmodern music.

Bela Bartok's Third String Quartet concludes the album, on a note of early high modernism.

All in all, a very satisfying romp through time and space, with Kronos.