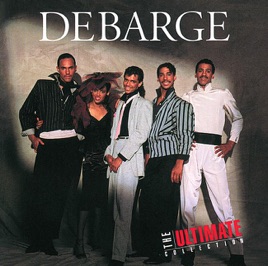 TITLE
TIME
PRICE

Rhythm of the Night (Dance Mix)

5:44
$1.29
4:16
$1.29
4:39
$1.29
3:54
$1.29
4:28
$1.29
3:54
$0.99
4:14
$1.29
5:14
$1.29

Chico DeBarge

3:50
$0.99
5:53
$1.29

El DeBarge

5:23
$0.99

El DeBarge

4:09
$1.29

The Heart Is Not So Smart (Club Mix Radio Edit)

3:51
$0.99

Save the Best for Me (Best of Your Lovin')

Bunny Debarge

4:34
$0.99

Bunny Debarge

4:04
$0.99
3:47
$1.29
16 Songs

℗ 1997 Motown Records, a Division of UMG Recordings, Inc.
Customer Reviews
One star rating? C'mon now....
The person who gave this an "one-star" must be young. Most of these songs bring back memories of my childhood, especially "Rhythm of the Night" (the originally version always), "Who's Holding Donna Now" and "All This Love". Some of today's music artists used DeBarge's samples for some of the most greatest songs ever. Grab this and just jam.
Seriously......
Yeah "The Homey".... This seriously brings me back..... I hear this and I feel like I'm a kid again riding in the back seat of my parent's car.... The one star wonder must be a youngn'.. Also, a note for the new school that atleast 3 of the songs were heavily sampled by Biggie, AZ, and Harlem World...
About DeBarge
Groomed to be the heirs to the Jackson 5 throne in the early '80s, DeBarge mirrored the Jacksons early success with a string of hits, but were unable to sustain their winning streak beyond the mid-'80s. Formed in 1978, the Grand Rapids, Michigan quintet was comprised of four brothers and one sister: Eldra, Mark, James, Randy, and Bunny. The group signed with the same label that the Jacksons started with, Motown (via the Gordy subsidiary), courtesy of older brothers Tommy and Bobby (who were members of another Gordy act, Switch). Led by the soft and sweet vocals of Eldra (or El, for short), DeBarge issued a debut album in 1981, The DeBarges, which showed that the group had yet to hone their hit-making style. But the quintet soon found the formula, as their sophomore effort, 1982's All This Love, would go on to become DeBarge's first gold-certified success, and spawn such hit singles as "I Like It," "Time Will Reveal," and the title track.

1983's In a Special Way was another gold-certified smash, spawning another hit single with "Love Me in a Special Way," and landing an opening slot on a sold-out U.S. tour with Luther Vandross. For their fourth release overall, 1985's Rhythm of the Night, DeBarge enlisted the aid of songwriter Diane Warren plus respected producers David Foster, Richard Perry, Giorgio Moroder, and Glen Ballard, which resulted in the group's third gold album in a row. The biggest hit single of their career, the uptempo title track nearly topped the Billboard Hot 100 and was featured in the movie The Last Dragon. Further hit singles were plucked from the album ("Who's Holding Donna Now?" and "You Wear It Well"), but not all was well behind the scenes.

While 1986 saw the release of the group's first best-of compilation, Greatest Hits, it also signaled El DeBarge's exit from the group. He scored a considerable hit right off the bat with a self-titled debut but struggled with substance abuse and a sporadically active, if occasionally brilliant, recording career. The El-less version of the group managed to issue just one more release, 1987's Back on Track, before splitting up two years later. (During the same time, another DeBarge brother, Chico, launched a recording career.) Further DeBarge compilations saw the light of day, including 1997's Ultimate Collection, 2000's 20th Masters: The Millennium Collection, and 2011's comprehensive Time Will Reveal: The Complete Motown Albums. ~ Greg Prato
ORIGIN

Grand Rapids, MI

FORMED

1978
Top Music Videos by DeBarge
See All