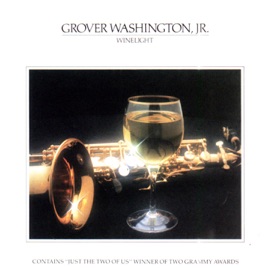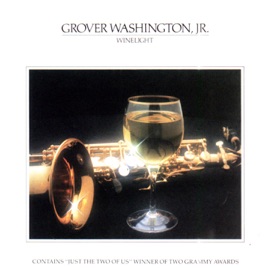 | | TITLE | TIME |
| --- | --- | --- |
| | | 7:32 |
| | Let It Flow (For "DR. J") | 5:50 |
| | | 5:26 |
| | | 6:14 |
| | | 7:23 |
| | | 6:32 |
6 Songs, 38 Minutes

℗ 1980 Elektra Entertainment Company. Marketed by Rhino Entertainment Company, a Warner Music Group Company
Customer Reviews
Genius!
Even though the song selection is short, the rich sounds coming of out of Grover Washington Jr's tenor make up for it. All I can say is that it is inevitable to bop your head or tap your toes when you listen to this masterpiece. The slapping bass in winelight and let if flow is irresistable to dance to. When you're flipping through your albums or artists, you'll go straight to this. You will regret not buying this album, so do yourself a favor, and listen to the extravegant and extraordinary winelight, truly one of my favorite jazz albums of all time.
Winelight-5/5 a great opener to this album
Let it flow-4.5/5 a fantastic song, but still .5 away from winelight
In the name of love-3/5 definitely the weakest song on the album, is kinda boring and doesn't have a distinctive melody
Take me there-4.5/5 catchy melody and equally good as let it flow
Just the two us 5/5 definitely one of his most famous songs, yet one of his best
Make me a memory 3.5/5 very much like in the name of love, kinda boring and a little repetitive, but still good
All in all, I give this album a 9/10, a fantastic album!
Awesome!
Everyone has a different opinion about how an instrument should be played and how it should sound, and though I don't play any saxophone and am not a dedicated musician, this has always been my conception of how an ideal jazz album would sound: sweet, groovy, romantic, and emotional. I disagree that "In The Name Of Love" is the weakest song on the album; in fact, it is my favorite song on the album and is one of the most relaxing and romantic songs I have ever heard.

If you enjoy smooth, groovy, and easy-going jazz, then I strongly recommend this album - it has been one of my personal favorites for many years now. As far as good music goes, Grover Washington Jr. really is Mr. Magic.
Cleats required, due to insane smoothness.
Picked this selection up at a neighborhood used record store, about a month ago for fifty cents. The shabby, moth-eaten, cardboard sleeve initially stole my gaze, in large part, because of the ultra-cheesy facade. I remarked aloud, to no one in particular, "With a cover that corny, this has to be a smooth album." But, alas, the surface of the vinyl was a little too mucked up(even at that price), and I'd already compiled roughly thirty dollars-worth of other various albums, that were going to be hard-pressed fitting in the seat compartment of my Ruckus scooter.

Several days later, I made a return to the same store, in order to grab a Miami Vice graphic LP for my friend, and noticed that "Winelight" was still sitting in the same lonely spot where my shrewd pocket-book had left it for dead. This must have been a sign. That, or every other passerby, that week, had been operating by a thought process similar to my own, when inspecting the tattered wax disc. Regardless, half a dollar didn't seem so steep for what was sure to be a low-risk wager. Realistically, I was looking at the price of gum, for what could lay path to a delightful evening chocked full of clever, unabashed grooves. Returning to my basement refuge(where my girlfriend lets me keep the man cave) later on that night, I quickly discovered the that the gamble would yield success, as the sweet-funked, yet ultra-placid jazz melodies of Grover Washington's arctic cool symphonic wonderland swaggered gingerly from the depths of my vintage Maxwell speakers. Masterfully arranged, the album pervays a relaxful feeling of unrelenting bliss, charged by hearty ions of sultry flavor and keen bravado. The girlfriend wasn't a fan, however. She compared the collection of tracks("Just the Two of Us" excluded) to really bad elevator music. But that's her normal classification for any type of jazz-like music not churned by Michael Buble( not even really jazz) and the toolish Jaime Cullum. So, I view that assessment as a compliment.
About Grover Washington, Jr.
One of the most popular saxophonists of all time, Grover Washington, Jr. was long the pacesetter in his field. His roots were in R&B and soul-jazz organ combos, but he also fared very well on the infrequent occasions when he played straight-ahead jazz. A highly influential player, Washington pushed himself with the spontaneity and risk-taking of a masterful jazz musician.

Grover Washington, Jr.'s, father also played saxophone and was his first influence. The younger son started playing music when he was ten, and within two years was working in clubs. He picked up experience touring with the Four Clefs from 1959-1963 and freelancing during the next two years, before spending a couple years in the Army. He moved to Philadelphia in 1967, becoming closely identified with the city from then on, and worked with several organists, including Charles Earland and Johnny Hammond Smith, recording as a sideman for the Prestige label. His biggest break occurred in 1971, when Hank Crawford could not make it to a recording date for Creed Tasylor's Kudu label; Washington was picked as his replacement, and the result was Inner City Blues, a big seller. From then on he became a major name, particularly after recording 1975's Mister Magic and Feels So Good, and later 1980's Winelight; the latter included the Bill Withers hit "Just the Two of Us."

Although some of his recordings since then found him coasting a bit, Washington usually stretched himself in concert. He developed his own personal voices on soprano, tenor, alto, and even his infrequently-used baritone. Grover Washington Jr. recorded as a leader for Kudu, Motown, Elektra, and Columbia and made notable guest appearances on dozens of records ranging from pop to straightforward jazz. He died of a sudden heart attack on December 17, 1999 while taping an appearance on CBS television's The Saturday Early Show; Washington was 56. The posthumous Aria was issued early the following year. ~ Scott Yanow
ORIGIN

Buffalo, NY

GENRE

BORN

December 12, 1943