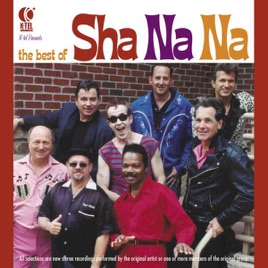 | | TITLE | | TIME |
| --- | --- | --- | --- |
| | | | |
| | | | |
| | | | |
| | | | |
| | | | |
| | | | |
| | | | |
| | | | |
| | | | |
| | | | |
| | | | |
| | | | |
| | | | |
| | | | |
| | | | |
| | | | |
| | | | |
| | | | |
| | Itsy Bitsy Teenie Weenie Yellow Polka Dot Bikini | | |
| | | | |
20 Songs, 49 Minutes
Released:

Sep 1, 2002

℗ 2002 K-tel
Ratings and Reviews
Sometimes Memories Are Better
I saw Sha Na Na for the first time in an amateur talent show at Columbia in 1968, when they still were known as The Kingsmen (for Kings College). They were terrific. In the Spring of 1969, they did a concert on the campus on the grass in front of the library. They were even better. Although the original group consisted primarily of Columbia students, it also included Henry Gross, a Queens College student who did most of the arrangements. He left the group relatively early, and I think a lot of the creativity and musicality left with him.

I wish there were an early album of the original members singing the songs, but, alas, there isn't. This album, which consists I of songs from the umpteenth reconstituted group, contains most of their best songs but is nowhere near the quality of the original versions of them by the group. You can hear better versions of some of these songs in the 1972 and 1973 slbums which are available, but even they are nowhere near the quality of Sha Na Na's original versions of those hits.

Or maybe they are just as good, and my memories of Sha Na Na are more fiction than truth. Either way, I would rather remember them in 1969 as I think they sounded, and listen to Dion and The Belmonts version of Runaround Sue and the original artists versions of most of the other tracks on the two "greatest hits" albums available on iTunes.

The lone exceptions are At The Hop and Rock and Roll Is Here To Stay, where I think Sha Na Na's covers, even in these versions, are better than the originals. But if you are just going to buy those songs, buy them from the 1972 or 1973 albums.
Love it
If u don't like it than ur crazy
Bad
Surfin' bird sounds like absolute crap