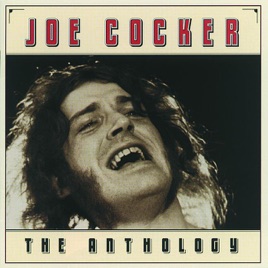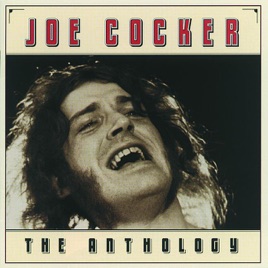 Joe Cocker: The Anthology
TITLE
TIME
1:43
2:41
3:30
5:20
4:11

Do I Still Figure In Your Life

4:01

Don't Let Me Be Misunderstood

4:43

With a Little Help from My Friends

5:13
2:52

She Came In Through the Bathroom Window

2:40
4:40
3:35
3:25
4:43
4:10
4:11
4:30
3:57
7:34
3:19
4:30
4:38
5:25
4:13

I Can Stand a Little Rain

3:33
2:45

I Think It's Going to Rain Today

4:01
4:17
3:50
5:24
6:27
2:40

I'm So Glad I'm Standing Here Today

The Crusaders

5:06
4:02
3:45

Talking Back to the Night

4:49

Joe Cocker & Jennifer Warnes

3:52
37 Songs, 2 Hours, 34 Minutes

℗ 1999 Interscope Geffen (A&M) Records A Division of UMG Recordings Inc.
Customer Reviews
Spread the music of a true legend
This guy is a one of a kind performer with one of the worlds most unique voices. Cocker shows true musicianship with all of his songs. That doesn't happen so much with the modern stars. A true legend!!
60's rock
I just recently learned to appriciate the music of the 60's. I am a product of the 80's hair band generation, but I have to say there people that paved the road for rock and roll, and Joe Cocker is one of them. This is great music, and I wish I learned to enjoy it at an earlier age. Thanks to Taylor Hicks for bring this style of music back to the main streem, I only hope the next generation of rockers will learn to appriciate it at an earlier age then I did.

One of the great classical musicians
Musical artists come and go, but Joe Cocker is one of the great classical performers whose music seems to go on forever. He is as good or better today then he was before many of today's "flash in the pan" performers were even born. A true artist whose love of the music never dies and who keeps on inspiring and entertaining generation after generation.
About Joe Cocker
After starting out as an unsuccessful pop singer (working under the name Vance Arnold), Joe Cocker found his niche singing rock and soul in the pubs of England with his superb backing group, the Grease Band. He hit number one in the U.K. in November 1968 with his version of the Beatles' "A Little Help from My Friends." His career really took off after he sang that song at Woodstock in August 1969. A second British hit came with a version of Leon Russell's "Delta Lady" in the fall of 1969 (by then, Russell was Cocker's musical director) and both of his albums, With a Little Help from My Friends (April 1969) and Joe Cocker! (November 1969), went gold in America. In 1970, his cover of the Box Tops hit "The Letter" became his first U.S. Top Ten. Cocker's first peak of success came when Russell organized the Mad Dogs & Englishmen tour of 1970, featuring Cocker and over 40 others and resulting in a third gold album and a concert film. Subsequent efforts were less popular, and problems with alcohol (both on- and off-stage) reduced Cocker's once-powerful voice to a croaking rasp.

Cocker returned to the U.S. Top Ten in 1975, with the romantic ballad "You Are So Beautiful" and topped the charts in 1982 via a duet with Jennifer Warnes on "Up Where We Belong" (the theme from the film An Officer and a Gentleman). He still charted during the '90s, albeit with less frequency than he did in the '70s and '80s. Across from Midnight arrived in 1997, followed by No Ordinary World two years later. Respect Yourself appeared in 2002, and the covers album Heart & Soul followed in 2004. The European release Hymn for My Soul, which featured cover versions of songs by Stevie Wonder, George Harrison, Bob Dylan, and John Fogerty, was issued on Parlophone in 2007. His complete Live at Woodstock performance was released in 2009. In 2010, Hard Knocks -- his first studio album in three years -- appeared in Europe. Cocker's 23rd studio album, Fire It Up, was issued in November 2012 on Sony. It was produced by Matt Serletic, known for his work with Collective Soul, Rob Thomas, Matchbox Twenty, and numerous others. Slightly over two years later, however, on December 22, 2014, Cocker succumbed to lung cancer. ~ Cub Koda & William Ruhlmann
ORIGIN

Sheffield, Yorkshire, England

GENRE

BORN

May 20, 1944