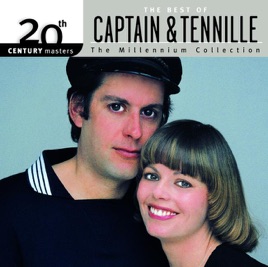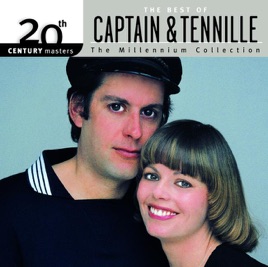 20th Century Masters - The Millennium Collection: The Best of Captain & Tennille (Remastered)
Captain & Tennille
| | TITLE | | TIME |
| --- | --- | --- | --- |
| | Love Will Keep Us Together | | |
| | The Way I Want to Touch You | | |
| | | | |
| | | | |
| | Wedding Song (There Is Love) | | |
| | Lonely Night (Angel Face) | | |
| | | | |
| | | | |
| | We Never Really Say Goodbye | | |
| | | | |
| | You Never Done It Like That | | |
| | Do That to Me One More Time | | |
12 Songs, 40 Minutes
Released:

Jan 1, 2005

℗ 2005 A&M Records
Ratings and Reviews
Millennium Collection Hits Home Run, but CAN Stop Dancin'
A complete collection of hits, but c'mon, 'Can't Stop Dancin'?, geez, no discotheque would ever embrace this song, and more seriously, what radio-friendly station would give it a spin? This song is the worst song EVER! Toni Tennille proves she has so much more to offer vocally on her solo recordings, and on a few gems with her sailor man, but this disc will only last until the crowd here's track 10, sadly before it gets to two of the best sultry and 'seriously taken' hits of their career. My advice, go back and re-issue the disc without 'Can't Stop Dancin'" and you have a GEM. This compilation preludes embarrassment and kills the party. Sorry Cap, you're touch doesn't touch me at all. Tennille, keep on singing the good songs because your vocal ability is truly a gift.

20th Century Masters The Captain & Tennille
If you love the Captain & Tennille this is the music for you! It includes all of their greatest hits. The sound is incredible. Growing up in the 70"s, I can now hear, enjoy, and adore all of the great sounds that I was unable to hear just listening to the radio or our old records. Come in From the Rain is outstanding. You must hear it to believe it!
Love keeps my muskrat n me tuhgetha'
Love has kept them together. And love will keep me together. Literally. I fit weren't for this song my arm would have fallen off. But it didn't. It kept it together. I love my arm. And I love this music. And I love you! n' my muskrat!
About Captain & Tennille
Keyboardist/arranger "Captain" Daryl Dragon and his wife, singer/pianist Toni Tennille, scored a series of pop/rock hits in a light, romantic vein in the second half of the 1970s, the most successful of which was the first, "Love Will Keep Us Together." The couple met in the summer of 1971, when Dragon was engaged as the keyboard player for a musical revue, Mother Earth, composed by Tennille. Dragon, born August 27, 1942, in Los Angeles, was the son of conductor Carmen Dragon; his mother was a singer. He studied piano while growing up and briefly attended California State University at Northridge before dropping out to form an instrumental jazz trio with his brothers called the Dragons. The group released the single "Elephant Stomp"/"Troll" on Capitol Records in 1964, but its style was out of step with labelmates the Beatles, who dominated popular music at the time. In 1967, Dragon became a touring backup musician for the Beach Boys. He was dubbed "Captain Keyboard" by lead singer Mike Love because he always appeared on-stage in a yachting cap. In addition to touring with the Beach Boys, Dragon appeared on their albums of the period, including Sunflower and Holland, and he was billed as Rumbo on a British single released in 1970, "Sound of Free"/"Lady," credited to the Beach Boys' Dennis Wilson & Rumbo.

Tennille, born Cathryn Antoinette Tennille on May 8, 1943, in Montgomery, AL, was the daughter of Frank Tennille, a big-band singer (under the name Clark Randall) who had given up music to run his family's furniture store, and Cathryn Tennille, who became a local television talk-show host. Tennille also studied piano and occasionally appeared on her mother's show as a child. She attended Auburn University, studying music. In 1965, she moved to California, where she married and divorced drummer Kenneth Shearer and became involved in the South Coast Repertory theater group, which led to her writing the music for an ecologically minded revue, Mother Earth. The show was performed in San Francisco and Los Angeles, where Dragon joined the band. After it closed, Dragon returned to the Beach Boys and arranged to have Tennille hired as a pianist and backup singer. (Mother Earth eventually earned a Broadway production that opened on October 19, 1972, and closed after 12 performances. Tennille was no longer involved with it at that stage, but she was credited for its music under her married name, Toni Shearer.) Dragon and Tennille toured with the Beach Boys for a year, meanwhile becoming a romantic couple (they married in 1975), then left and began performing in Los Angeles clubs as a duo called Captain & Tennille. (Dragon insists that the name is not "The Captain & Tennille," although it is frequently printed that way.) In September 1973, they financed their own debut single, Tennille's romantic ballad composition "The Way I Want to Touch You," pressing up 500 copies on their own Butterscotch Castle Records label and earning airplay in Los Angeles. "The Way I Want to Touch You" was purchased by the large independent A&M Records, which re-released it and signed Captain & Tennille to a contract, apparently viewing them correctly as a slightly harder rocking, slightly sexier version of the Carpenters, who also recorded for the label. For their next single, Captain & Tennille covered Neil Sedaka and Howard Greenfield's "Love Will Keep Us Together," a song that had appeared recently on Sedaka's American comeback album, Sedaka's Back, even singing "Sedaka is back" at the end of the track. The disc became a number one, gold-selling hit, launching Captain & Tennille's career.

For the next two years, they could do no wrong commercially. (Rock critics, predictably, dismissed their middle-of-the-road pop style.) The Love Will Keep Us Together album spent two years in the charts and went gold. "The Way I Want to Touch You," released a third time, gave them their second gold single. "Lonely Night (Angel Face)," written by Sedaka and released in January 1976 in advance of their second album, Song of Joy, made that three gold singles. In February, "Love Will Keep Us Together" won the 1975 Grammy Award for Record of the Year. Song of Joy was a gold album upon release and later went platinum, spawning two more gold singles, a cover of the Miracles' "Shop Around" and Willis Alan Ramsey's "Muskrat Love."

In September 1976, The Captain & Tennille, a weekly hourlong musical variety series, debuted on the ABC television network, which apparently viewed them incorrectly as an answer to CBS' Sonny & Cher. The show proved to be Captain & Tennille's first false step, failing to earn high ratings and, in Dragon's judgment, overexposing the duo and thus hurting their record sales. Although ABC was willing to extend the series, the couple demurred, and the show went off the air after only one season in March 1977. "Can't Stop Dancin'," their disco-oriented new single, made the Top 20, but broke their string of Top Ten, gold-selling singles, and Come In from the Rain, their third album, also marked a drop in sales, although it went gold. The duo embarked on a four-month national tour in May 1977, playing 90 cities through September. In November, A&M released the profit-taking Captain & Tennille's Greatest Hits, suggesting that the label felt their best days were already behind them.

Dream, their fourth album, released in July 1978, never reached the Top 100, although it stayed in the charts twice as long as Come In from the Rain, buoyed by the Top Ten success of the Neil Sedaka composition "You Never Done It Like That." Captain & Tennille left A&M for Casablanca Records, a move that turned out to be unwise, since the formerly trendy label (known for Donna Summer and Kiss) was entering a decline. Nevertheless, their label debut, Make Your Move, released in the fall of 1979, returned them to gold record status, featuring the chart-topping hit "Do That to Me One More Time," written by Tennille. By 1980, however, Casablanca was nearly moribund and was not able to promote Captain & Tennille's sixth album, Keeping Our Love Warm, which failed to even reach the charts.

Captain & Tennille briefly moved to CBS, but the deal ended without any records being released. In 1982, they recorded an album called More Than Dancing for the tiny Australian label Wizard Records, which released it in Australia only in 1984. (It was reissued in Australia by Raven in 2002 with bonus tracks as More Than Dancing...Much More). Thereafter, they essentially retired as a recording act while still playing occasional shows. Tennille went on to a solo career as a singer of traditional pop, performing with big bands and releasing the albums More Than You Know (1984), All of Me (1987), Do It Again (1990), Never Let Me Go (1992), Things Are Swingin' (1994), Tennille Sings Big Band (1998), and Incurably Romantic (2001), while Dragon produced her records and ran Rumbo Recorders, a recording studio he had built in Los Angeles in 1979 that hosted major acts, including Guns N' Roses. (Dragon sold the studio in 2003.) In 1995, the two re-recorded some of their hits along with standards like "Unchained Melody" for the Captain & Tennille reunion album Twenty Years of Romance.

In the second half of the 1990s, Tennille became increasingly involved in stage musicals, starring, for example, in a touring company of Victor/Victoria in 1998, while Dragon joined ex-Beach Boy Al Jardine's "Beach Boys Family and Friends" troupe in 1999. Increasingly, however, the couple preferred to remain at their home in northern Nevada rather than perform on the road. In November 2003, Tennille gave a concert benefiting the Reno Chamber Orchestra. Dragon was her special guest, and the two performed half a dozen songs together, including several Captain & Tennille hits. The show was recorded, resulting in the double-CD An Intimate Evening with Toni Tennille, the first album to feature Captain & Tennille live performances, released exclusively by the Reno Chamber Orchestra through its website, http://renochamberorchestra.org. ~ William Ruhlmann
ORIGIN

Los Angeles, CA

GENRE

FORMED

1973