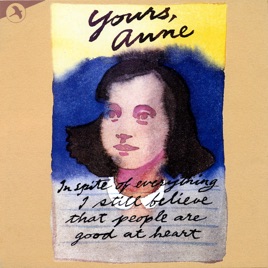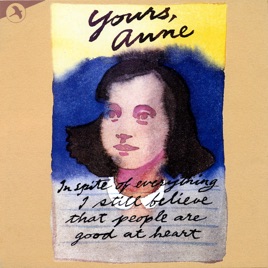 Yours, Anne (Original Off Broadway Cast)
TITLE
TIME

Dear Kitty (I Am Thirteen Years Old)

Trini Alvarado

3:45

Dana Zeller-Alexis

1:16

She Doesn't Understand Me

Dana Zeller-Alexis & Trini Alvarado

2:37

Dear Kitty (In the Night)

Trini Alvarado

0:45

Company

1:45

Trini Alvarado

2:05

Dear Kitty (I Have a Nicer Side)

Trini Alvarado

1:19

Company

2:57

George Guidall & Trini Alvarado

3:33

David Cady & Trini Alvarado

2:24

Company

2:01

Dear Kitty (It's a New Year) / We're Here

Company & Trini Alvarado

3:16

Betty Aberlin, George Guidall, Hal Robinson & Merwin Goldsmith

3:15

Dear Kitty (I Am Longing)

Trini Alvarado

1:25

Company

3:16

David Cady & Trini Alvarado

2:21

Trini Alvarado

2:38

Dana Zeller-Alexis & George Guidall

1:59

Ann Talman

2:04

Company

2:05

Dear Kitty (I Still Believe)

Trini Alvarado

2:46
21 Songs, 49 Minutes

℗ 2005 JAY Productions Ltd.
I love it!
i have seen this musical twice and loved the powerful meaning behind it. I think every person should listen to this wonderful music. Every time i see it i cry and you should at least listen to it once. If you have read her diary you will understand the meaning of the music.
saddness that became a legend
I have heard every song a lot and I have enjoyed them all, including I Remember. I highly recommend buying the whole album because it is worth it. It is a very sensitive musical based on Anne Frank's Diary.
AWSOME AWSOME AWSOME!!!
I was just recently in this play, it was great! I still cant stop listening to this music....its wonderful!... its not like anything I've ever done in my life! I absolutly love it....buy it. its worth it.