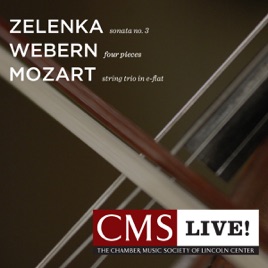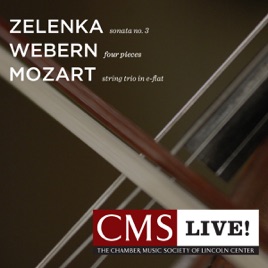 TITLE
TIME

Sonata No. 3 in B-flat major for Violin, Oboe, Bassoon, and Continuo, ZWV 181: I. Adagio (feat. Erin Keefe, Stephen Taylor, Peter Kolkay, Julie Albers and Gabriel Shuford)

Erin Keefe, Stephen Taylor, Peter Kolkay, Julie Albers, Gabriel Shuford & The Chamber Music Society of Lincoln Center

Sonata No. 3 in B-flat major for Violin, Oboe, Bassoon, and Continuo, ZWV 181: II. Allegro (feat. Erin Keefe, Stephen Taylor, Peter Kolkay, Julie Albers and Gabriel Shuford)

Erin Keefe, Stephen Taylor, Peter Kolkay, Julie Albers, Gabriel Shuford & The Chamber Music Society of Lincoln Center

Sonata No. 3 in B-flat major for Violin, Oboe, Bassoon, and Continuo, ZWV 181: III. Largo (feat. Erin Keefe, Stephen Taylor, Peter Kolkay, Julie Albers and Gabriel Shuford)

Erin Keefe, Stephen Taylor, Peter Kolkay, Julie Albers, Gabriel Shuford & The Chamber Music Society of Lincoln Center

Sonata No. 3 in B-flat major for Violin, Oboe, Bassoon, and Continuo, ZWV 181: IV. Tempo giusto (Allegro) [feat. Erin Keefe, Stephen Taylor, Peter Kolkay, Julie Albers and Gabriel Shuford]

Erin Keefe, Stephen Taylor, Peter Kolkay, Julie Albers, Gabriel Shuford & The Chamber Music Society of Lincoln Center

Four Pieces for Violin and Piano, Op. 7: No. 1, Sehr langsam (feat. Kristin Lee and Gilbert Kalish)

By Anton Webern - Kristin Lee, Gilbert Kalish & The Chamber Music Society of Lincoln Center

Four Pieces for Violin and Piano, Op. 7: No. 2, Rasch (feat. Kristin Lee and Gilbert Kalish)

By Anton Webern - Kristin Lee, Gilbert Kalish & The Chamber Music Society of Lincoln Center

Four Pieces for Violin and Piano, Op. 7: No. 3, Sehr langsam (feat. Kristin Lee and Gilbert Kalish)

By Anton Webern - Kristin Lee, Gilbert Kalish & The Chamber Music Society of Lincoln Center

Four Pieces for Violin and Piano, Op. 7: No. 4, Bewegt (feat. Kristin Lee and Gilbert Kalish)

By Anton Webern - Kristin Lee, Gilbert Kalish & The Chamber Music Society of Lincoln Center

Trio in E-flat major for Violin, Viola, and Cello, K. 563: I. Allegro (feat. Shmuel Ashkenasi, Paul Neubauer and Andreas Brantelid)

By Wolfgang Amadeus Mozart - Shmuel Ashkenasi, Paul Neubauer, Andreas Brantelid & The Chamber Music Society of Lincoln Center

Trio in E-flat major for Violin, Viola, and Cello, K. 563: II. Adagio (feat. Shmuel Ashkenasi, Paul Neubauer and Andreas Brantelid)

By Wolfgang Amadeus Mozart - Shmuel Ashkenasi, Paul Neubauer, Andreas Brantelid & The Chamber Music Society of Lincoln Center

Trio in E-flat major for Violin, Viola, and Cello, K. 563: III. Menuetto: Allegretto - Trio (feat. Shmuel Ashkenasi, Paul Neubauer and Andreas Brantelid)

By Wolfgang Amadeus Mozart - Shmuel Ashkenasi, Paul Neubauer, Andreas Brantelid & The Chamber Music Society of Lincoln Center

Trio in E-flat major for Violin, Viola, and Cello, K. 563: IV. Andante (feat. Shmuel Ashkenasi, Paul Neubauer and Andreas Brantelid)

By Wolfgang Amadeus Mozart - Shmuel Ashkenasi, Paul Neubauer, Andreas Brantelid & The Chamber Music Society of Lincoln Center

Trio in E-flat major for Violin, Viola, and Cello, K. 563: V. Menuetto: Allegretto - Trio I - Trio II (feat. Shmuel Ashkenasi, Paul Neubauer and Andreas Brantelid)

By Wolfgang Amadeus Mozart - Shmuel Ashkenasi, Paul Neubauer, Andreas Brantelid & The Chamber Music Society of Lincoln Center

Trio in E-flat major for Violin, Viola, and Cello, K. 563: VI. Allegro (feat. Shmuel Ashkenasi, Paul Neubauer and Andreas Brantelid)

By Wolfgang Amadeus Mozart - Shmuel Ashkenasi, Paul Neubauer, Andreas Brantelid & The Chamber Music Society of Lincoln Center
14 Songs, 1 Hour 2 Minutes
Released:

Feb 10, 2012

℗ 2012 CMS Live
About The Chamber Music Society of Lincoln Center
The Chamber Music Society of Lincoln Center is both a music organization and chamber ensemble consisting of about 35 core members who perform both large and small chamber works, while often collaborating with guest artists. The CMS is also involved in educational programs that offer family concerts, teen concert series, lectures, school-based events, and various other outreach endeavors. The CMS also offers a residency course for talented youth called Chamber Music Society Two, which provides a three-year training program to prospective members. The CMS is one of 11 resident organizations based at the Lincoln Center complex in New York City. Among the others are the New York Philharmonic Orchestra, the Metropolitan Opera, and Juilliard School of Music. The CMS schedule offers over 50 concerts and includes Baroque, fall, and winter festivals. In addition, the CMS makes annual national and international tours and has appeared on numerous recordings for such labels as Delos, Virgin Classics, and CMS Studio Recordings. The CMS regularly commissions works from some of the leading contemporary composers. Past commissions have included efforts by Bernstein, Barber, Menotti, Milhaud, Ginastera, Harbison, Corigliano, Bolcom, and many other major composers. It appears regularly on the PBS television series Live from Lincoln Center, on the radio series Performance Today, and on its own radio program Chamber Music Society, which typically presents concerts derived from the previous season.

At the suggestion of composer William Schuman, the Chamber Music Society of Lincoln Center was founded in 1969 by pianist Charles Wadsworth, who then served as the CMS music director for two decades. The ensemble's first concert took place on September 11, 1969, at Alice Tully Hall.

Initially the CMS consisted of just nine core members, all of whom, however, were highly regarded string, wind, and keyboard players. The CMS quickly drew critical acclaim and among its first important recordings were a 1975 four-LP compilation on the Classics Record Library label that featured music by J.S. Bach, Haydn, Schumann, Moszkowski, Elliott Carter, and others, and a 1980 Musical Heritage Society LP of Mozart and Beethoven works.

Over Wadsworth's 20-year tenure, the CMS gradually expanded both in number and in educational and cultural projects. In 1989 cellist Fred Sherry succeeded Wadsworth. Sherry served until 1993, when clarinettist David Shifrin was appointed music director. With the 2003-2004 concert season the CMS inaugurated its radio show, initially offering 13 one-hour programs and later expanding to 26. In 2007 cellist David Finckel and pianist Wu Han were named co-music directors of CMS, succeeding Shifrin.

That same year CMS Studio Recordings, the ensemble's own recording label, was launched with the issuance of its first CD, Dvorák's Terzetto (Op. 74) and piano quartet (Op. 87), and Beethoven's Op. 16 Piano Quartet, in performances featuring Han and Finckel, as well as violinists Arnaud Sussman and Erin Keefe and violist Beth Guterman. The touring concert schedule for the 2011-2012 season was typical for the CMS, as it included 50 concert dates spread across the U.S., Canada, Columbia, U.K., Germany, and Denmark.
ORIGIN

New York City, NY

GENRE

FORMED

1969