Tools for Teaching Reading and Spelling: Reading Doctor Complete Phonics Bundle
By Reading Doctor Pty Ltd
This app is only available on the App Store for iOS devices.
Description
Reading Doctor® Software is being described by educators as a breakthrough in teaching children to read and spell. Designed by speech-language pathologist and reading development expert Dr. Bartek Rajkowski, PhD, our apps strengthen skills found through research to be crucial in helping students of all ages to improve their literacy skills.

This app bundle contains all of our apps for iPad. Use this bundle to easily teach students to:

1) recognise the individual letters of the alphabet and the speech sounds they typically represent with LETTER SOUNDS™ 1 PRO
2) recognise 70 of the most common letter-sound patterns in English (such as 'igh' like in 'light' or 'ire' like in 'fire') with LETTER SOUNDS™ 2 PRO
3) blend (join) individual letter-sounds together to read (decode) common regular words (such as 'stop' and 'list') with BLENDING SOUNDS™ 1 PRO
4) segment (split apart) words into separate speech sounds and spell common regular words (such as 'pat' and 'lost' with SPELLING SOUNDS™ 1 PRO
5) recognise and understand the 200 most common words in written English with SIGHT WORDS 1 PRO
6) use knowledge of letter-sound patterns to read and spell regular words (such as "eighty", "spoon" and "discrimination") with WORD BUILDER™

For more information about our apps, please see our website:
www.readingdoctor.com.au


FEEDBACK ABOUT READING DOCTOR APPS

"As a world leading reading researcher with over 25 years of clinical experience, I feel that Reading Doctor provides a leading-edge approach to treating dyslexia and reading difficulties, and to teaching beginning readers core reading skills. Reading Doctor is firmly based on current reading science and offers the potential to ameliorate the intrinsic, underlying issues preventing students with reading difficulties from improving their reading skills. In my opinion, in terms of software-based reading improvement programs for students learning to read, Reading Doctor is unsurpassed in the world at this time."

— Dr. Jenny Harasty, PhD, Leading Neuroscientist, Speech Language Pathologist and Hon Senior Research Fellow.


"Word Builder is the best program I have seen that enables students to play with sounds and hear the word they make. They can manipulate the sounds within a word, make rhyming words, play with nonsense words and be told whether it is a real word or not. The scaffolding built into the program means students can be working at a task appropriate to their level of learning with very little assistance. An added bonus is that the Jolly Phonics letter groups are already built into the program. This app is an excellent way to give those beginning in English literacy at any age a tool to really help boost confidence and skill. Well worth the money!"

— Jan Polkinghorne, Phonics guru and Jolly Phonics trainer from SPELD SA Inc.


"Wow!! As a mum of a 9yo boy who experiences learning difficulties with his working memory & processing skills and has recently been diagnosed with APD this app is nothing short of Amazing!!! He uses Letter Sounds 2 & Word Builder every day for his homework spelling words, revising common & less common graphemes and recently he was shown how he could use it whilst reading to me and if he comes across a difficult word he can enter it into the word builder and sounds it out. I can not tell you how much joy and confidence this brings him as he is able to read more fluently. In his words 'It's amazing!'"

— App Store Review

"Sight words apps are aplenty in the App Store but how many of them come with mnemonic support, customizable levels of difficulty and sentences that show how the words are used? This self-adjusting teaching tool ensures each student gets the right amount of memory aids and repetitions to facilitate instant word recognition and vocabulary knowledge. I am truly impressed with all of Reading Doctor's reading apps and highly recommend that you check all of them out! 5/5 Stars"

— The iMums
iPad Screenshots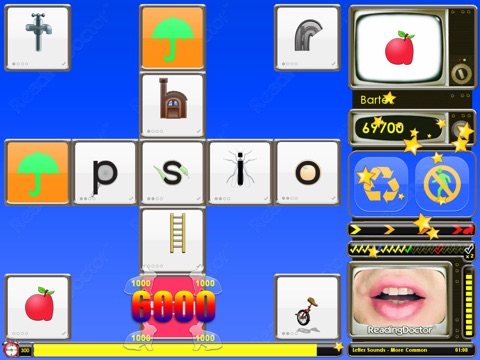 View in iTunes
$84.99

App Count:

6

Category:

Education

Size:

522 MB

Language:

English

Seller:

Reading Doctor Pty Ltd
Compatibility: Requires iOS 8.0 or later. Compatible with iPad.
More by Reading Doctor Pty Ltd