بقالتي 2030 - Bakalty
By Meshal alqahtani
This app is only available on the App Store for iOS devices.
Description
ليس لديك وقت !! تريد توفير وقتك!! تريد ان توفر مالك!!

لم تحفظ رقم البقالة القريبة من منزلكم !!

توجد بقالات جديدة وتريد التعرف عليها!! تعبت من الاخطاء في الحسابات مع البقالة!!

تعبت من معاملة وبطء توصيل الطلبات من بقالتكم المعتادة وتريد التعامل مع بقالة جديدة دون الحاجة لمعرفة رقم البقالة!!

سئمت المبالغ الطائلة الشهرية التي تدفعها لطلبات المنزل ولاتستطيع ان تعرف ماهي تلك لطلبات!!

كل تلك المشاكل مقدور على حلها ب أذن الله مع تطبيق

(بقالتي2030)

كلنا نواجه مشكلة مع طلبات المنزل ومع اوقاتنا ومع حفظ نقودنا فهذا هو الحل الامثل... من منظورنا


لم يعد عليكم الانتظار طويلاً لطلب اغراضكم واحتياجاتكم المنزلية.. بالاتصال.... او الانتظار على الهاتف لدقائق عديدة!!!

.الان يمكنكم الطلب من بقالتكم القريبة من منزلك والمعروفة لديكم في اقل من 10 ثوان ولكن بااحدث الطرق واوفرها ... وايضاً اصبح با امكانك التعرف على البقالات المجاورة لمنزلك من دون الحاجة لمعرفة رقم هاتفها.....وكل هذا بضغطة زر لن تستغرق منكم 10 ثوان...وبإمكانكم ان تجعلو من هذا التطبيق كدفتر تسجيل لطلباتكم... ولمراجعة حساباتكم وطلباتكم لكل بقالة في اي وقت تشأ ومعرفة اين ذهبت نقودكم...ولحفظ جميع الطلبات ومعرفة قيمة طلبك فوراً..... والكثير الكثير...
حمل التطبيق الان واستمتع بطلبات منزلك

للاقتراحات والتواصل:

Bakalty2030@hotmail.com

Mob: 0555207140

Tel: 0114365-066...0114365-227


Now we have come to solve more than one of the issues that we are facing in Saudi Arabia as Saudi and as citizen.

You want to save money !! You don't have enough time !! You want to save time!!

You don't have all the numbers of the markets near to you!!

There are supermarkets near to your house that you want to deal with, but you don't have the number!!

Are you tired of the usual supermarkets that you are dealing with?!

ALLAH'S WILL all the issues that we mentioned can be solved with our App

(بقالتي 2030 )

You don't have to wait anymore in order to get your house needs.. all you got to do is 10 seconds or even less and u can make your order happen!! :)
iPhone Screenshots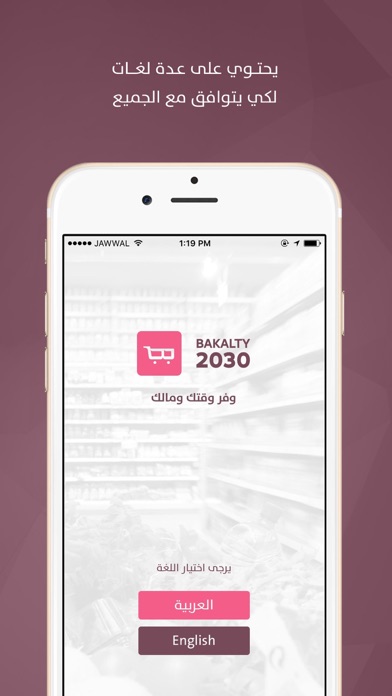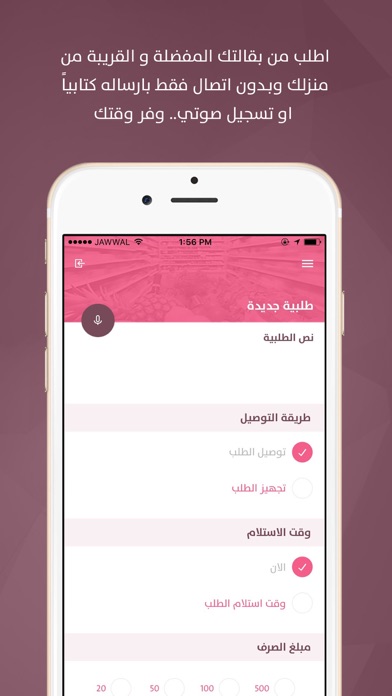 View in iTunes
Free

Category:

Shopping

Released:

Jan 07, 2017

Version:

1.0

Size:

39.6 MB

Language:

English

Seller:

Meshal alqahtani
Compatibility: Requires iOS 8.2 or later. Compatible with iPhone, iPad, and iPod touch.