乐动达人之冬季恋歌 Lite
By RedAtoms Studio
This app is only available on the App Store for iOS devices.
Description
最新版本《乐动达人2012》上线在即!敬请期待!
完全免费的Lite版来了!还在等什么,快来开始你的音乐之旅,做欢型的乐动达人!

一人搞 两人搞 仨更搞!12.20搞趣网圣诞活动,立省635元。
AppStore搜索"gao7"安装"限时免费",多快好省搞起来!

★★★★★游戏简介:
●【乐动达人】是国内首款由北京乐迪爱通科技有限公司开发, 以华语流行音乐为主要介质的休闲音乐类游戏。继【乐动达人】上线之后, 玩家反响甚好, 应广大玩家及网友的要求, 第二版【乐动达人之冬季恋歌】赶在冬季之初应景上线。
●此次【乐动达人之冬季恋歌Lite】以冬季恋歌为主题,再一次精心为玩家准备了5首集百家口味于一身的多元化音乐盛宴, 歌曲都是来自华语乐坛流行歌手, 有经典不衰的张震岳, 拥有强大70、80后粉丝团体的梁静茹、五月天、个性音乐达人苏打绿以及90后年轻代独爱的汪苏泷。 完整版更有王菲、陈奕迅、李宇春、范晓萱等华语歌手的佳作,专门完美打造《圣诞节》《Jingle, Bells》等圣诞节系列歌曲,可谓是众星云集、重金打造、重磅推出!
●【乐动达人之冬季恋歌 Lite】融汇了各游戏平台音乐游戏的优点,巧妙的将音乐与娱乐相结合,让玩家在弹奏歌曲时不知不觉融入到美妙的音乐节奏之中。

★★★★★游戏玩法:
●【乐动达人之冬季恋歌 Lite】主要是通过点击屏幕进行操作, 当游戏画面轨道上传下来的圆点就要落在地平线上的终点处时, 及时点击一下下面的亮点即可完成, 游戏的操作非常简单易懂。同时游戏还添加了能量槽玩法, 更刺激、更有趣, 让你在这个冬季惊喜不断。
●初次进入游戏, 只需短短十几秒, 玩家就可以用屏幕上的3个按键掌握基本的游戏方法, 伴随着音乐节奏演奏出动感十足的音乐。游戏采用解锁模式, 玩家在挑战不同难度音乐的过程中能够不断提升自己的游戏技巧。

★★★★★游戏功能:
●游戏内更有各种独具匠心的徽章供玩家收集,无论是你是菜鸟新人,还是音乐游戏达人,均可在游戏中根据自己的兴趣和特长获得相应的徽章。
●支持苹果GameCenter,玩家可以在游戏中获得各类成就,在Game Center中与其他玩家上演一场音乐斗秀(完整版用户专属)

★★★★★难度介绍:
●每个级别的游戏分A至F多个分数等级,只要分数达到C级即可解锁下一个级别的音乐游戏;
●难度会随着歌曲等级的提升而不断增加;歌曲采用解锁模式,玩家在挑战不同难度音乐的过程中能够不断提升自己的游戏技巧。
iPhone Screenshots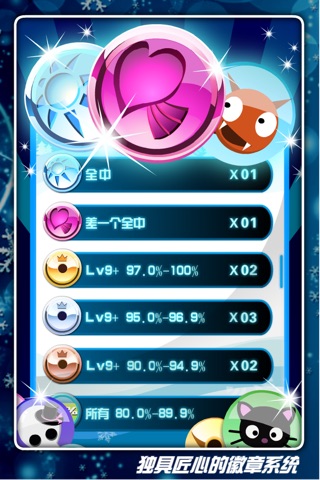 Customer Reviews
No 4 finger mode
Before they redid this game, it was fun and cost no money, with 3 finger and 4 finger mode and all songs you could unlock if you had enough points by scoring high in songs. Now they have a paid version and free version that doesn't even compare to the old game...
Game
I lube the game but I wish there would be some English so I can understand
Fun !
This is awesome and fun! Me like very very much
View in iTunes
Free

Category:

Games

Released:

Dec 07, 2011

Version:

1.0.1

Size:

49.0 MB

Language:

English

Seller:

Sea Cliff Studio Limited
Compatibility: Requires iOS 4.1 or later. Compatible with iPhone, iPad, and iPod touch.