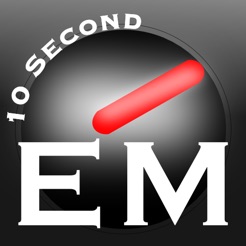 Description
10 Second EM (Emergency Medicine) is designed for emergency physicians, medical residents, healthcare students and professionals that practice, rotate through or are interested in emergency medicine. It is designed to be a rapid reference tool with on-the-job applicability. It may also be helpful to internal medicine and critical care physicians.

Topics include the following!

Code timer
Airway drugs calculator
ACLS medications
Ventilator settings
HTN emergency medications
ACLS Hs and Ts
GCS
Pressor dosing
Anaphylaxis treatments
Sedation drug calculator
Canadian Head CT Rule
New Orleans Head CT Rule
Nexus C-Spine Rule
Canadian C-Spine Rule
Status epilepticus medications
NIH Stroke Scale
Ischemic stroke tPA inclusion criteria
Ischemic stroke tPA contraindications
Ischemic stroke tPA administration
Anti-hypertensive meds in ischemic stroke
Stroke mimics
San Francisco Syncope Rule
STEMI protocols
Lytic contraindications
STEMI lytic dosing
Essential EKG findings
Dysrhythmia management
MAP calculator
Wells DVT
Wells PE
PERC rules
Pneumonia – PORT/PSI
Pneumonia – CURB-65
ARDSnet protocols
Asthma medications
Influenza therapy
Ottawa ankle/knee/foot rules
SIRS/sepsis sefinitions
Severe sepsis
Early goal directed therapy
OB wheel
MAP
Pediatric fluid calculator
Corrected Na (Glucose) calculator
Parkland burn formula
Centor strep score
Tylenol/NAC dosing
ARDS P:F ratio calculator
Pediatric IV fluid calculator
Pediatric vital signs by age
Pediatric ETT size/depth
APGAR score
Fever guidelines by age
Otitis media antibiotic calculator
Toxidromes
Specific drugs/exposures/antidotes

Additions in Version 2.0:

--Critical Care Additions
ICU Sedation Drip Dosing
2010 ACLS Bradycardia Algorithm
2010 ACLS PEA/Asystole Guidelines

--Pediatric Additions
PALS Medications
Pediatric GCS Score
Pediatric Hyperkalemia Medications
Pediatric DKA Treatment Calculator
Pediatric ETT Blade Size and Depth Calculator
Pediatric Blood Product Dosing
Pediatric Pain Medication Dosing Calculator
Pediatric Bilirubin/Phototherapy Calculator
Pediatric Intranasal Pain and Anxiolysis Medication Dosing
Salter Harris Classification Illustration
Pediatric Elbow Ossification Illustration
Westley Croup Score and Treatment
Kawasaki Disease Clinical Findings
Pediatric Head CT Algorithm 2-10 Years Old

--OB/GYN Additions
Shoulder Dystocia Mnemonic
Perimortem C-Section Rapid Reference
Dysfunctional Uterine Bleeding Reference

--Cardiology Additions
TIMI NSTEMI/UA Tool
Sgarbossa Criteria – AMI in LBBB


--Neurology Additions
ABCD2 TIA Score
Spontaneous ICH Blood Pressure Recommendations


--Dermatology/Burns Additions
Tooth Number Illustration
Dermatome Illustration
Hand Nerve Anatomy Illustration
ABA Burn Center Transfer Criteria
Necrotizing Fasciitis Score (LRINEC criteria)

--Toxicology Additions
CEWA (Alcohol Withdrawal) Score
Hunter Serotonin Toxicity
Snake Bite Severity Score with Crofab indications

--Endocrine Additions
Thyroid Storm Score and Treatment
Goldman-Reilly Chest Pain Rule
Spontaneous Bacterial Peritonitis Rapid Reference
Addison's Crisis Rapid Reference

--Ortho/Trauma Additions
Bohler's Angle Illustration
Synovial Fluid Analysis Information

Changes:
Fixed Timer Bug that crashed in iOS4
Changed "Sedation Drugs" to "Moderate Sedation"
Pressor sections simplified

This application is not intended to be a complete reference source. It is only a tool to assist in teaching students and residents some main topics encountered in clinical emergency medicine.

Please note that this program contains information on medications and procedures that are used to treat critically ill patients. Any use in the clinical setting should be done in the immediate presence of a credentialed, experienced attending physician.
Version 3 contains a new search function, making the app even more efficient than prior versions.

Corrections:
Salter Harris image corrected

Updates/Improvements
ACLS tachycardia algorithms updated for 2010 Guidelines
Wells DVT/PE, PORT, Centor scores "calculate" button removed (easier to use)

New Material:
-New Heme/Onc Section
TTP, Cancer emergencies, HUS, Fever and neutropenia

-OB/GYN Additions
PID, Post-partum hemorrhage, Rhogam dosing

-Miscllaneous Additions
Arthrocentesis Landmarks
Central Venous Line Landmarks
Push-dose pressors
tPA in Pulmonary Embolism
Mallampati classification
ASA classification
Ranson criteria at admission
ROSE Syncope
Boston Syncope
Spinal Cord Levels
Rash Descriptions
Tall R Wave in V1 Differential (EKG)

-Pediatrics Additions
THE MISFITS mnemonic, Vaccine Schedule, Peds Appendicitis Score
Ratings and Reviews
No substitute.
Please update! Its been months- this is such a critical tool for providers across several disciplines. I dont know if you guys are EM/EMS, but its pretty clear that they designers of similar apps are not. 10sEM was one of 5-6 "must have" tools before the OSx update and I would not have updated if I had known. Similar apps seem to not recognize the importance of the features that made 10sEM great- minimalistic "need to know" answers accessible at maximum speed of an easily navigable interface (we call it "toddler friendly") for times when you cannot make precise movements with fingers. Instead other apps have either prohibitively slow loading screens, or data dispersed in a needlessly complex, multi-layered/branched tree, or interfaces that require warm, non-bloody/muddy/gloved fingers, OR most maddeningly of all, ramble on excessively about irrelevancies while failing to provide the few things that you really need now- ie the dosing for that rarely used 2nd/3rd line medication.

So, please come back. I think we would all be better for it. Ill even buy it again.
Update needed!
Please update this app. It had a lot of useful formulas and images that were easily accessible on shift. Got it when it first came out and can't believe there's still no update! This used to be a daily go to for so much. Especially things not necessary to memorize when you had such an amazing app. Please update. Would be willing to pay for it!
Update
What's up guys I really love your 10 second EMS app and I am really wondering why you have not updated it to work on the new iPhone updates. I just passed my NREMT Paramedic Psychomotor examination and will be working on the rig pretty soon and I would like to continue to use this app I truly think that it is not just for ER doctors. It is a vital tool for any Paramedic's tool box.
Information
Seller

EM Gladiators LLC

Size

5.3 MB

Category

Compatibility

Requires iOS 3.1.3 or later. Compatible with iPhone, iPad, and iPod touch.

Age Rating

Rated 4+

Copyright

© 2010 EM Gladiators

Price

$4.99
Supports
Family Sharing

With Family Sharing set up, up to six family members can use this app.