2012 Zombies vs Aliens
By Infinidy Corp
This app is only available on the App Store for iOS devices.
Description
TELL ALL YOUR FRIENDS!

===================
#spread.the.word.,.its.a.party
===================

Over a MILLION Players with 4 stars rating! - You NEED this game!

iPad Users: Works like a charm on the iPad!

WARNING:
If you have tests, exams or busy at school/college -
PLAY WITH CAUTION!
Here is why:
"This game is so good I failed my science exam" - PlayHaven User
"So Good... I missed school yesterday" - iTunes Reviewer

THE Reviews:
"Shoot down Aliens!..." - ABC News Television Broadcast.

"At ... even a slightly higher price, 2012 is a no brainer. It will give you countless hours of gameplay and hits that perfect sweet spot between individual level play time and strategy." - 148Apps.com

"With three difficulty settings, as well as the Alien campaign mode, you could conceivably play this game for a very long time...." - SlideToPlay.com

THE Mess:
In 2012, Aliens in search of new habitats wiped out the human race, having mistaken humans for just another pest on Earth. Their massive alpha particle weapons laid waste to all human life on the planet, leaving them free to sow the seeds that would make the planet livable for them.
Upon returning years later, expecting to find a new haven, they instead found that those same alpha particles had transformed the dead human flesh into undead hordes of Zombies! Now, as the Aliens return to Earth, a new power struggle to claim lordship over the planet has begun! You are the Zombie Commander charged with defeating the Aliens and saving Zombianity.
After that you can unlock the ability to become the Alien Commander and seize control over the Earth by eliminating the Zombie hordes.

Which side will you choose?

UPDATE 1.1.1
* A whole NEW SKIRMISH Mode added!

UPDATE 1.1.2
* Fixed Crashing Bug
* Balanced level!


FEATURING:
* NEW SKIRMISH Mode!
* Literally DAYS of Gameplay!
* Dynamic Artificial Intelligence System
* Amazing sound effects with insanely cool graphics!
* Particle effects!
* Two Unique Civilization options: Zombies and Aliens
* 56 Zombie Levels - 8 Cities to conquer with 7 sub-levels in each!
* 56 Alien Levels - 8 Cities to conquer with 7 sub-levels in each!
* 112 Levels in Total!
* 7 Zombie Soldiers with 3 unique bombing options
* 7 Alien Soldiers with 3 unique bombing options
* AND MORE...

AWESOME OpenFeint integration:
* Over 40 OpenFeint Achievements to be DISCOVERED!
* 1000 OpenFeint points to be LOOTED!
* 6 Unique Open-Feint Leader Boards... wow

Spread the word people! ;)
What's New in Version 1.1.2
Fixed the Crashing Problem :) Go kill those Aliens/Zombies, (whichever you like)
Note: Our Community is hot and active so join us and give us your cool ideas! (you can access the community by clicking on the "community/feedback" button from within the game!)

Cheers!
-InfiniDy
iPhone Screenshots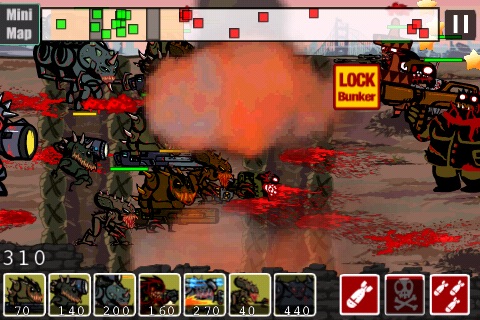 Customer Reviews
Way too expensive. Dont get this game.
I looked at thus game and was like "ok seems like a fun game with the trenches and all. But then i saw the price and my mind exploded. $5. What the hell?! This is waaay to overpriced. Why would i buy a 5 dollar game?! But i saw that the reviews said it was great so i bought it. Not happy. Its an awful game with waaayy to many errors. At first i thought the game was ok but then i got farther in and realized the game was junk. The levels are repetitive and very similar. There is a very easy way to win every campaign level that works for EVERY level. You cannot see the stats of your troops and in battle if 2 of the same (maybe works for different haven't tried) type of troop attack at relatively the same time (it happens a lot) then they both only count as one attack Hitting. This effect stacks infinite times so if 20 troops all attack at once only one attack counts. Also the bomb system is not balanced if you use a bomb on an enemy trench then 1 maybe 2 enemies get hit in the entire salvo. But if an enemy uses the same bomb on you then the first few bombs will kill all the troops in your trench. And enemy mana charges faster than yours in skirmish mode medium and up and in the later campaign levels. When you try to make a level harder you make the enemy have more strategy not give them a completely unfair advantage. This is the worst buy i have ever made on the AppStore. Do not waste your money on this. :(
Suggestions and needs fixing
So this game is addictive and awesome and it's way to expensive to buts it's worth buying it. Also this game needs an update to because it feels like the makers of this game ditched it. And this game needs to be fixed NOW because I can't upgrade my troops it doesn't freeze it won't upgrade. And I have some suggestions to ok 1 you should make the cammander have 2 guns 2 at least make the dogs stay in the trenches I mean wat if you want a dog next to your troops. And last make a new trooper like a UFO rider for the aliens and a tank rider for the zombies. Anyways hope u update it and fix the problems and at least make a new trooper thank u 4 ur time
Plz fix cause then I just wasted money
I think it was $7 I just spent on this game. I remember that I had the lite version of this game awhile back and I liked it. I now got the money to buy this game with my new iPhone 6 and the game freezes. I seriously have only played this game for a couple mins and it has frozen about 5 times of the few mins. Can you guys plz fix this so this game did not become a waste of money. I really hate wasting money and usually I do not buy games because of that reason, but I liked the lite version of this so I wanted to full. Also I saw in the other reviews of people and I see it was $5 and then even $6... So I see that now the game is getting more expensive and it keeps having more bugs :/ :(. I would rate this a 4-5 star game if it was not for the game to keep freezing after a min of playing.
View in iTunes
$6.99

Category:

Games

Updated:

Feb 09, 2010

Version:

1.1.2

Size:

10.1 MB

Language:

English

Seller:

Infinidy Corp.
Compatibility: Requires iOS 2.2 or later. Compatible with iPhone, iPad, and iPod touch.