3D Camera
By Juicy Bits
This app is only available on the App Store for iOS devices.
Description
CREATE 3D IMAGES WITH PHOTOS FROM ANY DIGITAL CAMERA. NO GLASSES REQUIRED (BUT IT'S MUCH COOLER IF YOU HAVE THEM).

Rated 4.5 out of 5 by Macworld - "3D Camera does its job and does it well"

Watch our 4-minute video tour:
http://bit.ly/3dcameratour

----------------------------------------

Create your own 3D photos and easily share them with friends on Facebook and Twitter. First, take left and right photos with the built-in camera or choose two images from your iPhone or iPod touch photo album. Then, view your 3D photo as a grey or color anaglyph (using common red/cyan 3D glasses), a stereogram (no glasses required), or as a wigglegram for a simulated 3D effect. Finally, send your 3D photo to your friends on Facebook and Twitter. It's as simple as that!

FEATURES:

- Enhanced camera that makes it easy to take two side-by-side photos
- Three different camera alignment modes
- Ability to send 3D photos to Facebook, Twitter, and e-mail
- Wirelessly transmit images to 3D Camera Studio for iPad
- Use flash and the front camera (on supported devices)
- Simple touch interface to realign and reposition images
- Magnification loupe for more accurate alignment
- Automatic cropping of re-aligned images
- Grey and color anaglyph creation
- Parallel and cross-eyed stereogram support for photos that don't require 3D glasses
- Wigglegram mode for a fun, simulated 3D effect
- Integrated instruction screen with "More" button to access an online video tour and additional documentation
- Button to swap the original photos
- App setting to choose the working image size (100%, 75%, 50%, 25%)
- App setting to enable/disable automatic saving of camera photos
- App setting to automatically boost saturation and brightness of Color and Grey anaglyphs
- App setting to control the size of stereogram borders (and to eliminate them)
- App setting to enable/disable stereogram alignment dots
- App setting to limit the maximum Twitter image dimensions (1024, 800, 640)
- App setting to select the color anaglyph method (full color, half color, optimized, red/blue, and Dubois)
- App setting to bypass the introduction screen

----------------------------------------

NOTE:
Please do not leave bug reports in iTunes Reviews of 3D Camera as we are unable to respond directly to offer help or properly debug the situation. You can contact us directly at:

info@juicybitssoftware.com
or:
http://www.juicybitssoftware.com/contact/
What's New in Version 1.8.1
+ Fixed image alignment issue when running on iOS 8
+ Added ability to save animated GIF images to the photo library (huge user request)
+ Fixed Flickr upload bug
+ Other performance improvements and bug fixes

If you have a moment, we'd really appreciate it if you could rate 3D Camera or drop us an e-mail to let us know what you think of the app. Thanks!
iPhone Screenshots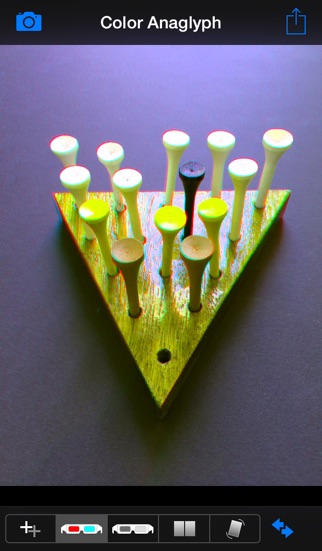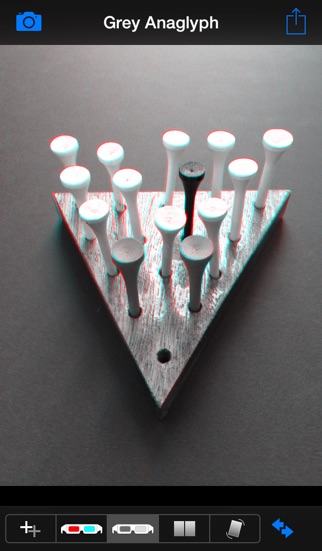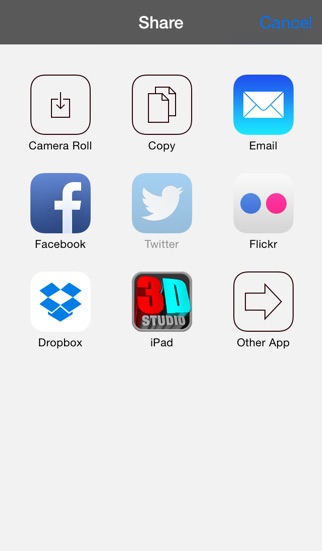 Customer Reviews
My only complaint
This program is terrific as is. This was my first taste of stereo scopic universe, and it's simplicity an excellent output led me into a fresh new hobby, and open the doors to more creative Syria scopic endeavors… My only complaint, is that they have not updated in quite a while, and I am afraid that further Apple OS changes might make it impossible to operate. So developers if you're reading this, you don't have to change anything, just make I don't wake up one day and this app is not working. That will be a sad day indeed. I have used every stereo scopic app on the App Store, some have many more features, some are very intuitive and how they have you take your stereo shot. No matter how much I try and double with the others I always come back to this one. The truly best thing about this app, and while I believe there may be another in the App Store that will do this, but it's why I keep coming back to this one besides ease of use is the fact that your left, and you're right picture or a mediately saved as separate images to your photo roll. This allows you to manipulate at a later time should you choose to do so.
Please update for iOS 11
This app is the best 3D camera app that I have found in the App Store. It takes a bit of getting used to but it does everything well. It allows you to either take pictures from within the app or import previously taken photos from the camera roll. I have tried all of the other 3D camera apps that I could find in the App Store and immediately give up on them and settle back to the tried and true. To the team at Juicy Bits... Please consider updating this great app or at least point us in the direction of a suitable replacement. I gladly paid for this app and will gladly pay for another recommended by you as long as it works.
Something good coming at ya, mostly.
Functional incremental stereo capture application that falls short on a few things. The best thing about the application is being able to use the front camera for 3D selfies. However the lack of a "volume shutter button" seems odd to me as you cannot take a photo unless you can hold and snap with one hand.

Anaglyph format renderings are glaringly too bright with no visible means of adjusting them, and no automatic alignment option which would save time from having to do it manually. For $2 I guess it can't be perfect but the potential for this application is great, it would just be nice to see this on steroids or something. :-/
View in iTunes
$1.99

Category:

Photo & Video

Updated:

Oct 10, 2014

Version:

1.8.1

Size:

2.5 MB

Language:

English

Seller:

Juicy Bits
Compatibility: Requires iOS 7.0 or later. Compatible with iPhone, iPad, and iPod touch.