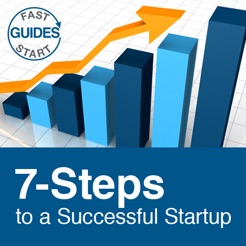 7 Steps to a Successful Startup – Simple Lessons Before You Quit Your Day Job
4+
Description
******************************************
* For a limited time only - 99 cents *
******************************************

Dear Entrepreneur,

There is a lot of advice out there for entrepreneurs. Not all of it is useful or clear. I know. I have started or advised dozens of startups, and I teach entrepreneurship at one of the top business schools in the world.

Often the idea isn't workable; the company will never be viable. But the entrepreneurs won't know that until they have wasted time and thousands of dollars just trying to make it work.

This does NOT have to happen to you!

Based on my two decades of experience, I have developed a 7-step process to evaluate your business idea. When you are done with this process, you will know, with a high degree of certainty, how likely it is that your idea will succeed.

Naeem Zafar
Faculty, Haas School of Business, University of California, Berkeley
Silicon Valley, California USA

***********************************
* Testimonials
***********************************

"Succinct, compelling, profound - this book is invaluable with full on-the-money advice that would have been priceless when I was starting my last company. It could take a lifetime to learn what Naeem lucidly summed up in just a few dozen pages. It's a must read for any entrepreneur!"

Slavik Zorin
Founder and CEO Synchrony Systems
New York, NY


"Many of us believe that one day we will start our own companies. But what do you need to know before you take that irreversible step of quitting your job? Naeem Zafar's 7 Steps to a Successful Startup is just what the new entrepreneur needs. Providing clear guidance based on knowledge gained by experience! I commend this book to all who consider launching themselves on this exciting journey."

Jerome S. Engel
Executive Director
Lester Center for Entrepreneurship & Innovation 
UC Berkeley


"I have been with five startups in my career mostly as VP of engineering and I clearly see that having followed Naeem's advice would have changed the fate of these companies that I was involved with - very insightful and practical. Excellent!"

Dr. Bulent Erbilgin
VP of Engineering
SS8 Networks, California


"Naeem has done an outstanding job of outlining the critical "must dos" and relating them to his own real life events. This is a must read for anyone aspiring to become the 'employee number one."

Dr. Atul Kumar
VP of SaaS Operations Serena Software
California

**********************************
* Money Back Guarantee
**********************************
I am so confident that this eBook will be valuable to you that I guarantee your complete satisfaction. My reputation is very important to me and my business so I have only included test tested and proven information. If you are not satisfied for any reason please ask for a 100% refund by writing to support@magnicode.com.

Naeem Zafar
Faculty, Haas School of Business, University of California, Berkeley
Silicon Valley, California USA
+ Notes email functionality added
Customer Reviews
Great read...concise, yet meaningful!
As someone with entrepreneurial ambitions I am surprised at some of the low ratings this book has received. Perhaps the ratings are driven by incorrect expectations. If someone wants to turn into an entrepreneur by spending $0.99 on iTunes, well then the person is bound to be dissatisfied. The target audience for this book is someone venturing into the realm of entrepreneurship and wondering when is the right time to jump off the cliff - this book explains, in simple terms, what it takes to have a parachute when jumping off the cliff.

"The 7 Steps" listed in the book may seem obvious but, many a time, are taken for granted and are often not given enough significance in the initial stages of the venture as the entrepreneur is wrapped around his/her own reasons (usually emotional, and at times, egoistical) as to why the venture should be brought to light. Unless a "would be" entrepreneur has satisfactory answers to the seemingly obvious questions in the book, the individual is not ready to get the venture off the ground, without introducing a very high degree of failure-risk.

The book is a simple read, focuses on the crux of what it takes to be an entrepreneur, and more importantly, highlights when it is the right time to quit your day job. Concise and yet meaningful reads on the topic of entrepreneurship do not come any simpler than this. Highly recommended!
A Must-Read for all budding Entrepreneurs
As a career & LIfe Coach based in the Silicon Valley, about 15% of my new clients are budding entrepreneurs. An even greater percentage of my clients come from failed ventures wanting to go back to their day jobs to redeem their financial and social standing. When I explore with this latter category of clients, why they got to where they are now, I often find that they had ignored some of the most basic explorations lucidly presented in Neem Zafar's 7-Steps app. In just 35 pages Naeem has distilled his learnings in a compelling and cogent message that are quite profound. For a casual reader or a cynic they may appear commonsensical, but if you reflect on them they are truly quite profound. Now that I have seen this gem I am going to require all those who come to me wanting to go into a venture of their own, this little guide is going to be a required reading. A dollar very well spent!

Dilip Saraf
A wonderful quick guide to laying the groundwork for starting a new business
Naeem's book is to-the-point, personal, honest, and instructive. Using analogies such as a dartboard on a wall to describe market size, emphasizing the importance of teamwork, the value of reaching out to get input, and many more constructive recommendations, the book provides an easy-to-follow checklist to evaluate the viability of a new venture. This way a prospective entrepreneur can concentrate his or her efforts on being the most productive and efficient, increasing the chances for success.
Information
Seller

Concordia Ventures, LLC

Size

2.8 MB

Category

Compatibility

Requires iOS 3.0 or later. Compatible with iPhone, iPad, and iPod touch.

Age Rating

Rated 4+

Copyright

© Magnicode Inc.

Price

$0.99
Supports
Family Sharing

With Family Sharing set up, up to six family members can use this app.