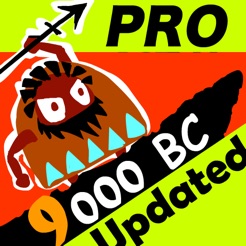 9000BC Pro
9+
Free
Offers In-App Purchases
Description
9000BC is OpenFeint's Free Game of the Day! Download the Game Channel app to get a FREE game every day!


★

★

★



The natives from neighboring tribes and the monsters from the deep Jungle are coming.

They are here to take away the power of life from your Village.

Your strength has been magnified by the power of the Gods. Along with this strength, new powers have been granted to you.

9,000 BC promises to take you back in time where fiction is reality.

* 100% GAME CENTER integration with achievements and leader boards!
* Latest OpenFeint Integration!
* Complete iPhone 4 support with images made for the crisp ratina display! We hope you will like it :)

Features List
*** Powerful monsters are now on your side!
---> The Red Eyed Monster
---> The Ferocious Shark Head
---> The Powerful Beast Man has
--- arrived from the jungle and seas to aid
--- you in your battles!

*** Tree of MAGIC ***
---> You can buy Magical Fruits that give you
--- the ability to Cast Spells.
---> Eat a Magical Fruit to cast spells on
--- those evil monsters!

*** 3 Different types of SPELLS ***
---> Ancient Way of the Spear
-------> use this spell to get a huge magical
-------- spear for a while and kill multiple
-------- with one shot. Yeah, ONE shot.
---> Short Term Mind Control
-------> use this spell to stun the monsters,
-------- they will be SHOCKED and stay
-------- where they are for a short duration.
-------- COOL!
---> Mega-Tiny-ize
-------- cast this spell to SHRINK the
-------- monsters and make them weaker.

*** A lot of people wanted this
---> now you can Tap to Shoot the spear!
---- Woohoo!

*** Full OpenFeint support with
---- achievements,leader-boards and chat!

*** What's next? - MAPS!!!, more prehistoric
---- beasts, and EVEN more...

*** This is not it. We are still working hard on
---- the next release.
Reduced size of the app.
Fixed crashing bug in the starting of the level.
Ratings and Reviews
Bought out from original developer and subsequently ruined.
This was a very interesting and unique defense game when it was originally available here from the original developer. Now it has been bought a company hoping to cash in on the developer's idea by making you have to pay micropayments to get the shells you need for the upgrades. In short, it's been turned into a micropayment scam app not worth your time. Now instead of getting it all for 99 cents you get it "free" and have to pay and pay and pay for the shells.
It's fun but
When I play and it goes to where you buy things I can't buy or touch anything so I have to close out the app to do things.

This is happening with my iPhone 6
Is this a "game" at all?
It's more like a minimalist veneer over a storefront. Every 10 seconds you get a pop up begging you to post your scores and buy in-app purchases, while the actual game part is thin and incredibly unimpressive. Just another half-assed scam that's not worth anyone's time.
Information
Seller

Infinidy Corp.

Size

20.6 MB

Category

Compatibility

Requires iOS 3.0 or later. Compatible with iPhone, iPad, and iPod touch.

Age Rating

Rated 9+ for the following:

Infrequent/Mild Cartoon or Fantasy Violence

Copyright

© InfiniDy

Price

Free

In-App Purchases

Basket of 20 Diamonds

$1.99

Jar of 10000 Shells

$1.99

Basket of 55 Diamonds

$4.99
Supports
Family Sharing

With Family Sharing set up, up to six family members can use this app.