A Ferry to Airy
By Flitwits Ltd
This app is only available on the App Store for iOS devices.
Description
THE FLITLITS /Y SBRIDION
ENGLISH/CYMRAEG/COMPLEMENTARY BOOKS BY JOHN CATT EDUCATIONAL

Story Title: A Ferry to Airy / Teitl y Stori: Yr Ynys Aer

ENGLISH VERSION:
Laugh and Learn with the Flitlits
Categories: STORY/EDUCATION /8-11/First Language
Content: Curriculum/Focus on Literacy/Language/Reading

•ENGLISH /WELSH /U.S. ENGLISH versions of the text and narration
•RESEARCHED extensively in partnership with experienced educators
•SPANS the divide between picture books and chapter novels
•DEVELOPS IMPROVED LITERACY /appeals to both genders /encourages boys to read more
•13 DIVERSE, TIMELESS characters that champion differences
•COMPREHENSIVE EDUCATIONAL SECTIONS that offer CROSS-CURRICULAR lesson planning options /schools /home teaching
•'TAP ON THE MAP' section reveals the characters /home plots /landmarks /significant stars /17 INTRODUCTORY STORIES
•PLOTS and LANDMARKS that link extensively to generic curricula
•LINE BY LINE HIGHLIGHTING of the lyrical text to best effect. Linguistics, including Sentence Structure, may be incorporated into grammar exercises as outlined in the educational guides
•Supported by further details on:http://www.theflitlits.com

The central character, JESTER BIT, is a scamp with a heart. His mischief leads to compassion, empathy, team work and a sense of fair play. Readers are invited to look behind the stories, the habitat, the interplay between the characters and more.

SYNOPSIS

This story follows Jester Bit on a fantastical journey. What awaits him at the No-Zone Space?
A message reaches Doctor It at his home, the Puzzling Pit. The doctor's pet, an I.T. scholar, is so hot underneath his collar. Both need to crack a code to save the day. Will Doctor It make contact?

FEATURES

•Language Selection
•Automatic Page Turning
•Scroll Back to Previous Image or Page
•On /Off Auto Play Speech
•Text Highlighting
•Interactive Features
•Narration Volume Control
•Music Volume Control
•Page Number Display

INFORMATION

Developer: Chaos Trend Ltd
Category: kids/Books/Education
Version: 1.0
Size:
Rating: 8-11; First Language
Compatibility:
Website: http://www.theflitlits.com
Feedback: theflitlits@gmail.com

FERSIWN CYMRAEG

Dysgu wrth gael sbri gyda'r Sbridion

Cyfres Unigryw /Ap/ App/Hwyl /Addysgol /Llythrennedd /Cwricwlwm /Dwyieithog/Chaos Trend

Mae'r cynnwys yn, neu yn dwyn:

•FERSIYNAU CYMRAEG /SAESNEG /SAESNEG yr U.D. o'r testun a'r lleisio
•PONTIO'R BWLCH rhwng llyfrau lluniau a nofelau
•ADRAN ADDYSGOL GYNHWYSFAWR a THRAWSGWRICWLAIDD ar gyfer gwersi / ysgolion /addysgu yn y cartref
•Canlyn YMCHWIL HELAETH mewn partneriaeth ag addysgwyr profiadol
•ANNOG SGILIAU LLYTHRENNEDD /apelio i'r ddau ryw /annog bechgyn i ddarllen mwy
•13 O GYMERIADAU AMRYWIOL, DIAMSER sy'n hyrwyddo gwahaniaethau
•NODWEDD 'TAPIO AR Y MAP' i ddatgelu'r cymeriadau /plotiau cartref /tirnodau /y sêr /17 o STORïAU BYRION
•CYSYLLTU'R PLOTIAU a'r TIRNODAU ag elfennau eang o gwricwla generig
•AMLYGU'R TESTUN linell wrth linell
•CEFNOGAETH ar: www.ysbridion.co.uk

Mae drygioni'r cymeriad canolog, Digri Pwt, yn dysgu plant am dosturi, empathi, gwaith tîm a chwarae teg.
Cânt eu gwahodd i edrych y tu ôl i'r storïau, y cynefin, y cydadwaith rhwng y cymeriadau a mwy.

CRYNODEB

Mae'r stori hon yn dilyn Digri Pwt ar daith ryfeddol. Beth sy'n aros iddo yn y Gwagle erchyll?
A wnaiff ewythr Digri anghofio am ddwli yn y Pwll Pos? Rhaid iddo dderbyn neges frys, heb oedi.
Mae'r pryfyn,Tic Clic-Clic, yn boeth o dan ei goler. Er mwyn safio'r dydd, rhaid iddo gracio cod ar ei gyfrifiadur.

NODWEDDION

•Dewis Iaith
•Troi Tudalennau Awtomatig
•Troi yn ôl i Ddarlun neu'r Dudalen Flaenorol
•Agor /Cau Lleisio Awtomatig
•Amlygu'r Testun Linell wrth Linell
•Nodweddion Rhyngweithiol
•Dewis Uchder y Lleisio
•Dewis Uchder y Gerddoriaeth
•Opsiwn Arddangos Rhif y Dudalen

GWYBODAETH

Datblygwr: Chaos Trend Ltd
Categori: Plant/Llyfrau/Addysg
Fersiwn: 1.0
Maint:
Ardrethu: 8-11; Iaith Gyntaf
Cysondeb:
Gwefan: http://www.ysbridion.co.uk
Adborth: ysbridion@gmail.com
What's New in Version 1.0.3
64 bit support.
iPad Screenshots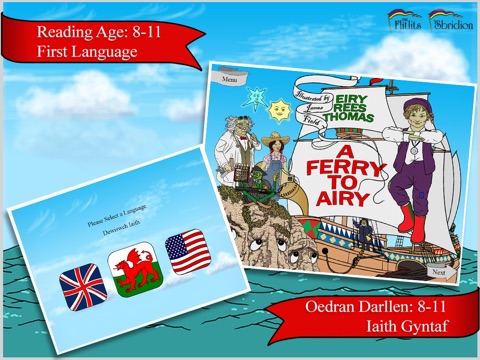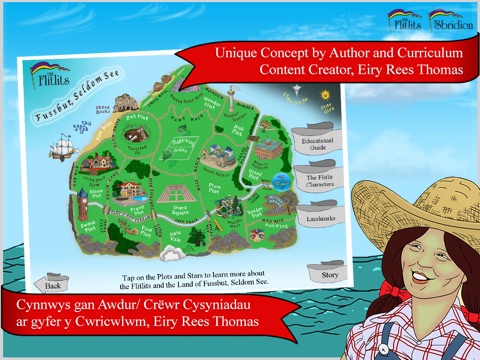 View in iTunes
Free

Category:

Education

Updated:

Apr 24, 2015

Version:

1.0.3

Size:

89.9 MB

Languages:

English, Welsh

Seller:

The Flitwits Ltd
Compatibility: Requires iOS 5.1.1 or later. Compatible with iPad.
More iPad Apps by Flitwits Ltd