Acorns: Invest Spare Change
By Acorns
This app is only available on the App Store for iOS devices.
Description
Invest as little as $5 into more than 7,000 stocks & bonds. With Acorns, it's simple and secure to invest in your future, automatically. In fact, more than 2 million people are doing it! Sign up is free and only takes a few minutes. Ready to grow your oak?


►FEATURES◄
○ Painlessly invest your spare change into a diversified portfolio of ETFs of over 7,000 stocks and bonds automatically
○ Easily invest more - with Recurring Investments (daily/weekly/monthly), One-Time Investments, Referrals, and Found Money!
○ Watch your progress – check in on your account from anywhere
○ SIPC Protected – up to $500,000 is protected against fraud so your money is secure
○ Stay educated – Gain access to our online personal finance publication, Grow Magazine
○ Withdraw anytime – at no charge.

►WHAT THE WORLD IS SAYING◄

FORBES: "The app makes investing effortless."[1]

ABC NEWS: "If you set aside just $5 every couple of days you would have set aside $1,000 in a year."[2]

WIRED: "Acorns simplified the often tedious and complex process of investing."[3]

US NEWS: "Acorns offers a unique solution to overcoming the mental barrier: 'I just don't have enough money to be investing.'"[4]


►TRUSTED AND INTELLIGENT◄
○ 256-bit encryption to keep your information safe and secure
○ Automatically rebalances your portfolio
○ Automatically re-invests your dividends for you
○ Diversified Portfolio includes hundreds of international companies, corporate and government bonds, and real estate.

►PRICE◄
Acorns costs $1 per month for accounts investing less than $5,000. After your account grows past $5,000, the fee switches to 0.25% per year (@$5,000 that's about $1 a month). That's like 3 semi-fancy cups of coffee (you know you do it) a year, just to invest in your future.

In order for Acorns to invest your spare change from purchases, which is part of why we charge $1 per month, you will need to connect a bank account. Worry not - we've got 256-bit encryption. That's a nerdy way of saying we're as secure as the people you bank with. Now, stop reading and get invested.



This app is operated by Acorns Advisers, LLC, an SEC Registered Investment Advisor. Brokerage services are provided to clients of Acorns by Acorns Securities, an SEC registered broker-dealer and member FINRA/SIPC. Investments are not FDIC insured and may lose value. Investing involves risk and investments may lose value, including the loss of principal. Please consider your objectives and Acorns fees before investing. Past performance does not guarantee future results. "Acorns", the Acorns logo and "Invest the Change" are registered trademarks of Acorns Grow, Inc. Copyright © 2016 Acorns and/or its affiliates.


Information about FINRA is available at www.finra.org. Explanatory brochures about SIPC protection are available upon request or at www.sipc.org.

[1] http://www.forbes.com/sites/duncanrolph/2014/09/10/4-online-tools-to-manage-your-money-in-the-21st-century/
[2] http://abcnews.go.com/WNT/video/slow-steady-key-retirement-savings-28043857
[3] http://www.wired.com/2014/08/acorn-app/
[4] http://money.usnews.com/money/blogs/my-money/2014/12/26/wealth-management-tools-for-the-not-so-wealthy
What's New in Version 2.2.0
* Bug fixes and performance enhancements
* The new "Past" screen replaces "History" and combines all past investment activity including any Round-Ups, Recurring Investments, Found Money, Dividends, One-Time Investments, Total Gains, and Referrals. It also includes a "bank transfers" view which shows how Acorns activity appears on your bank statement. Look for this feature very soon!

Thank you for growing with us!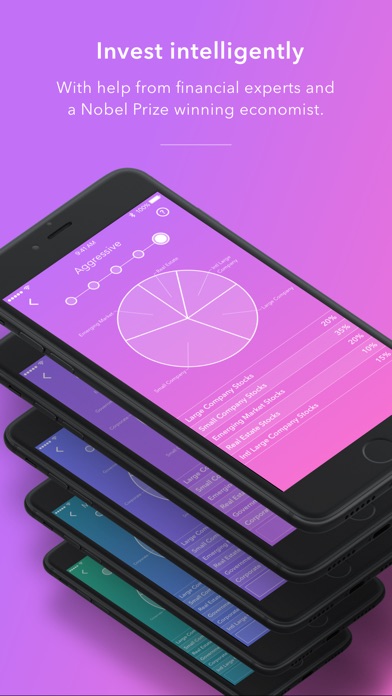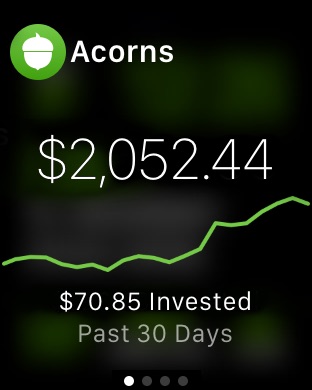 Customer Reviews
Great
Great idea and the smartest easiest way to start investing. This is such smart money management! Do it!
Why not ?
Fantastic app to save money here and there. A must for all coffee and tea drinkers.
Almost
Acorns is an incredible concept presented in a stunning app.
Here's the problem: while I am able to take Mindy from my bank account and invest it (I chose $5), Acorns does not allow me to hook my card up via my bank's routing number. This means that while I can choose to invest a few dollars once in a while, my main source of potential investments - my "change", cannot be invested in Acorns.

Here's why that's a problem:
Acorns has a one dollar a month fee. It is clearly not worth it for me to invest a few dollars a month. However, if Acorns would either support more banks or let me hook up a bank via routing number, I'd be investing more than just $5. I'd be investing the spare change of 50-100 transactions. Only then would a monthly fee of $1 be worth it. I'd still be giving up nearly 10% of my returns, but it would be worth it, as Acorns would be a hassle free way of investing small increments of money to "grow into mighty oaks".
In light of the round up feature being the only reason to use Acorns, I am astounded that they have not figured out a way to allow users to add a card via a routing number.
View in iTunes
Offers Apple Watch App for iPhone
Free

Category:

Finance

Updated:

Oct 18, 2017

Version:

2.2.0

Size:

128 MB

Apple Watch:

Yes

Language:

English

Seller:

Acorns Grow Inc.
Compatibility: Requires iOS 10.0 or later. Compatible with iPhone, iPad, and iPod touch.