Adrenaline Pool Lite
By EUROCENTER
This app is only available on the App Store for iOS devices.
Description
This award winning pool is the only online multiplayer internet Pool game on iPhone/iPod! You will always find hundreds of players to play with you and chat.

NEW: Smaller Snooker balls, easier cue control, chat filter

Adrenaline Pool Lite features authentic physics. 8-Ball, 9-Ball, Straight, Snooker against players from all over the world!

If you like Adrenaline Pool lite then you will love Adrenaline Pool Online 2 with all the features of the lite version + personal nickname, pictures in profiles, internet ranking, offline mode against the computer, and a lot of exclusive features.

Lite Game features:
- Internet multiplayer with automatic matchmaking
- Chat system with player profiles
- 3D balls and particle effects
- Authentic billiard physics with English
- Touch screen controls

Also check out our other games: GraalOnline Classic, Cocoto Kart Online, Adrenaline Golf Online, DinoSmash Online, Ace Tennis 2010 Online, Cocoto Magic Online, Battle Online, Poker Online, Checkers Online, Belote Online and French Tarot Online!
What's New in Version 1.2
- A round is finished after 2 minutes if the player is not shooting
- Modified Snooker rules: reds are not respotted, each red ball counts as one point, a foul is giving points to the other player but is not forcing to replay

iPhone Screenshots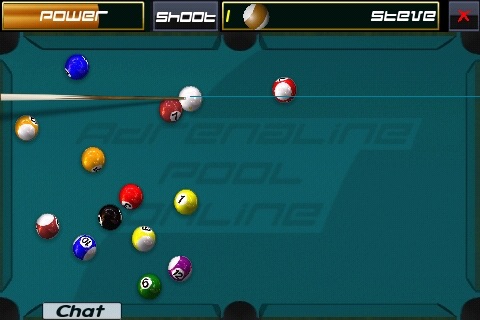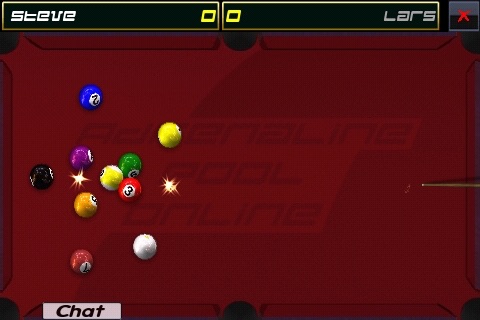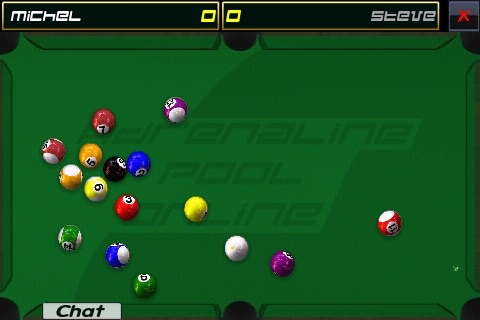 Customer Reviews
Typical Internet chat
I love pool. Overall this is a great game, and I would buy it.
However, I don't like that the owners do not check on the pictures people upload. One was of this man's *you know* and I reported it, checked back a while later, and guess what, it was still there. I constantly get asked for my number, email, age, name, where I live, and these chats should be supervised and watched some how because this is exposing young people to internet dating, and that world is something parents need to protect their children from. I got hit on by a 36 year old creep. He asked me if I was a police officer and I said no and he continued to flirt. I exit the game. I'm not looking to char with anyone, I just wanted to play pool. After this expierence, I deleted the app. I understand it is not the makers responsibility but this is just a warning of what goes on in the pool rooms.
Have fun, be careful.
Great FUN game with unique online (only) gameplay mode
Get the PAID version of this app to have a way to practice your gameplay (vs Computer player) or when nobody is available to play online, and to personalize your gamer (nick)name profile. I downloaded the paid version, after trying the free (Lite) version, not for these reasons, but just to show my appreciation to the developers. APO is worth every penny, and I only wish more apps in the iTunes store supported online gameplay. It is too boring to only be able to play against a computer player all the time, so give this Lite version a try if online game play is all you want. However, if you are like me, this game is just to good to be FREE and the developers deserve to be compensated. BRAVO!!!
Good game. Terrible people...
"Playing it!"

This app hasn't seen another review since August and I'm honestly not surprised.

What one hoping to find in an enjoyable experience playing billiards, will instead get after installing this app...

97% of your opponents will leave if they and/or you either,

A: don't get to break
B: don't immediately respond to a greet
C: are not a female/male player
D: don't like your play style
E: see that you're a lite player
F: are not ranked high/low enough
G: are about to secure a win..dropping their silly, meaningless rank down a little bit.

I really wish that this were an exaggeration on my part, but nope!

To make it all worse, there's only a few handfuls of people playing at any given time. With the low number of players, the above gets super annoying when trying to start a game.

So, this is a big middle finger to you 97% of people ruining an otherwise fun online billiards app. Why anyone would shell out even a cent for the paid version (the two apps are not exclusive to one another) is beyond me.

To the app creator/s..dump the paid version or make it exclusive OR give lite players the ability to make a profile name. Get rid of the stupid useless ranking system.

2 stars until something is done to put an end to the douchery running rampant in the community.
View in iTunes
Free

Category:

Games

Updated:

Nov 20, 2008

Version:

1.2

Size:

12.8 MB

Language:

English

Seller:

EUROCENTER
Compatibility: Requires iOS 2.0 or later. Compatible with iPhone, iPad, and iPod touch.
More iPhone Apps by EUROCENTER