Affinity Photo
By Serif Labs
Editors' Choice
Open the Mac App Store to buy and download apps.
Description
** Apple Mac App of The Year 2015 ** 

Affinity Photo redefines the boundaries for professional photo editing software on the Mac. With a meticulous focus on workflow it offers sophisticated tools for enhancing, editing and retouching your images in an incredibly intuitive interface with all the power and performance you need.

Engineered for Professionals
• Open, edit and save Photoshop® PSD files
• RGB, CMYK, Greyscale and LAB color spaces
• End-to-end CMYK workflow with ICC color management
• Full 16 and 32-bit per channel editing
• Work with all standard formats like PNG, TIFF, JPG, GIF, SVG, EPS, EXR, HDR and PDF
• Panning and zooming is always live at 60fps with live previews, live tools and real-time editing
• Open and edit massive images without compromising performance or running out of memory

Unsurpassed productivity
• Full support for unlimited layers, layer groups, adjustment layers, filter layers and masks
• Resize layers without any loss of quality. Lock, hide, duplicate and merge layers easily
• Edit live filters, adjustments, effects, blend modes and masks non-destructively
• Undo history can be saved with the document so you can always undo your changes
• Task-focused workspaces for developing, post-processing, liquify and export
• Work in windowed, full screen, or separated modes with fully customisable toolbars and drag and drop panels
• Comprehensive vector drawing and text editing tools
• Advanced snapping system with pixel perfect alignment when required
• Export @1x, @2x, @3x from layers, slices or whole documents – continuously as you work!
• Record and Play macros for ultimate productivity

Professional image processing
• Open RAW and other images in a dedicated pre-processing workspace
• Adjust exposure, blackpoint, clarity, vibrance, white balance, shadows, highlights and much more
• Recover detail thought to be lost by editing in an unbounded linear color space
• Advanced lens corrections including chromatic aberration, defringe, vignette and best-in-class noise reduction
• Paint areas or use fully customisable gradients to mask adjustments
• View histograms, blown highlights, shadows and tones as well as detailed EXIF information
• Focus Merge, HDR Merge and Tone mapping for advanced image processing

Quality retouching and correction tools
• Intuitive selection brush and refinement makes selections simple, even down to strands of hair
• Instantly remove unwanted objects with an incredibly advanced Inpainting brush
• Dodge, burn, clone, patch, blemish and red eye tools
• Smooth and retouch skin with built-in frequency separation
• Apply high quality single-plane and dual-plane perspective correction as well as fully customisable mesh warps - all in real time
• Dedicated Liquify persona gives freehand control over warps, twirls, pinch, punch and turbulence

Advanced brush engine
• Huge library of painting, drawing, textures and professional DAUB® Brushes included
• Create custom brushes and nozzles with full control over advanced dynamics
• Full support for Wacom and other graphics tablets, including pressure, tilt and shortcut buttons
• Real-time preview of your nozzle – see what you are about to paint or erase before you do it

Fast, customisable effects
• Massive collection of effects available, including blurs, distortions, tilt-shift, shadows, glows, lighting and many more
• Swipe-able split or mirrored screen always available for before and after views
• Choose to apply effects non-destructively with live effect layers, enabling you to erase away or mask effects after they have been applied

Built for Mac
• Takes full advantage of the latest macOS technologies including OpenGL, Grand Central Dispatch and Core Graphics
• Full support for MacBook Pro's Touch Bar and Force Touch trackpad 
• Fully optimised for 64-bit and multi-core processors
• Supports regular, retina and multi-monitor set ups – including the latest 5k iMac
What's New in Version 1.5.2
Stability and bug fixes
Screenshots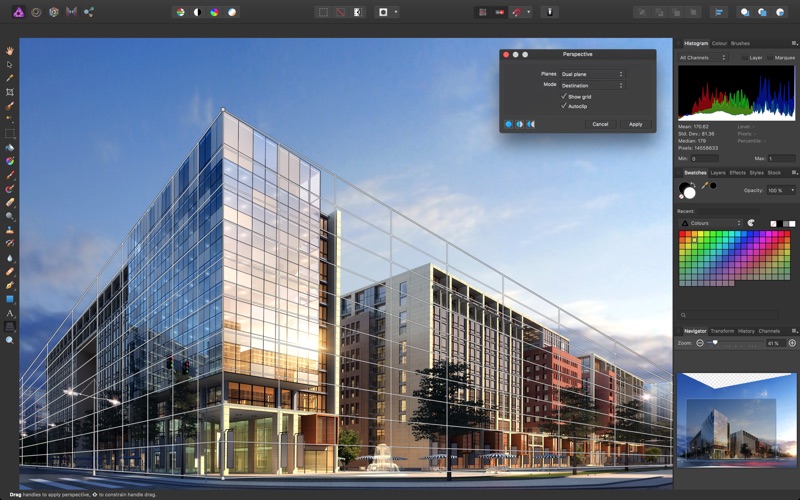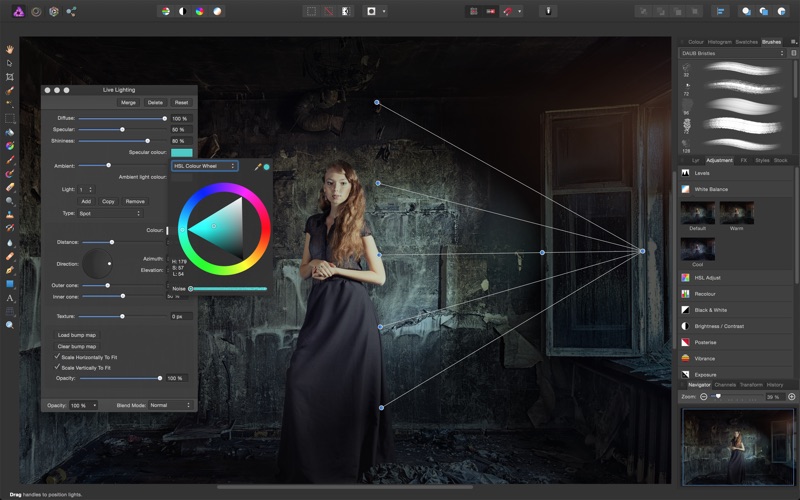 Customer Reviews
Goodbye Photoshop
I used to love Photoshop until they started forcing me to buy sofware in a suite (I only wanted Photoshop, not a bunch of other software that cluttered up my computer). And then they switched to a subscription model. I did the math and it would have been more expensive to get the subscription than a one-time license. AND the software had barely changed over the 10 years that I've used it. When I moved to a new computer and realized that Adobe had removed my ability to download my old Photoshop licenses from thier site, I tossed in the towel and decided not to be forced into a subscription model that scavenges my bank account every month (20 a month!). So, I started looking around and found Affinity Photo. The price was fantastic and best of all, no subscription! And I did the math… even if they did provide a subscription, it would be a heck of a lot cheaper than PhotoShop. As for Affinity Photo itself, it feels so much like Photoshop and actually, I think it feels a bit more professional and less clunky. Thank you Affinity Photo folks for taking on the big boys who want to force us to ingest bloatware at a ridiculous price.
Absolutely GREAT Software
I used photoshop for a decade and think its great. But the economics of software rental were a goad to look around at what else is available. I stumbled upon Affitinity Photo in the App Store and gave it a try because of the great reviews. They were absolutely correct, it is a fabulous tool and if you know photoshop you have a real head start in learning Affinity Photo because it has the same tools, keyboard shortcuts, etc. The interface is a little different so I would suggest watching some of the superb vidoes they offer. I cannot praise this product highly enough. At this point I actually like it more than Photoshop. The only thing I miss is that in Photoshop I could directly import scanned (Epson scanner) objects. I cannot find a way to do that in Affinity Photo. But I can certainly work around that by using Epson software and then opening the file in Affinity Photo. If you are a photographer or graphic designer and you are looking for a Photoshop replacement it's named Affinity Photo. Do yourself a favor and get it.
Big bang for your bucks
I've used the ap for couple weeks and I am stunned that you can get it for such a reasonable price… It is very powerful and once you take some time to learn, fairly easy to use. Most of the negative reviews here refer to the app being hard to use and providing little help. I disagree. If you have a basic understanding of digital editing and you take the time to go through the tutorials, the learning curve is a breeze.
As a side note, the plugin feature in photo is awesome: if you want a quick fix, you can use one of the task focused plug-in and if you need the full power, you can just edit directly in Affinity but still keep your picture in the Photo library. It is a small detail but I think it is great that the dev team took time to focus on usability and convenience on top of the core features.
View in Mac App Store
$49.99

Category:

Photography

Updated:

Mar 22, 2017

Version:

1.5.2

Size:

344 MB

Languages:

English, French, German, Italian, Japanese, Portuguese, Simplified Chinese, Spanish

Seller:

Serif (Europe) Ltd.
Compatibility: OS X 10.7 or later, 64-bit processor