Agape Affirmation App
By Affirmation Labs
This app is only available on the App Store for iOS devices.
Description
The Agape Affirmation App is the only iOS App that puts users in full command by giving them the ability to create and record affirmations in their own voice.

Specifically engineered for ease of use, your affirmations can now be absorbed by the conscious and subconscious mind during the Alpha Wave state when entering and awakening from sleep, and throughout the day.

Key Features:

Record an Affirmation up to 30 seconds in length
Name and store an infinite number of Affirmations to the in-app Library.

Choose between a 10min. or 20min. playback time.

Your Affirmation will playback once every minute decreasing in volume as you go to sleep and once every minute increasing in volume increasing in volume as you wake.

Chose one of the in-app wake-up sounds or purchase one from an extensive library of sounds.

10hz binaural beats playback behind and through the night.

Additional Features:

For Meditation, record your mantra, choose a 20min playback and be effortlessly taken back to your mantra every minute at a decreasing volume.

Step by Step instructions covering:

- Recording & Saving your Affirmation
- Naming your Affirmation
- Playing Back Your Affirmation
- Your Affirmation Library
- Recording Techniques
- Overnight Playback

Two levels of pre-written Affirmations by Michael Bernard Beckwith, founder and spiritual director of the Agape International Spiritual in the areas of:

- Finances
- Livelihood
- Physical Health
- Mental / Emotional Well Being
- Relationships

The complete list of Affirmations from Michael Bernard Beckwith's "40 Day Mind Fast Soul Feast: A guide to Soul Awakening and Inner Fulfillment" book.

Expanded uses for the Agape Affirmation App in the areas of:

- Gratitude
- Prayer
- Meditation
- Memory
- Problem Solving
- Child Development
- Dreamwork

What An Affirmation Is, and What It's Not:

An affirmation is a declaration of an intention, quality, or desired outcome which, when stated with feeling, conviction, and confidence, has the power to supplant unwanted habituated mindsets and behaviors, and to change life circumstances through the creation of new neural circuits in the brain.

It is important to understand that affirmations are not magical incantations for manipulating people or circumstances, substitutes for professional treatment of physical or mental conditions, or the relinquishment of self-responsibility. Affirmations are not appeals to a power or deity outside of oneself. Rather, they work from the inside out: physically with the systems of the brain, mentally with the systems of the mind, and spiritually with the systems of the higher self.

The practice of affirmations as taught by Michael Bernard Beckwith emphasizes that we don't need to be "fixed," that by affirming our innate wholeness and well-being we activate our capacity to fulfill our highest potential in all aspects of our lives.

Why and How Affirmations Work:

The effectual use of affirmations is based on research in neuroscience, neurobiology, and cognitive psychology, all of which have proved how neural operation in the brain neutralizes unwanted emotions and eliminates limiting attitudes and beliefs, resulting in positive life changes.

Dr. Joseph Dispenza, in "Physics, the Brain and Your Reality" writes, "The thinking brain, the neo cortex, is the seed of our freewill and allows us to have a choice and opinion. There is sound evidence that our thoughts do matter. If rehearsed mentally, we will grow new circuits in the brain, the platform which we stand on to execute a new level of self." The practice of affirmations is a specific technology for growing those new circuits.

The Agape International Spiritual Center headquartered in Los Angeles, California, a trans-denominational community founded in 1986 that is highly respected for its diversity, creativity, and dissemination of universal spiritual principles based in the New Thought-Ancient Wisdom tradition of spirituality.

What's New in Version 1.2
- Added full intro tutorial video to App Start and Info Sections

- Settings Page Adjustments

- Info Section Additions

- Speed and Efficiency Changes

- Misc. Bug Fixes
iPhone Screenshots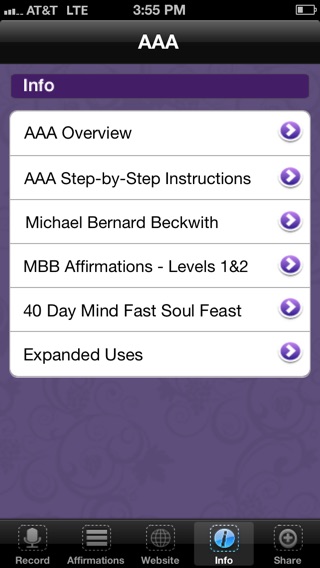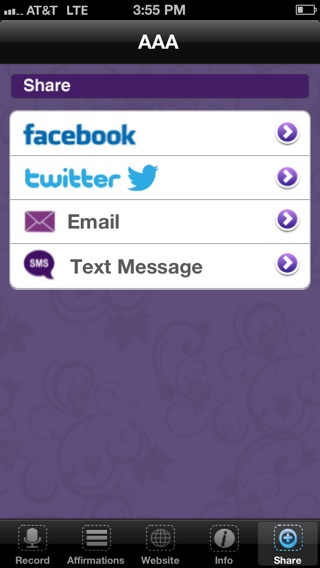 Customer Reviews
Tech Support
For those of you having issues with this App after reading the instructions, please contact our support staff. As has been mentioned by several customers, we quickly respond and look to assist you in getting the most out of you AAA. We are looking forward to the next upgrade and your getting the most out of this amazing tool.
The text font is too small -and no way to adjust size!!
I've just downloaded the app few minutes ago. And I'm very disappointed. The font size is TOO SMALL and hard to read!!! How can the developer/designer FAILED to include font size adjustment feature?? It's a very basic and necessary feature once an app involves a lot of text presentation. I wonder how the developer missed this USABILITY DESIGN standard.
Thank you!!!!
I've always wanted a way to create audio affirmations in my own voice in an app. They are my affirmations instead of general ones that aren't necessarily what I need. This is!!!!! So happy with it.
View in iTunes
$3.99

Category:

Health & Fitness

Updated:

Sep 23, 2013

Version:

1.2

Size:

9.1 MB

Language:

English

Seller:

Affirmation Labs, LLC
Compatibility: Requires iOS 5.1 or later. Compatible with iPhone, iPad, and iPod touch.