Alarm.com
De Alarm.com
Abre iTunes para comprar y descargar Apps.
Descripción
Con un sistema de seguridad habilitado por Alarm.com, usted puede monitorear y controlar su hogar o comercio en tiempo real y desde cualquier lugar. Las soluciones de seguridad interactiva, monitoreo por video, administración de energía y automatización del hogar de Alarm.com le brindan información al instante y control remoto para los lugares sobre los que más se preocupa.

Nota: Esta aplicación requiere un sistema compatible y un plan de servicio interactivo de Alarm.com. La disponibilidad de las características varía en base al sistema, equipamiento y plan de servicio. Visite www.alarm.com para obtener más información.

Características remotas:
• Vea qué está sucediendo en su propiedad
• Arme o desarme su panel de seguridad
• Vea videos en vivo y videos almacenados de sus cámaras de seguridad
• Encienda o apague las luces
• Configure la temperatura ideal
• Bloquee o desbloquee las puertas
• Vea imágenes de la actividad importante capturadas por los sensores de imagen de Alarm.com
• Busque su historial completo de eventos del sistema
• ¡Y mucho más!

Con Alarm.com, también puede recibir correos electrónicos, mensajes de texto y notificaciones push en tiempo real para eventos específicos que le importen. Más allá de los eventos importantes relacionados con emergencias, también puede saber inmediatamente:

• Cuando sus hijos regresan de la escuela
• Cuando usted se va para el trabajo o de vacaciones y se olvidó de armar su sistema
• Cuando llega o se va la persona de limpieza
• Cuando la puerta del garaje queda abierta
• Cuando el paseador de perros o el cuidador de gatos llega
• Cuando hay una inundación o una pérdida de agua en su sótano
• Cuando sus hijos abren el botiquín o la vitrina de bebidas alcohólicas
• Cuando alguien cambia las configuraciones de su termostato
• Cuando su sistema de seguridad es desarmado (y quién lo desarmó)
• Cuando alguien intenta iniciar sesión en su cuenta
• ¡Y mucho más!
Novedades de la versión 4.2.1
• Correcciones/mejoras menores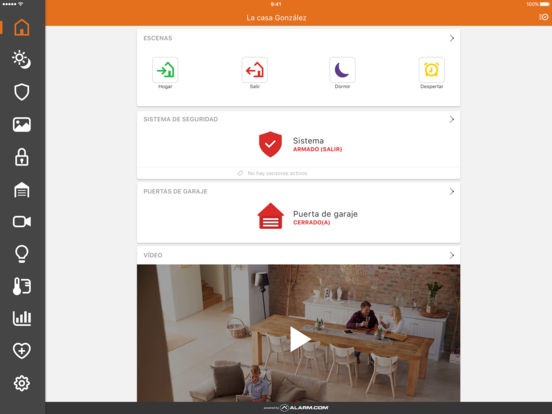 Reseñas de usuarios
Will not allow bypass of open sensors Away
AC's refusal to allow bypassing open sensors for Away renders the app useless for Away for me. We have a window in my office that can be opened a limited amount to allow our cats to go into their rather large catio ... aka cat prison. It is always open during the day, never at night. AC has the capability to allow bypass of open sensors ... they allow it for Stay (at night). They used to allow it for Away many years ago, but no longer. It renders the app useless for arming Away because it goes into that loud protest mode for at least five minutes which will drive anyone nuts. When armed from the panel at home, I select bypass on the panel. I have multiple requests with no response from AC. I have been using it for a decade. You used to be able to contact support directly ... no longer ... you have to go through your provider ... and the provider gets no response to this request either. I only stay with it because I like my alarm provider and AC is the remote app available. AC can easily do it ... they refuse to. Non existent support.
Hope this is helpful!
Just want say a couple tips. If your app doesn't seem to be arming or disarming in a timely manner. Uninstall app and reinstall app. Also if the signal cell on your system is low will cause delays and even the app to not want to work properly. Talk to your security provider. May not be the app. May need stronger signal from panel. Also if your data is slow on phone will cause thing to be extremely delayed. We are installers and have to trouble shoot things like this for customers. I hope this info is helpful.
Great App
I love this app! The technician that install our security system was very professional. He took the time to actually explain all the functions so that we could operate it with know problem. Also I love that I will get an alert if anything happens on my iPhone. Thanks TCS for installing our security system and to the technician who installed it as well as mounting our flat screen TV for us. I will have them in the near future install a video monitoring system.
Ver en iTunes
Esta App esta diseñada para el iPhone y el iPad
Ofrece la app para Apple Watch para iPhone
Gratis

Categoría:

Estilo de vida

Actualizado :

19/06/2017

Versión:

4.2.1

Tamaño:

115 MB

Apple Watch:

Sí

Idiomas:

Español, Francés, Inglés, Islandés, Neerlandés, Noruego bokmål, Portugués, Sueco, Turco

Vendedor:

Alarm.com
Compatibilidad: Requiere iOS 8.0 o posterior. Compatible con iPhone, iPad y iPod touch.
Apple TV:
Sí