Algebra Pro - Complete Workbook with ShowMe Lessons
By Learnbat, Inc.
This app is only available on the App Store for iOS devices.
Description
***Warning****

As of October 2011, this app will no longer be supported by the developer. The app may be buggy, slow to respond, or not functional, particularly on newer operating systems and devices. Please use at your own risk;

The good news: the app is now free.

In the meantime, check out the ShowMe iPad app - build your own lessons, or watch lessons created by the community: http://itunes.apple.com/us/app/showme-interactive-whiteboard/id445066279?mt=8

======

Master Algebra I with the interactive workbook!

Over 100 practice questions with instant "ShowMe" lessons: if you get stuck on a problem, just tap "ShowMe" and see a step-by-step animation of how to solve the problem, instantly.

It's like having a tutor on demand!

Plus, scribble on the white space to write out your thought process, then choose from the multiple choice grid to mark down your answer. You can see if you got the answer right or wrong by tapping "Show Answer."

The entire workbook breaks down into the following sections:

The Language of Algebra - 8 questions
Real Numbers - 4 questions
Solving Linear Equations - 8 questions
Graphing Relations and Functions - 8 questions
Analyzing Linear Equations - 8 questions
Solving Linear Inequalities - 4 questions
Solving Systems of Linear Equations and Inequalities - 8 questions
Properties of Exponents - 8 questions
Polynomials - 8 questions
Factoring - 8 questions
Exponential and Radical Functions - 8 questions
Rational Functions and Equations - 8 questions
Statistics - 4 questions
Probability - 4 questions
What's New in Version 1.0.2
- Bug fixes
- Info on a new product from Easel!
iPad Screenshots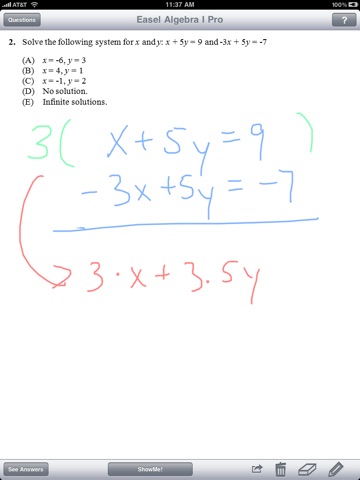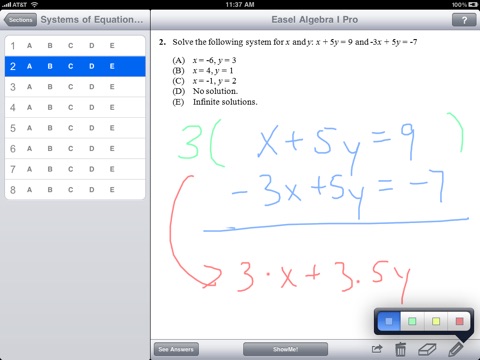 Customer Reviews
Great concept; poor execution
This is an elegant interface and a great concept. I don't think you have realized that your product has much greater applicability than as presently configured.

Your interface is, hands down, the greatest concept I have seen in this regard. It is the real value in your product.

Whiteboards forth classroom are extremely expensive. With your interface, a iPad, a cable, and a monitor or projector, the user can create a very inexpensive smart whiteboard.

I teach GED mathematics and this is exactly what I need so I can solve demo problems on a white board or monitor screen instead of a chalk board. But the essence of learning math is DRILL!

8 questions on a topic doesn't get close to what is needed.

I understand that the format you have developed with the automated solution available must be extremely labor intensive.

Why not provide a limited number of solved equations as examples and a large number for drill that you don't solve.

You could also open the interface so that the user can add their own problems. There a innumerable math problem worksheet sites that randomly generate problems that could provide content.

You have a format here that could be of great value to teachers (and could make you a lot of money)--you just need to expand your concept.

Feel free to contact me. I would love to discuss further with you.
Student
From a student's point of view I find this app to be quite useful, for I am only in middle school advanced classes. This helps me through the difficult topic known as algebra, my only complaint is there isnt enough problems, i mean , this app has literally everything i need to do well in algebra, why not expand. I was going to buy a stylus but I noticed that I was near all I needed to know so I decided not to, but if their were more problems I wouldn't hesitate. Please come with an update soon, also as said on the top, this app is buggy I mean it closes out when I try to do certain things like hide answers, It's a painful interruption, but I may be patient to have this fixed.
Pretty good
This app presents basic algebra questions and problems, and users of this app can then write out the work (hence the name easel) on the same screen as the question before selecting an answer. You will not need scratch paper for this app. On the downside, the app is now free so the developer is no longer adding to it or supporting it. You may run into bugs, but it worked well for me. Upon starting up the app, I was shown a basic overview video of how to use the app that proved very beneficial. This is a good app that is easy to use if you are new to the iPad.
View in iTunes
Free

Category:

Education

Updated:

Feb 16, 2011

Version:

1.0.2

Size:

5.9 MB

Language:

English

Seller:

Learnbat, Inc.
Compatibility: Requires iOS 3.2 or later. Compatible with iPad.