GAMEBOX 1
By Triniti Interactive Limited
This app is only available on the App Store for iOS devices.
Description
Download the @FreeAppADay.com App and wish for more top rated paid apps like GameBox to become FREE for a day! 40 HIGHLY PRAISED GAMES, ALL-IN-1 APP!
includes JAILBREAKER, iSNIPER 3D, AC-130, DINO CAP and MORE!

>>>

OVER 2.5 MILLION COPIES SOLD!

ranked #7 TOP PAID APP in apple's 'REWIND 2010'!

>>>

"some of the highest replay value I have seen..."
-AppModo.com [http://bit.ly/reviewappmodo]

"super addictive and fun..."
-AppSafari.com [http://bit.ly/reviewbyappsafari]

"GameBox is like a box of crayons ... you're guaranteed to find a few games that are just right for you."
-GamesRadar.com [http://bit.ly/reviewgamesradar]

>>>

WHAT'S INSIDE GAMEBOX?

all of the games below, FULL VERSION, FULL FEATURE!

>>>

AC-130 Spectre [3D WARFARE SIM] [YOUTUBE: bit.ly/ac130spectre]

Ada's Fashion Show [TIME MANAGEMENT]

Ada's Hospital [TIME MANAGEMENT] [YOUTUBE: bit.ly/adashospital]

Ancient War [WI-FI MULTIPLAYER CASTLE DEFENSE] [YOUTUBE: bit.ly/ancientwar]

Archer 3D [3D SPORTS SIM]

1945 Ace Destroyer [inspired by SKY DESTROYER™]

Blaster Tank [SIDE-SCROLLING TANK WARFARE]

Blighted Earth [TOWER DEFENSE]

Bowman Attack [STRATEGIC ARTILLERY WARFARE] [YOUTUBE: bit.ly/bowmanattack]

Bowman Defense [CASTLE DEFENSE] [YOUTUBE: bit.ly/bowmandefense]

Bubble Master [inspired by BUBBLE TROUBLE™]

Chicks [ACTION/PUZZLE] [YOUTUBE: bit.ly/chicksgame]

Climber [inspired by SHENKUU WARRIOR™]

Digital Heist [ACTION/PUZZLE]
Grab the loot and get out!

Dino Cap [SIDE-SCROLLING SHOOT 'EM UP] [YOUTUBE: bit.ly/dinocap]

Doodle Fish [ARCADE]
Eat your way to the top of the food chain, and grow to be king of the sea!

Fit It! [PUZZLE]
Take the pieces you have and make them into a square!

Get Rich [ARCADE]
Money is raining from the sky. Catch as much you can!

Hell Flyer [ARCADE]
Swing from one stalactite to the next & avoid the lava below!

Hot Pursuit [TOP-DOWN ARCADE RACER]
Time for some high-caliber road rage!

Hired Gun [CARTOON SNIPER]

iKungFu Master [inspired by KUNG-FU MASTER™]

iPuppy Husky [3D PUPPY SIM]

Iron Commando [RETRO PLATFORMER] [YOUTUBE: bit.ly/ironcommando]

iSniper [ARCADE]
The best-selling iPhone original!

iSniper 3D [3D WARFARE SIM] [YOUTUBE: bit.ly/isniper3dgame]

iUFO Catcher [ARCADE]
It's the claw! Grab as many furry prizes as you can!

Jailbreaker [SIDE-SCROLLING JUMPER]
The 5-0 is on your trail! See how far you can run in this thrilling twitch-tapper!

321! Jump! [JUMPING PLATFORMER]
Jump from block to block, but don't fall down!

Knight's Odyssey [ACTION]
Fight through a sea of armored enemies in this epic journey.

Motocross Trixx [PHYSICS/ACTION]
Hop on your bike, rev your motor, hit that jump, and get some air!

Neander Block [inspired by BEJEWELED™] [YOUTUBE: bit.ly/neanderblock]

Observer [PUZZLE]
Spot the difference!

Operation iWolf [inspired by OPERATION WOLF™]

2009 Road Master [inspired by ROAD FIGHTER™]

Robo Rush [RETRO PLATFORMER] [YOUTUBE: bit.ly/roborush]

Star Marine [inspired by CRIMSONLAND™]

Super Crazy Wars [ACTION/STRATEGY]

The Sudoku Times [SUDOKU]

Tomb Evader [ARCADE]
Escape before the pyramid collapses!

>>>

http://twitter.com/TRINITIgames
http://facebook.com/TRINITIgames
What's New in Version 4.0.4
-added brand new game, 'motoCROSS trixx'!
-ui changes

>>>

http://twitter.com/TRINITIgames
http://facebook.com/TRINITIgames
iPhone Screenshots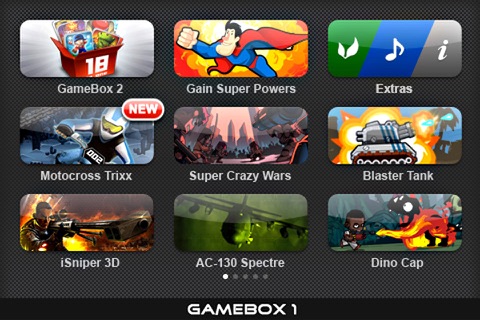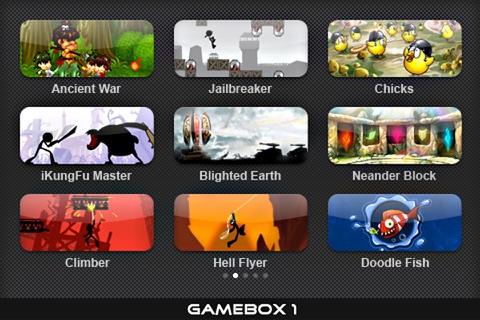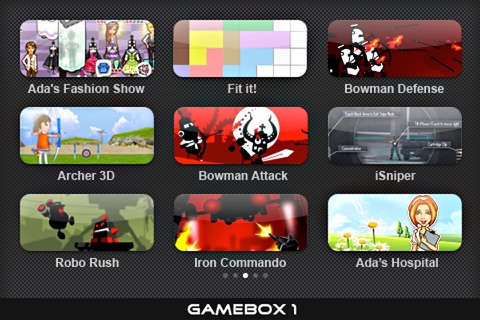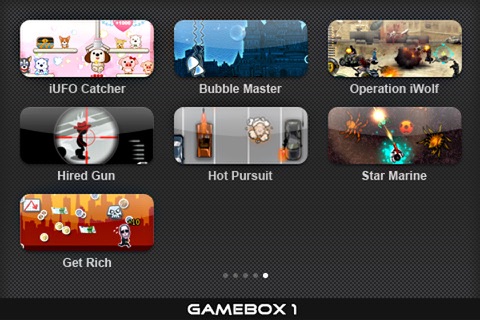 Customer Reviews
Cheaply made but still fun🌹
I just ❤️ my gamebox app, and I've had it for 3 years or longer. Minecraft is my fav. game, but this game has to be third or fourth in line. But.....the only problem is is that it's cheaply made... What I mean is that when I go into some games, I click on one, and it brings me back to the home screen. I don't know if it's my phone or what. Plus, it lags, too. I doubt it's my phone, because my phone is an iPhone 5, and it's a good quality, too. I swear I don't have an LG or Samsung or whatever. I highly think it's the app. But I'd like the company to fix it if so. Have you guys had any problems like this? Because the app does it a lot. Sometimes it doesn't, tho. Because when I don't play it for about thirty minutes, and I go back into the app, vóla! It's fixed! But I can't be doing this everyday. The company's updates are crappy, too. I hope they'll fix it!!!! ~Sunny939

Note to the company: Hello, it's Sunny939 here, and I have a problem with this app. When I go to click on some of the games I want to play, it takes me back to the home screen. Is there an update to fix this? Is it just my phone? Can you please try to fix this? Is there an update to fix it? Please let me know. Thanks!!! ~Sunny939. 🌺 (Oh! And it lags too, so can you please fix that, too?)*Sorry I also asked a question twice...lol*
Help
Please help I love this game it every time I opened it it crashed with let me play it so I deleted it to re-download it but it wouldn't let me download it it showed the app in the app store but I couldn't download it wouldn't let me buy it again it wouldn't let me download it would didn't even have the download button please help I love this game I will give it five stars I really miss being able to play this game so please fix it and
(recommended)
You'll appreciate this advice.
View in iTunes
Free

Category:

Games

Updated:

May 30, 2011

Version:

4.0.4

Size:

347 MB

Language:

English

Seller:

Triniti Interactive Limited
Compatibility: Requires iOS 3.0 or later. Compatible with iPhone, iPad, and iPod touch.
Top In-App Purchases
GameBox 1 Super Power Pack$0.99
More iPhone Apps by Triniti Interactive Limited