AlwaysOnPC - Firefox with Flash Player and Office on a Virtual PC for iPad
By Xform Computing
This app is only available on the App Store for iOS devices.
Description
▶▶HUGE SALE - limited time
Computer inside your iPad with Office Suite, Chrome and Firefox browsers with Flash and Java, Dropbox, Export PDFs, etc...
Your AlwaysOnPC Cloud PC is hosted on our powerful Cloud Servers, with the full desktop version of all these programs:

▶ OpenOffice and LibreOffice (your choice!) with Dropbox
  Open, edit & save files with near 100% feature equivalent to Microsoft Office such as:
▬WORD docs(Writer) ▬POWERPOINT (Impress) ▬ EXCEL Spreadsheets (Calc)
-------------------------        --------------------------       ---------------------------
 > Font size shape etc.  > Templates, master etc    > 'DataPilot' pivot tables
 > Spelling, grammar   > Drawing, graphics tools  > Sort, Filter, Group, Subtotals
 > Revision Tracking   > Animations, transitions   > Macros & Extensions
 > Mail-merge, macros > Callouts and flowcharts  > 2D & 3D Chart
 ...Export/convert from .doc .xls .ppt to PDF, and lots more!

▶ Chrome and Firefox Browsers + Flash Player
 > Browse and use Flash-based websites & apps like:
   ▬ Prezi (+ edit too!) 
   ▬ SlideRocket (+edit)
   ▬ Microsoft Office365
   ▬ Adobe acrobat.com
 > Install Browser Extensions / Add-ons & Themes  
   ▬ Adblock  > Springpad  > Evernote Web Clipper
   ▬ Xmarks  > Personas   > Lastpass (password sync)
   ▬ Screen capture
  & and tons more!

▶ Java-Applets support
 > Old School Runescape  > BNSF > United Airlines Unimatic
 > NetDania > PartyPoker > Pogo games & more!

▶ Upload / Download files to/from your virtual PC, fast!
  Download, edit, and upload to sites like: > SlideShare > SlideShark > Webex > GoToMeeting/Webinar > Fuze, & more

⋆⋆⋆⋆⋆ "Best app in App Store"
by Jslaughter33351on Mar 20 2013 ver 2.0.1

⋆⋆⋆⋆⋆ "Great helpful app"
by vsigler on Monday, February 11 2013 version 2.0.1

⋆⋆⋆⋆⋆ "Best 25 bucks ever spent!"
by Bababooey100 on Wednesday, January 30 2013 version 2.0.1

▶ AlwaysOnPC also includes these powerful programs:
 ▬ Dropbox access:
    Sync up to 2Gb (use selective sync for larger 'boxes). Open. Edit. Save. Easy!
 ▬ GIMP Graphic image editing
   (like PhotoShop) bmp, gif, jpeg, mng, pcx, pdf, png, ps, psd, svg, tiff
 ▬ InkScape drawing program (.SVG, import & edit Adobe Illustrator files!)
 ▬ Full-featured PDF reader
    features like annotations/markups, fill in forms etc
 ▬ LibreOffice Database
 ▬ LibreOffice Formula/Math scientific equation
 ▬ LibreOffice Draw & flow-chart
 ▬ Filezilla (FTP client)
 ▬ Thunderbird (POP and IMAP email client)

▶ Super productive computer-like features:
 ▬ Copy and paste between Office apps and the photo editor, drawing program, email and more
 ▬ 'Mouse/arrow' mode for precise editing
 ▬ Right-click contextual menu (two-finger tap)
 ▬ Receive, edit and re-send email attachments
 ▬ 2 GB included online cloud storage (e.g. for Dropbox sync, downloads, etc)
 ▬ Secure: Connections are RSA-encrypted for your security
 ▬ Toolbar with Ctrl, Alt, Esc, Del, Shift keys

FREE TRIAL simulator available from your PC/Mac: visit alwaysonpc.com (on your PC/Mac)

Notes:
 - the new "Video Mode" is in beta! Tap the video button to change to/from video mode
 -*Java applets only. [JAR, JNLP/webstart .exe Windows executables are NOT supported]
 -Designed for Landscape orientation only (like your computer ;-)
- Requires WiFi or 3/4G network at all times to run
 - AlwaysOnPC is hosted from one of two data-centers: USA (Los Angeles, CA), and Europe (Sofia, Bulgaria). The farther you are from these locations, you may experience more latency/delay. Try our FREE simulator on your PC/Mac first by visiting our website
What's New in Version 2.0.7
• Various Bug Fixes
• Dropbox Update
iPad Screenshots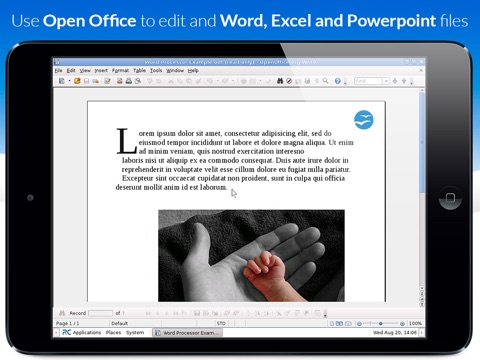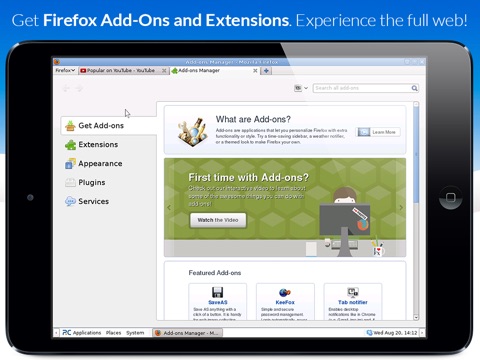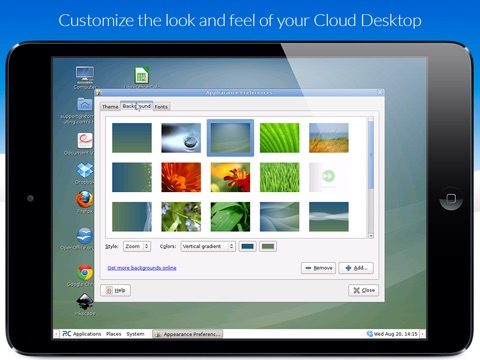 Customer Reviews
Believe the Reviews - DON'T BUY
Dropbox doesn't work. I got dropbox to connect, but only the folders (with no files) were syncronized. After than I got a dropbox alert that I was working with a old version and required an update, but with no real way to updat., I would like to try a Libreoffice Base file, but I never got that far after spending too much time fiddling around
Lies right in description
I bought this expensive app solely so I could play an online game that it says should can be played right in the description. Well it doesn't work so thanks for the wasted money.
Terrible
One star because it's not transferable between devices. Also, don't purchase this app if your looking forward to good customer service.
View in iTunes
$8.99

Category:

Productivity

Updated:

Sep 06, 2014

Version:

2.0.7

Size:

14.7 MB

Language:

English

Seller:

VoicEcho LLC
Compatibility: Requires iOS 6.0 or later. Compatible with iPad.