Amazing X-Ray FX ² LITE
By IGRASS PTY LTD
This app is only available on the App Store for iOS devices.
Description
► FREE TODAY! With over 7,000,000 downloads & 48,000+ ★★★★★ star ratings Worldwide... experience what all the fuss is about today!

Get amazing X-Ray vision & look through clothes, skin & bone! X-Ray scan your body using just your iPhone, iPod touch or iPad totally for FREE!

You control the X-Ray scanning in real-time. Unlock* and be amazed as you X-Ray vision your SKULL, CHEST, PELVIS, HANDS, KNEES & even FEET in full HD. Even use the light on your iPhone to X-Ray!

Be blown away by what you and your friends never thought possible...


▌ REVIEWS:

✓ 48000+ five star ratings Worldwide!!!

★★★★★ "My friends love this app!" KurtWM
★★★★★ "Awesome" Tømmy☠
★★★★★ "Amazing amazing AMAZING" Megaspa
★★★★★ "Wow!" patsk8dude
★★★★★ "Mega. A+++++++" telecaster0088
★★★★★ "Awesomeness!!!" Kay-o-lee
★★★★★ "Must buy" Bogus assassin
★★★★★ "Brilliant App - Well done" Mcyk
★★★★★ "Hilarious" JoeGoe
★★★★★ "Das beste x ray" Reni 08
★★★★★ "What a hoot!" Disgruntal
★★★★★ "Kool" Edmungel
★★★★★ "Super !" Kreisau
★★★★★ "LOL this is great" redguy8
★★★★★ "Very very nice" Raedhassan
★★★★★ "Fantastic" supermarioex
★★★★★ "Cool and fun Ap!" Waterford Ken
★★★★★ "Great" Rollercoasterlover
★★★★★ "It's good for the price" Dr.yes
★★★★★ "Great get it" Jed2009
★★★★★ "Cool Fun" Arevalo21
★★★★★ "Amazing" Poop13
★★★★★ "Brilliant" Ollie r
What's New in Version 2.9.1
It's FREE! http://WebArtisan.com.au
iPhone Screenshots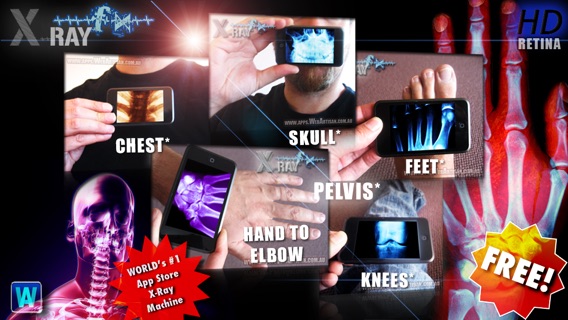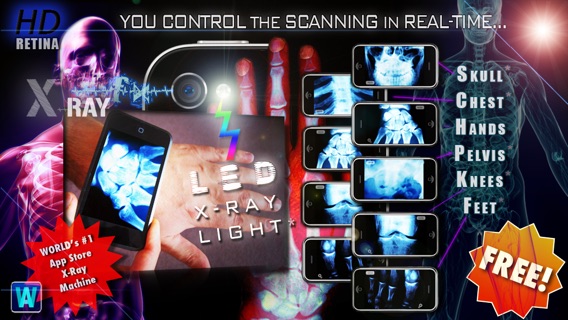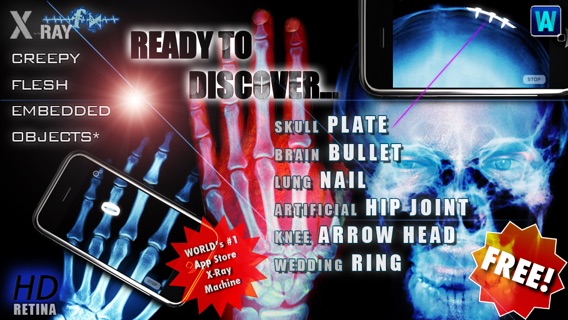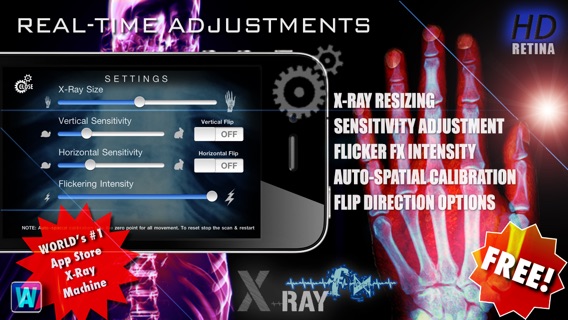 Customer Reviews
Bad app!!!
Don't even bother in downloading this...it is a prank!!! 0stars for this app! But at least i will give half star for the efforts of the makers.... I downloaded this so i can see the skeletal structures of my body!! But it only shows random bones if u tilt your ipad.....prankkkkk only!!!!!!!!!K arghhhhhhh!!!! Arrghhhh.......arghhhhhhhhhhh!!!!!!!arghhh!!! After i tried this one time i deleted it i only used it once...i thought this app was great! And amazing as the title itself states butttt....it isn't ....it is baddddd!!!!! Bat if u are a person who always likes playing pranks to others..i suppose u will like this even a little and rate it 2-3 starssss......if u intend it to use the app for pranks i suppose it's great!?.but i know that this is reaaly made for pranks....but u people should not call others like me who says this is a bad app...because all of us has our own opinions so ....don't call us foooooolsss!!pranksters!
Of course it's a prank app-- even so, this is pathetic
You should doubt any review that claims to have tricked someone. Anybody saying they were "fooled" by the use of the app is either A) incredibly gullible and stupid, or more likely B) just being charitably polite to the fool waving it about and calling it real. Save yourself the embarrassment and don't even bother with this.

The problem isn't that it's faking the x-rays-- obviously it's not a real X-ray camera. The problem is, even when considering this as a silly little novelty app, it's so poorly implemented. The UI is horrible, the control is even worse, and the displayed images could only look more fake if they were drawn in Crayon. You would have a difficult time tricking a five-year-old with this. And even if you succeeded, would it really be an accomplishment?
Its a prank people!!!
This app is MEANT to prank friends at parties! Its not really x-ray. I can not tell you the look on my little brothers face when he "saw" the inside of my arm! And it doesn't even stop there! If you want to keep the prank going longer, the full version has head, toes, pelvis and more! In this version there are manual and automatic modes were you either move the camera using the accelerometer, or make it go on pre-made path. Get it now!!!
View in iTunes
Free

Category:

Sports

Updated:

Dec 20, 2011

Version:

2.9.1

Size:

14.0 MB

Language:

English

Seller:

IGRASS PTY LTD
Compatibility: Requires iOS 3.0 or later. Compatible with iPhone, iPad, and iPod touch.
Top In-App Purchases
PRO X-Ray Skeleton$0.99