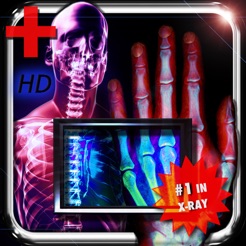 Amazing X-Ray FX ² FREE+
4+
Gratis
Ofrece compras dentro de la app
Capturas de pantalla del iPhone
Descripción
► FREE TODAY! With over 7,000,000 downloads & 48,000+ ★★★★★ star ratings Worldwide... experience what all the fuss is about today!

Get amazing X-Ray vision & look through clothes, skin & bone! X-Ray scan your body using just your iPhone, iPod touch or iPad totally for FREE!

You control the X-Ray scanning in real-time. Unlock* and be amazed as you X-Ray vision your SKULL, CHEST, PELVIS, HANDS, KNEES & even FEET in full HD. Even use the light on your iPhone to X-Ray!

Be blown away by what you and your friends never thought possible...


▌ REVIEWS:

✓ 48000+ five star ratings Worldwide!!!

★★★★★ "My friends love this app!" KurtWM
★★★★★ "Awesome" Tømmy☠
★★★★★ "Amazing amazing AMAZING" Megaspa
★★★★★ "Wow!" patsk8dude
★★★★★ "Mega. A+++++++" telecaster0088
★★★★★ "Awesomeness!!!" Kay-o-lee
★★★★★ "Must buy" Bogus assassin
★★★★★ "Brilliant App - Well done" Mcyk
★★★★★ "Hilarious" JoeGoe
★★★★★ "Das beste x ray" Reni 08
★★★★★ "What a hoot!" Disgruntal
★★★★★ "Kool" Edmungel
★★★★★ "Super !" Kreisau
★★★★★ "LOL this is great" redguy8
★★★★★ "Very very nice" Raedhassan
★★★★★ "Fantastic" supermarioex
★★★★★ "Cool and fun Ap!" Waterford Ken
★★★★★ "Great" Rollercoasterlover
★★★★★ "It's good for the price" Dr.yes
★★★★★ "Great get it" Jed2009
★★★★★ "Cool Fun" Arevalo21
★★★★★ "Amazing" Poop13
★★★★★ "Brilliant" Ollie r

Totally FREE today! www.WebArtisan.com.au

Valoraciones y reseñas
May be fake
This app is so not real only a idiot could believe it is for example I tried it out but it keeps showing the same thing all over again and every time I move the camera it shows nothing but the same thing...I suggest maybe you should delete it and don't wayste tour mint in the pro version cause it may look real but really may be fake😏
It's not supposed to be real
Guys it's not supposed to be an actual X-ray. It's ment for TRICKING. If you REALLY think that your going to get a real X-ray on your device, your crazy.
Kinda of boring
Ok... I downloaded this app without reading any reviews!! Which I should have because this app does nothing for you ....it's nt useful or fun. These aren't even x-rays of your own body parts!!!! There fake !! And also there adult body parts so don't try to fool a kid becaus the bones are wy too big ! But it would be okay to trick Someone with .
Información
Vendedor

IGRASS PTY LTD

Tamaño

14.3 MB

Categoría

Compatibilidad

Requiere iOS 3.0 o posterior. Compatible con iPhone, iPad y iPod touch.

Edad

Clasificación 4+

Copyright

© 2013 WebArtisan.com.au

Precio

Gratis
Compatibilidad
Compartir en familia

Hasta seis miembros de una familia podrán usar esta app mientras la función Compartir en familia esté activada.