American Airlines
Por American Airlines
Abre iTunes para comprar y descargar Apps.
Descripción
With the American Airlines app, you're covered with the information you need exactly when you need it. Curious about traffic to the airport? Need a mobile boarding pass? Wondering where the closest Admirals Club® lounge is located? All of this info, and more, is available at your fingertips.

- Dynamic home screen: Knows where you are in your travel journey and gives you easy access to the right tools at the right time.

- Mobile boarding pass: Check in for your trip and retrieve your mobile boarding pass. No need to print, and it's updated along the way.

- Flight updates: Get the latest flight updates by simply retrieving your reservation and allowing American Airlines to send notifications to your mobile device.

- Interactive terminal maps: Navigating airports is a breeze with our interactive terminal maps. Find the closest Admirals Club lounge or get directions to your connecting gate.

- AAdvantage® account details: Review all the details of your AAdvantage account right from the app. Not an AAdvantage member? Sign up today.

- Upgrade your seat: Request and purchase upgrades with ease. Want to see where you are on the list? The app displays the upgrade standby list within four hours of your scheduled departure.

- Seat selection: Select or change your seat within the app. Just pick the one you'd like and change it on the spot.

- Track your bag: Know exactly where your bag is from the time it leaves your hands to when you extend the handle at your final destination.

- Save your reservation: Your recently viewed reservations are automatically saved in the app so you can easily grab the details for your next flight in seconds.

- Quick interactions: The American app utilizes 3D touch and is Apple watch compatible, giving you quick access to the most important info.

- Wi-Fi access in the air: Don't forget on flights with Wi-Fi, you can use the American app and aa.com at no cost.

There's a new group of flyers out there – The World's Greatest Flyers. They know that having the right travel tools contributes to a great experience.

Contact Us: 1-800-222-2377
Novedades de la versión 4.8.0
- We now support iOS 10
- We've made a few enhancements to the push notifications experience.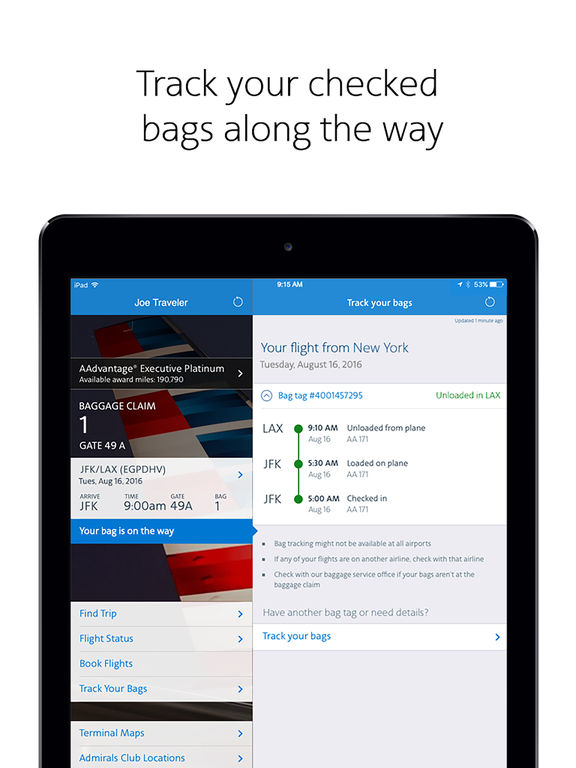 Reseñas de usuarios
Pretty good – could use more features
This is a pretty good app overall. I have not used it to book personal flights yet but I do like the convenience and easy navigation for existing reservation handling. Bookings done through my company's travel agency portal (Concur) show up very quickly so long as one's frequent flyer number is on the reservation. The integration to apple wallet is particularly useful as boarding passes will then automatically show up on the lock screen within a few hours of flight time. Easy to change seats, request upgrades, etc. for road warriors.

The only thing missing which I think would be handy would be the ability to rename each active ticket/itinerary to something more recognizable. For instance, I'd like to rename "LAX/ORD (KGBJGY)" to "Q4 Business Review". For those of us with the number of active trips open at any one time, this would be very helpful.
It's okay when it works...
I use this app constantly for work, along with a few other airline apps. I have no idea why, but for some reason American is just so far behind in technology and reliability it hurts. Everyone else has it figured out but American keeps tripping each step and doesn't seem to care.

Firstly, I don't even know why they have an app in the first place. Aside from viewing boarding passes, just about everything else the app takes you to the mobile website. It gives you so much grief just to change a seat as well. That is if it lets you change it to begin with. If half the features are redirected to the mobile site there's no reason to have the app to begin with.

Worst of all though is how often technical issues occur. I'm not talking about the app crashing, there's none of that, I'm talking about the servers just plain not working. You can't check in at times or do anything because they "are currently experiencing technical issues". This isn't just a 'things happen' scenario, this happens frequently. Other airline apps just work and don't seem to have these issues. I don't know why this is so hard for them.

In the end though, this IS the American Airline app, so if you're flying with them you're stuck with it. My suggestion, do everything on their website beforehand and pull the info up later on.
Only shows one boarding pass of the two?
I'm sure this can be fixed or perhaps I did something wrong. I checked us both in on phone last night. When we went through security in Nicaragua they wanted to see 2 boarding passes but it only shows 1? Perhaps when scanned they both show up? Anyways we had to run back to aa but they took our passports which we needed to use kiosk. Stressful but we got the other pass printed. I'll use again if this is fixed or someone tells me what I did wrong.
Ver en iTunes
Esta App esta diseñada para el iPhone y el iPad
Ofrece la app para Apple Watch para iPhone
Gratis

Categoría:

Viajes

Actualizado :

13/09/2016

Versión:

4.8.0

Tamaño:

101 MB

Apple Watch:

Sí

Idioma:

Inglés

Vendedor:

American Airlines, Inc.
Compatibilidad: Requiere iOS 9.0 o posterior. Compatible con iPhone, iPad y iPod touch.