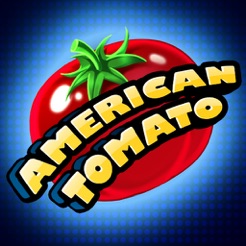 Description
★ ★ ★ ★ ★

If you are ready for the ultimate humorous way of looking at the American reality TV culture, with a small touch of self humor, American Tomato game is just FOR YOU.
This highly personalized game uses the Apple's iPhone and iPad amazing features to record your voice, to create your own personalized avatar with pictures you take, and sling tomatoes from a virtual slingshot at your avatar singing on stage.
The American Tomato game takes you through two phases:
the Audition and the Performance.


AUDITION – Your Song, Your Voice

In the American Tomato audition you can sing in front of the tough judges. Record yourself singing your favorite iPod song or sing the popular American Tomato song (lyrics projected!). The judges will evaluate your audition and announce your score. Compete with friends to see who gets the highest score!

PERFORMANCE - Your Song, Your Avatar, You

Slingshot Tomatoes
The performance phase is the main game. A custom avatar you create will sing your audition song on stage. First, you'll choose 1 of 8 American Tomato special idol avatars or create your own personalized avatar with your friend's picture, idol's picture, a celebrity pictures, or even with your own picture! Next choose the song you want your avatar to sing onstage. You can choose the original American Tomato song, or any other iPod song you have.

Now, while your avatar is singing on stage ... Slingshot him with tomatoes!!! It won't be easy to shut him up!

The American Tomato game is probably the most personalized games available in the world today. It amuses and engages you until you will feel that you are an AMERICAN TOMATO DREAMER.
With the American Tomato game, you get 3 games in 1 package - the Audition / Karaoke play, create YOUR dancing and singing avatar, and the fun-filled tomato shooting action!

American Tomato supports game center.
Retina display.
Share your American Tomato score with your Facebook friends.
You can get the American Tomato song RINGTONES for FREE from within the game!
You can get American Tomato's avatar Wallpapers for FREE from within the game!


Watch American Tomato promo video on: http://www.youtube.com/watch?v=dKDBoTr7_Ek
It's recommended to download the app with Wifi.
Works great on iPhone 4, 3GS, iPod Touch! and of course an iPad !
For more information visit our site:
www.americantomato.com
Ratings and Reviews
Good Game With One Problem
I really love this game. I love the fact you can use your own or a friends face as a singer. That's a really good feature. Also, I can truly place my "awesome" singing for people to give me the reaction I would display is I put my "talent" on display.

So you may wonder with the compliments why it only gets three stars. Like several other reviewers, I have a white screen when trying to select my own songs. It would have been four stars; but after seeing others reviews from quite awhile back, it loses two stars. This was reported several months ago. If there is an update or something I may have done wrong before downloading, let me know how to fix it, and I'll gladly write another review with the five stars you deserve.
Its fun......
I got it for free! It is okay! It is a little boring. Also after i audition and save my song and I tap next it crashes!! Plz fix!! Also it needs to have more to it as a game. It is like office jerk because ur throwing something at a person but a copy of it! Technically all you do is sing a song and throw a tomato at a person! I like it not a love! Wish i could love it though but it is a little boring! PLEASE FIX CRASHING AND ADD MORE TO DO IN THE GAME!!!!
Plz fix plz
fix this as fast as u can
I love this game but there's an error when I play my own song instead of the at it keeps on saying important song playing at the it plays that song instead of my IPod songs plz fix
Information
Seller

Sharply Labs Ltd

Size

111.3 MB

Category

Compatibility

Requires iOS 3.0 or later. Compatible with iPhone, iPad, and iPod touch.

Languages

English, French, German, Romanian, Russian, Spanish

Age Rating

Rated 9+ for the following:

Infrequent/Mild Cartoon or Fantasy Violence

Copyright

© AIO Synergy Ltd.

Price

$2.99
Supports
Game Center

Challenge friends and check leaderboards and achievements.

Family Sharing

With Family Sharing set up, up to six family members can use this app.